By James Phieffer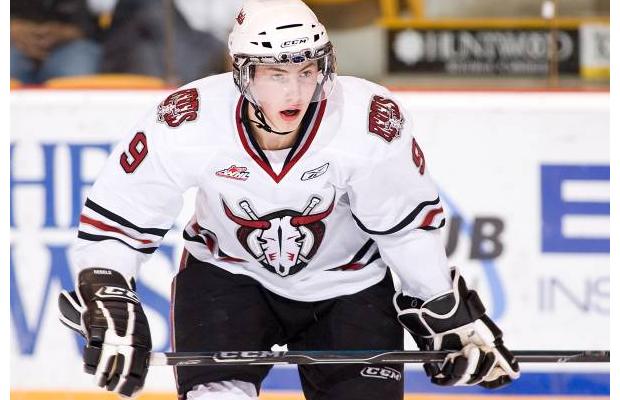 With the new NHL season underway, and all teams now having played a few games, it is interesting to see six of this past draft's top picks are still with their respective teams. Of these, four look to be with their teams for the duration of the season, while the other two are on the bubble.
The first overall pick, Edmonton's Ryan Nugent-Hopkins, has been hard at work establishing himself as the team's number one centre. Meshing well with Taylor Hall and Jordan Eberle into one of the best lines of the new hockey season, his offensive performance (5 games – 4 goals – 1 assist – +1 – 17:33 average time on ice/game) has all but assured a place on the team after his 9 game tryout period is done.
He still needs to work on his face-offs (his 23.6% winning percentage is the worst amongst rookies who've taken more than 4 faceoffs) and tougher checking assignments (relatively speaking) are usually assigned to the Horcoff and Belanger lines. But this isn't a given, especially on the road, where the opposition can get their line of choice out against the kids. In general, Nugent-Hopkins has shown he is deserving of a continuing place with the Oilers, and his play thus far bodes well for the teams future.
The second pick in June, Gabriel Landeskog (6 – 2 – 1 – 0 – 16:39), has become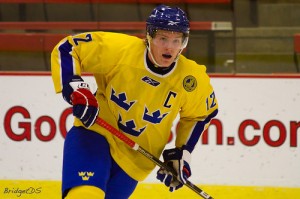 a regular on a line with Ryan O'Reilly in Colorado. At even strength, and on the power play, they seem to be joined at the hip. Unlike O'Reilly, though, Landeskog is also a regular on the Av's penalty kill. The line he plays on with O'Reilly and Daniel Winnik has the most ice time of any of the team's trios at even strength. Landeskog isn't going anywhere – he's too big a part of this Colorado team.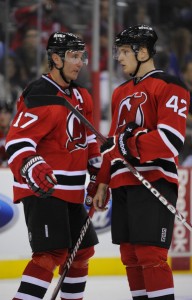 Adam Larsson, who slipped to number four in the 2011 draft, has shown why he was at times considered a lock for the number one pick in the months leading up to the draft. When the New Jersey Devils had him fall in their lap, they probably didn't realize they'd found their new number one defenceman. If the talk coming out of Newark these days is to be believed, and it certainly should be, they did. Comparisons to Scott Niedermayer, made during the run up to the draft, are being once again dusted off.
Larsson (4 – 0 – 0 – -1 – 24:14) has played in all situations, partnering with veteran defenceman Andy Greene at even strength and in his few penalty killing minutes, as well as being the lone defenceman on the ice for the majority of the team's power play time. With his average ice time per game being ahead of past Norris winners Niklas Lidstrom and Zdeno Chara, and the Devils beginning a rebuild, Larsson should be looking for a good real estate agent – he'll be buying.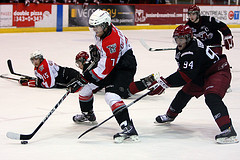 Sean Couturier (5 – 1 – 2 – +4 – 14:52), whom the Flyers secured with the number eight pick, is 17th in shorthanded ice time per game in the league, and behind only Kimmo Timmonen, Chris Pronger, and Max Talbot on the Flyers for PK time. Not bad for any rookie, let alone a QMJHLer known for his scoring prowess. Centring Philly's third line with power forward Scott Hartnell and fellow rookie Matt Read, Couturier has yet to get a sniff on the power play But with his success as a penalty killer, and the promise of his offensive skills, Couturier has apparently already been told he'll be sticking with the team, as he's moved in with Flyers centre Daniel Briere and his three sons, taking the place of Claude Giroux.
While Nugent-Hopkins, Landeskog, Larsson, and Couturier are all pretty much locks to finish the season in the NHL, two other 2011 first rounders are on the bubble.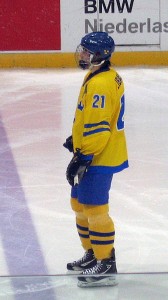 Mika Zibanejad (6 – 0 – 1 – -1 – 12:15) was picked 6th overall by the Ottawa Senators, a big centre with a year in the Swedish Elite League already under his belt. And while the typical storyline for European draft picks in the past was to play another year in their home leagues before joining their NHL club, Zibanejad, like recent picks such as Victor Hedman and Magnus Paajarvi, aimed to jump to the big leagues as an eighteen year-old. So far, so good. But there are a number of factors which will play into whether he stays or not.
First, there's his own performance. It's difficult to see right now where he's at development-wise, with the teams travails, although he's had both highs and lows on the ice, which is to be expected of a young player. But on a team with a serious lack of depth up front, Zibanejad hasn't gotten the kind of ice-time given to other rookie forwards Colin Greening (15:50) or Stephane Da Costa (12:32) (although there isn't a major difference between his and Da Costa's ice time). He also hasn't gotten significant time on special teams (1:25 – PP; 0:11 – PK). So it's unclear as to whether he's playing his way into a permanent spot on the roster.
The major issue in Ottawa though is whether a team with their issues is the best place for an 18 year old to develop. This is a team which is totally lost right now. There's a dearth of effort at times, and there's no sign that the situation is going to improve. And there is no indication that the team is ready to commit to a whole-hearted rebuild. When two of the top three defencemen in ice time are Kuba and Gonchar, two guys who aren't playing to their level, and most assuredly aren't part of the Senators' future, you aren't committing to a rebuild.
If the Sens make that commitment, then keeping Zibanejad won't hurt his development. But there needs to be that commitment to playing key rookies in a variety of situations, and giving them lots of ice time. If that isn't going to happen, then it's better to send him back to his Swedish club.
The final 18 year-old in the league is Mark Scheifele, the 7thoverall pick back in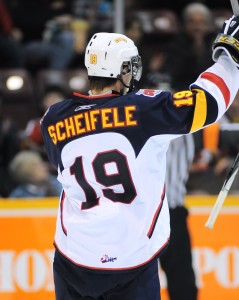 June by the Winnipeg Jets. Scheifele is a question mark to stick simply because there's concern his game isn't ready for the NHL. He's had some very good performances, but also made his share of rookie gaffs.
There is also a question of ice time. He's near the bottom of the list of forwards, and when Evander Kane is only getting twelve and a half minutes a game, there's no sign this will improve. Given that, the odds of Scheifele sticking seem slim, and it's likely better for his development to go back to junior, where he'll play important minutes, and have a chance to make the World Junior team.
Ultimately, when each of these players plays – or doesn't – their tenth game, we'll know.
**In the game between Ottawa and Winnipeg on the night of the 20th of October – after this article was written – Zibanejad played 12:04, down from his average, while Scheifele played 12:12, an increase from his. This marked the 7th game for both players.**
Before joining The Hockey Writers, James Phieffer was busy antagonizing idiots as a political commentator and writer, with his work appearing in the Belleville Intelligencer and at his website, jamesphieffer.blogspot.com. When he felt he wasn't causing enough mayhem, the hockey world beckoned, and a lifelong passion for the sport led him to a spot with THW.
James writes on all matters surrounding hockey, with a desperate hope that every article he writes irritates someone.