When you think of the Atlantic Division the first names that come to mind are the likes of Pavel Datsyuk, Steven Stamkos, Max Pacioretty, Patrice Bergeron and now maybe even Jack Eichel. However, there's a series of underrated players that don't quite carry the clout of those above but still produce and have a huge impact on their teams.
Whether it's due to big name line mates or simply getting overlooked despite the contribution they bring every night, the players below deserve some of the spotlight. We'll touch on one underrated player from each Atlantic Division Team.
Ondrej Palat, Tampa Bay Lightning
There's simply no denying the impact of the triplet line and what they mean to this team. But, when folks think of that line the two names that come to mind are Tyler Johnson and Nikita Kucherov.
Palat, in his second full season in the NHL, has blossomed into quite the playmaker. He works perfectly on the triplets line due to his combination of quickness and vision, which compliments the skill sets of Johnson and Kucherov. I've asked a few folks outside of Tampa who comprises that trio and the answer is always the same.
"Kucherov, Johnson and I can't remember the other guy's name"
Coming off a season in which Palat recorded 63 points (16g, 47a) in 75 games-played, it's probably time to start remembering his name.
Tomas Tatar, Detroit Red Wings
Tatar won't be competing for the Art Ross Trophy anytime soon. However, the 24-year old recorded 56 points last season and potted 29 goals.
Red Wings' fans have a lot of appreciation for what Tatar brings to the table. He's speedy, tenacious and simply put, he's very hard to play against. Outside of Detroit though, there isn't as much appreciation as he warrants.
There were rumors this past summer that Detroit would consider moving Tatar but of course that didn't happen, and it shouldn't. With the team's aging core and the time to rebuild nearing, Tatar should be considered a pivotal piece going forward.
Mark Stone, Ottawa Senators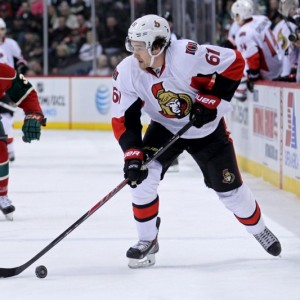 Stone Burst onto the scene last season in his first full year in the NHL with 64 points (26g, 38a) in 80 games-played. He's the type of player that can be appreciated by both the analytics community and hockey traditionalists.
Stone's most frequent line mate was Kyle Turris and the two boasted a 3.22 goals-for per sixty minutes while on the ice together. Without Stone, Turris saw that number decrease to 1.99. Turris also saw a drop in his cors-for percentage as he posted a 52.3% alongside Stone and a 47.3% without him. You don't have to dig much deeper to get an idea of the impact he has on his line mates.
Stone is often overshadowed by bigger names in Ottawa but he deserves a lot of credit for their late-season run into the playoffs. Look for another big year from the 23-year old as he continues to develop into a top-notch scorer in the NHL. Many around the league have Ottawa ranked highly in their power rankings due to their impactful youth and Stone is front and center for that group.
Brendan Gallagher, Montreal Canadiens
Most of the talk out of Montreal these days revolves around Carey Price, Max Pacioretty or P.K. Subban. But, Gallagher is flying under the radar with pretty impressive goal totals and a lot of upside in his young career.
Though undersized, Gallagher is one of the harder working two-way forwards in the game. He plays bigger than his 5-foot-9 frame and is ferocious on the forecheck. He is known for his ability to play both ends of the ice really well but his offensive game saw a boost in 2014-15 as he accumulated 24 goals.
At $3.75 million for an annual cap hit, 25-30 goals is huge value when taking his defensive game into account. Gallagher was a rare bright spot from an analytics standpoint for Montreal last season and should continue to grow as an all-around player and scorer.
Brad Marchand, Boston Bruins
Marchand is often overlooked in the hockey community as a truly impactful forward. His on-ice antics and agitative demeanor normally distract fans outside of Boston from what he can really provide as a player.
The truth, though, is that Marchand is extremely productive and ranks fourth in scoring for the Bruins over the past five seasons with 227 points in 357 games-played. Very impressive totals for a guy that's simply considered a pest for opponents and nothing more.
When you play with names like Patrice Bergeron, David Krejci, Milan Lucic and Zdeno Chara it's easy for folks that don't see the Bruins night-in and night-out to discount the talent you possess. Marchand is the prototypical player that you hate when he's against you but love when he's on your team. If fans of the opposition speak in dismay about Marchand and the way he approaches the game he'll consider himself successful in carrying out his responsibilities.
Brian Campbell, Florida Panthers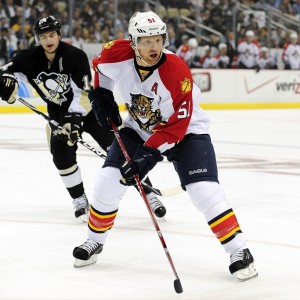 At 36-years old Campbell is still doing a lot of great things in Florida. His point totals have declined a bit but his underlying numbers show his impact on what this team does offensively.
It doesn't matter what category you view as far as possession numbers go, as it seems that Campbell tops the Panthers in all of them. He's a huge part of both shot creation and shot suppression for Florida. While the attention has turned to youngsters such as Aaron Ekblad for the most part, we can't forget that Campbell is still playing a crucial role on the blue line.
If there's one complaint about Campbell it's obviously his $7.1 million cap hit that he carries. Of course, his contract expires after this season and there's something to be said about Florida signing him to that total throughout his early to mid-30's and letting him walk at age 36. Well, if they do indeed let him walk.
An underrated part of Campbell's game is his health. He has not missed a game for Florida over the last four years, which is very impressive in its own right. Florida is turning a corner with the youth in their organization and yes, Campbell is on the expensive side for a 36-year old defenseman. But, don't discount what he brings to the table every night.
P.A. Parenteau, Toronto Maple Leafs
Parenteau is likely past his prime at this stage of his career. However, that doesn't mean that he can't provide value to the Toronto Maple Leafs in 2015-16.
Parenteau is signed at $1.5 million for one-year in Toronto which is a very low risk move for a team in the beginning of a rebuild. He's a player that can move up and down the lineup playing any role asked of him. And, at that cost, consider the overview of his production below in his HERO chart.
There's clearly a lot of value in this signing. I was surprised that Parenteau signed in Toronto considering his age and where that franchise currently sits in their rebuild. To his credit though, he should provide a decent amount of offense as they work to develop their youth.
Tyler Ennis, Buffalo Sabres
Ennis is a player that always fly's under the radar. He's another player that could be considered overpaid but is capable of being a 25-goal scorer when surrounded with the right cast. That cast could be this season's Sabres.
At roughly 5-foot-9 and 170 pounds there's no doubt that he's undersized for this league. But, similar to Martin St. Louis, he uses his speed and elusiveness to his advantage and stays relatively healthy. I'm not saying that he's the next St. Louis by any means but he's another example of an effective undersized forward.
It's hard to say where he'll fall in Buffalo's lineup next season with the overhaul of talent they brought in for the top-six. If he finds himself playing alongside either Jack Eichel or Ryan O'Reilly he could be poised for his most productive season as a pro. He isn't the type of player that can carry you to the promise land on his own but he'll surely give you an offensive boost along the way.
Pittsburgh Penguins writer for TheHockeyWriters.Com and PittsburghHockeyNow.Com. Youth hockey coach, and student of the game.