The Franchise Four. The Mount Rushmore. Four players who tell the story of an organization. In this series, I'll be taking a look at the history of all 30 NHL squads. For criteria, I'm choosing one forward, defenceman, goaltender and a wild card from any position.
Since entering the NHL as an expansion team in 1998, the Nashville Predators have reached the postseason eight times in 16 seasons.
During said time frame, the Predators have iced the likes of Shea Weber, Pekka Rinne, Kimmo Timonen, David Legwand, Ryan Suter, Steve Sullivan, J.P. Dumont, Martin Erat, Patric Hornqvist, Mike Dunham, Tomas Vokoun, Greg Johnson, Jason Arnott, Scott Walker and Jordin Tootoo.
So, which players make their "Franchise Four?"
4. The Forward – David Legwand
An original Predator, Legwand would answer the bell and do it all for Nashville. From the early lean years to the playoff years, Legwand epitomized the grit and grinding team first style of Barry Trotz's Predators. In Predators franchise history, Legwand ranks first in games played (956), goals (210), assists (356), points (566), even-strength goals (156), game-winning goals (41) and second in short-handed tallies (10). In 47 postseason contests, Legwand totaled 13 goals, 15 helpers and 28 points.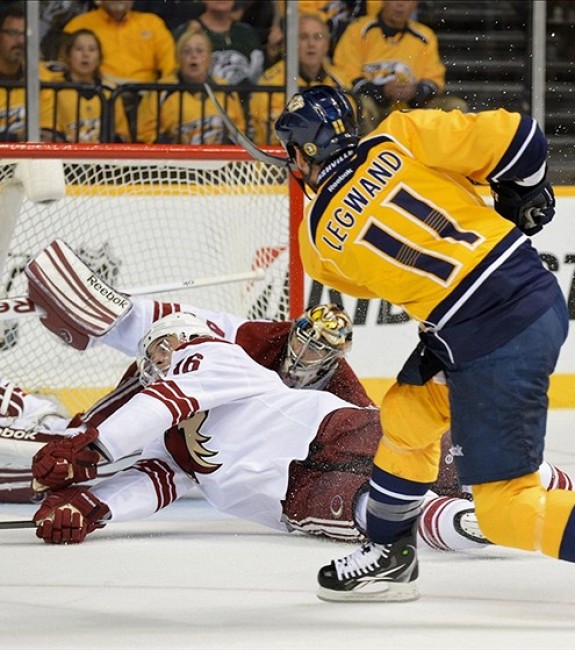 3. The Wild Card – Kimmo Timonen
Another longtime original Predator, Timonen was a great all-around blueliner with Nashville. Timonen was a two-time All-Star with Nashville. In Predators franchise history, Timonen ranks fourth in games played (573), assists (222) and points (301). Timonen was also a force in quarterbacking the Nashville power play, netting 46 markers with the extra attacker, second most in club history. Timonen was on the ice for 328 tallies with the extra attacker, tops in team history.
2. The Goalie – Pekka Rinne
Since arriving on the scene with the Predators, Rinne has taken Nashville to a new level. Rinne has three top-ten finishes in Hart Memorial Trophy voting. Plus, Rinne has three top-three finishes in Vezina Trophy voting, including being twice a runner-up. During the 2011-12 campaign, Rinne bested all netminders with 73 games played, 43 victories and 1,987 saves. A season later, Rinne posted a league-high five shutouts. In Nashville franchise history, Rinne is second in games played (381) and first in wins (204), saves (9,773), save percentage (.919), goals against average (2.36), shutouts (36) and minutes (21,957).
1. The Defenseman – Shea Weber
The Predators' captain, Weber is the cornerstone of the franchise on the blue line. Weber is a four-time All-Star and has finished in the top-three in Norris Trophy voting three times, along with being the runner-up twice. On the whole, Weber has finished in the top-ten in Norris Trophy voting seven times. Weber is a big imposing force on defense and boasts a howitzer of a shot from the point. Weber has seven double-digit goal seasons with Nashville. In Predators franchise history, Weber ranks third in games played (685), goals (146), assists (246), penalty minutes (541), even-strength goals (75) and points (392), first in plus/minus (55) and power-play goals (66). In 45 postseason contests, Weber has 10 markers, 11 helpers and 21 points. Weber also leads in offensive and defensive point shares.