As the Rangers and Bruins game just concluded about twenty minutes ago, only one word comes to mind, and that's brutal. It perfectly described the Rangers passion and playing ability in this Saturday afternoon matinee in Boston. The Rangers came out slow, continued slow, and woke up with two minutes to go, only to score zero goals. The defense yielded only one, which was a poor play by Henrik Lundqvist, but since the Rangers' offense has been so terrible, that one goal was all they needed.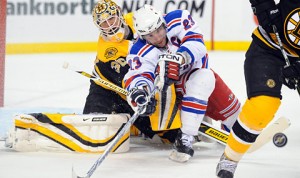 When Tom Renney was coaching, I didn't think this team would make the playoffs. I published this article, saying that they are not playoff caliber, and when Renney was fired, my prayers were answered. The team got such a boost from the coaching change but after about a month, it seems this is just the same team in a different wrapper. Although Tortorella is doing a good job, this team is just not good enough to do any damage in the playoffs, let alone even make it in.
With the Rangers currently sitting in eight place, holding a one point lead on the approaching Florida Panthers, the Blueshirts needed a win today, especially since the Atlanta Thrashers defeated them last night, greatly helping the Rangers out. But the success would not come as the Rangers were shut out 1-0 for the third time in the last four meeting in TD Banknorth Garden.
All in all, I love hockey and I've been watching it my entire life. My friends and the people that read my articles know my service to the sport, but after today I am just sick of it all. Sick of the losing, sick of the listless defense and the nonchalant, no urgency offense. Maybe it's best if the Rangers miss the playoffs, because that would force Glen Sather to retire, and the new GM to move some of the four major contracts handcuffing this team.
Are the Rangers a better team? Absolutely. But just better, and not great. This is the same terrible team, they just lose more excitingly now then before. These next three games are going to be tough to watch, if I even decide to turn the television on.