The hockey community has recently been hotly debating the topic of fighting in the NHL. There is very sharp divide between people who would like to see it out of the game and people who have no problem leaving it in the game.
So should the NHL ban fighting in the sport? Or does it have a place in the game?
Is Fighting Even Legal?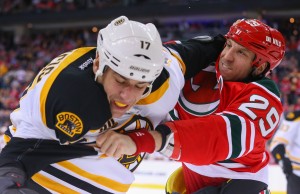 The simple answer to this question is no. As per the rule 46 in the NHL rulebook:
46.1 Fighting – A fight shall be deemed to have occurred when at least one player (or goalkeeper) punches or attempts to punch an opponent repeatedly or when two players wrestle in such a manner as to make it difficult for the Linesmen to intervene and separate the combatants.

The Referees are provided very wide latitude in the penalties with which they may impose under this rule. This is done intentionally to enable them to differentiate between the obvious degrees of responsibility of the participants either for starting the fighting or persisting in continuing the fighting. The discretion provided should be exercised realistically.
It's a subtle fact that a lot of advocates against fighting seem to forget. If you dig even deeper and read into Rule 46, there is a very thorough description of everything that can warrant supplemental discipline during a fight. These include things such as 3rd man in, aggressor, instigator, fighting before the whistle, and fines and suspensions. Sitting down for 5 minutes is a pretty large price to pay, so to say the NHL allows fighting would be the wrong thing to do.
Of course all of this begs the question, since fighting is illegal, how does the NHL go about banning fighting all together?
You could look towards the IIHF. They have banned fighting, so if a player does decide to drop the gloves, they are assessed a major penalty and a game misconduct or a match penalty. Easy enough for the NHL to do the same, right? Wrong.
The IIHF is the governing body for some of the best leagues in the world, most notably the Olympics. The best players in the world are chosen for these teams, and the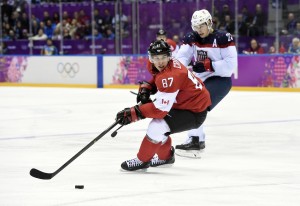 majority of them are not guys who are going to go out and throw a dirty hit. Think about it, when was the last time you saw a dirty hit in Olympic hockey? It rarely happens, if ever. Now look at the NHL. There is a role in the NHL for an enforcer, a guy who's main job is specifically to go out and throw his weight around at guys on the other team. If Team A's enforcer goes out and throws a borderline hit at Team B's superstar injuring him pretty badly, then Team B can send out their enforcer to make sure that the guy from Team A knows he won't get off the hook easy. If fighting was banned, then what's to say Team A doesn't send out another goon to go after another superstar? Nothing. Those guys are easily replaceable in the NHL, and if all they have to worry about is a suspension instead of a physical confrontation, then why wouldn't a team continue to take cheap shots? Even players in the NHL are agreeing that it is safer on the ice with fighting in the game than it would be if fighting were banned.  It's an accepted system of checks and balances in the NHL. Take fighting out of the game, and you will see dirty hits sky rocket.
It's important to remember that while the NHL hasn't banned fighting, they have taken steps to make it safer (as weird as that may sound). As I mentioned above, there are all sorts of different complications that will arise if a player engages an unwilling partner in a fight. Those rules have done a good job of bringing fighting numbers down, but they have also kept fighting in the game, which is even more important.
Fighting isn't legal in the NHL, and it is punishable, however, it is worth the trade off for the amount of cheap shots that it prevents in today's game.
Raw Emotion
If you haven't heard the news by now, the fuel behind this fire is superprospect Connor McDavid. The 17 year old had 51 points through just 18 games for the Erie Otters, until getting injured. McDavid squared up for a fight and appeared to hit the glass with his hand, and after that, he did not return to the game. McDavid is now expected to miss up to 6 weeks with a fractured hand and his participation in the World Juniors is in serious jeopardy.
The very vocal Paul Bissonnette took to twitter to defend the topic of whether fighting should be allowed:
McDavid had a kid playing hard and finishing hits on him. Probably had been in his hip pocket all night. He wanted it. It's a conflict sport

— Paul Bissonnette (@BizNasty2point0) November 12, 2014
Are the days of just lining up off faceoffs and fighting just for fighting on there way out. For sure. A good thing. Maybe not for me.

— Paul Bissonnette (@BizNasty2point0) November 12, 2014
How about you let the guys putting on their equipment decide? McDavid did. He didn't have to.

— Paul Bissonnette (@BizNasty2point0) November 12, 2014
He's right. Was McDavid forced into fighting? Not at all, he chose to square up, and in the heat of the moment, sometimes that's what your team needs. Superstar or not, it was his decision to drop the mitts, no one elses. So just because a superstar sustained an injury in a fight, does that mean that we should be questioning whether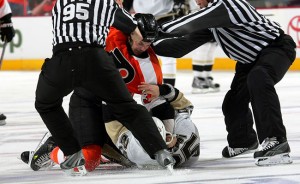 or not fighting should be allowed in the sport? Not at all. McDavid's frustration was just at a boiling point. The NHL is far from allowing anyone to fight without it being a mutual decision. If you do decide to just tee off on a unsuspecting player, you will be facing fines, suspensions, and your team will be facing one hell of a penalty kill. So once again, is there really a problem with allowing two willing combatants to drop the gloves?
Hockey is an emotional sport, and for those who have never played it, aside from the battles between two teams as a whole, there are individual battles that arise as a result of frustration, emotion, and competitiveness.  Those individuals battles sometimes cause fists to fly. Is that a bad thing? Not at all.
Infact, sometimes when all of that emotion is bottled up into a fight, it can turn a teams fortunes drastically. Flashback to the 2009 Eastern Conference Semifinals between the Pittsburgh Penguins and Philadelphia Flyers. Game 6 was being played in Philadelphia and things were not looking good for the Penguins. They went down 3-0 early on in the game, and were being outworked by a Flyers team that was looking to force a game 7. That's when Max Talbot stepped in. Talbot isn't a huge fighter, or a well respected fighter, but he's a gritty, hard working forward. Talbot squared up against Dan Carcillo just after the Flyers had made it 3-0.
Take special note at what commentator Eddie Olczyk is saying as Carcillo lands punches and takes down Talbot.
"I understand why Max Talbot is fighting here, but if you're Dan Carcillo there's really no reason to engage. You have all the momentum, you're up 3-0 in the game, there is a time, there is a place. You know the Flyer fans love it, but you know what Panger, there is no reason, do not give the Penguins any opportunity to build any momentum off of a scrap."
That third goal would be the last goal of the 2009 playoffs for the Flyers. The Penguins scored five unanswered goals, including one just 14 seconds after Carcillo dropped the gloves with Max Talbot.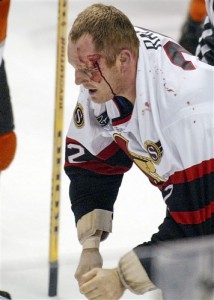 If you watch this video, and look at the context in which everything happened, it's going to be very hard for someone to argue that fighting has no place in the game. This one fight single handidly changed a game, a series, and eventually backboned the Penguins to their 3rd Stanley Cup.
The example above is just one of many that any fan can find. There have so many instances where fights have resulted in a complete change of tides for a team. It is raw emotion, sacrifice, and frustration. Take fighting out of the game and what are you left with? Would the Penguins have won that game? The series? The Cup? Who knows, but, banning fighting will take out a side to the game that is hard to replicate. You will always have the emotion of a big goal, and a big hit. But there is something about a fight that is just unmatched.
Where Do We Go From Here?
Fighting in hockey is an age long debate that won't be resolved anytime soon. The NHL could choose to take fighting out of the game, and a lot of people who surround the sport (not the players) see that as something that would better the game. But would it? The most common thing to do is draw comparisons to the international game, but after closer examination, the two really aren't comparable in terms of the different types of roles that are played in both. More importantly, fighting is a system of checks and balances. Fewer goons are going to want to take a run at a superstar if they have to fear facing the opposing teams enforcer on the next shift. It keeps the cheap shots (for the most part) pretty rare and not prevalent in the game, and that's undoubtedly a good thing. Lastly, fighting brings a side of emotion to the game that is unrivaled in this sport, or any other sport for that matter. It is not replaceable, and it can change the course of a game in a matter of minutes.
The NHL doesn't need to question its decision to keep fighting in the game, because it does play a huge role, and it does have a very important place in today's game. Get used to it if you don't like it, because it isn't going anywhere in the near future.
Matt is a contributor for the Philadelphia Flyers at The Hockey Writers. He has previously covered the Flyers for GrandstandU. He enjoys playing hockey and making music in his spare time.