"Because a player is from Russia, will their draft stock drop?"  – Is this still a valid question? For many years this has been the case with the likes of Alexei Cherepanov, Viktor Tikhonov, Alexander Khokhlachev, and even some higher profile names like Kirill Kabanov and Dmitri Kulikov.  Russian hockey player's reputations have been branded with a reputation that they may never come across the ocean to play in the NHL.  Furthermore, if they try to pursue a career in North America, the fear is they may head back to the Motherland if their plans go awry (ie. Alexander Radulov).
Lately the prototypical Russian mentality has shed a new light on its young players, issuing a new breed of talent and mindset that should begin to excite NHL GMs and fans.   More and more top players from Russia have decided to make the next leap, to develop themselves in the North American system.  The KHL is trying to compete with the CHL by implementing its own junior league, the MHL.  The Russian junior league doesn't hold a candle to best junior hockey leagues in the world, with the MHL's skill level being mediocre at best.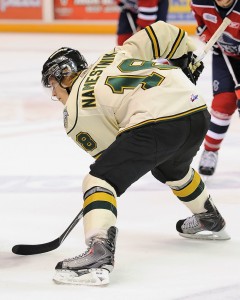 This past draft showcased two prominent CHL players, Vladislav Namestnikov and Alexander Khokhlachev.  Namestnikov was the first, and only, Russian drafted in the first round in Minnesota by Steve Yzerman and the Tampa Bay Lightning.  The Lightning ended up taking a total of three Russians (Namestnikov, Kucherov, Nesterov) in the draft.  At the draft, when asked why he chose to go the Russian route, Steve Yzerman responded:
"Well it's something we talked about last month with this draft and potentially seeing how good these players are and where we are picking in the draft.  And obviously there is a real concern…not in Namestnikov.  He lives here.  He plays here.  Plays in London.  We don't see that concern of him being signed in Russia and not being able to come over.  But we talked about that as a strategy.  These are high-end players and there is a lot of hesitation in some of these players to bring them over, which is understandable.  So we felt the 3 that we selected, not so much Namestnikov, but the 2nd and 3rd players that we selected felt like this was a good gamble.  We believe they'll be here [North America].  And they will be here sooner than later.  Really any player you pick in the 2nd round, most of them are three to four years away that we felt in three or four years, if they are good players, they'll be here.  All the good ones eventually come over from Russia.  Picking where we did, late in the 1st and late in the 2nd that maybe we take a chance here for one year and get a real good player late in the 2nd round that, potentially, if he was playing in North America would have been much higher." – courtesy of Tampa Bay Lightning video
Al Murray, Tampa Bay Lightning's Director of Amateur Scouting had this to say about the three Russians:
"The first question is, 'How come so many Russians?'…We think they are very good.  Steve [Yzerman], at the start of the year, talked about the attributes he wanted from our players and also talked about that we are not putting any handcuffs on ourselves as far as limiting ourselves.  French Canadians, North Americans, Quebec guys, USA guys, Russian guys…he just wanted us to try to acquire the best players.  All 3 of these players we had very highly ranked on our list.  We see 3 guys who had they not had last names ending in 'O-V' would have been in the 2nd round, at the latest.  They're all major players in their countries and we think they're terrific prospects.  There is a little difference in every situation.  Namestnikov, who we took last night, as we mentioned, we don't see him as a Russian player.  He just has a Russian last name.  He plays in North America.  Lives in Detroit.  His mom and younger brother stay in Detroit all year long while his dad goes back to coach in Russia.  So he's got that situation.  He speaks great English.  In Kucherov's situation, he plays for Red Army.  He plays on the junior team last year for Red Army and was one of the top scorers in the Russian junior league.  And also played for the under-18 team for Russia at the World Under-18 Championships in April and set a new tournament points record with the most points in the tournament…In the case of Nesterov, he plays in Chelyabinsk.  He's played in the under-18 team as well.  They usually play in units of five and Nesterov and Kucherov were part of the top unit along with Grigorenko and Yakupov, two players that will be looked at in the top ten of next year…Nesterov has been drafted by Tri-City of the Western Hockey League, and from everything we hear, they are close to working out an agreement where he'll be playing in Tri-City next year in the Western league.  So 3 Russian kids, all a little bit different in situation, and in our opinion, all very high-end talent wise.  They've all indicated to us that they all want to be National Hockey League players…In our opinion, they are all 3 talents that warranted being picked at least as high, if not higher then where they were chosen.  We're optimistic that all of them have indicated they want to play in the NHL and all will eventually be in that situation" – courtesty of Tampa Bay Lightning video
Stanislav Galiev may have been the catalyst for many young Russians to hitch a flight across the pond.  Having been too young to enter the CHL, Galiev decided to try for an opportunity in the USHL before making the switch.  He joined the Indiana Ice for the 2008-09 season and posted 64 points in 60 games with the team.  His effort, skill, and determination to have a career in NHL made him the 1st overall pick in the CHL Import Draft by the Saint John Sea Dogs.  Two years later Galiev became a third round draft pick of the Washington Capitals and an eventual Memorial Cup Champion.
Although Galiev has had enormous success since coming from Russia, the most intriguing story lines are shaping up to be two of next year's "supposed" top draft picks, Nail Yakupov and Mikhail Grigorenko.  Last season Nail Yakupov had a coming out party in Sarnia, scoring 49 goals and winning the CHL's Rookie of the Year Award.  An explosively dynamic winger, Yakupov started his career in the MHL before making an abrupt decision to play in Canada.  Needless to say the decision has had its benefits and there has been early talk of Yakupov's name possibly being called first overall in the 2012 NHL Entry Draft.
Similarly, Mikhail Grigorenko looks to be heading down the same path.  Having already been called the next "Ovechkin", Grigorenko spent the entire season in the MHL with very productive numbers and was the second overall pick in the CHL Import Draft.  Capping an impressive Worlds U-18 tournament this summer, Grigorenko's name is also getting thrown around as a top pick in 2012.  Taking cues from fellow Russians: Galiev, Namestnikov, Yakupov, and Khokhlachev, Grigorenko has confirmed that he will be joining the Quebec Remparts for the 2011-12 season, further boosting his draft stock.
The 2012 draft should leave many Russian doubters in the dust with as many as three possible Russians going first overall next year.  Granted there are still ten months until the draft, but many young Russians will be making a splash next season.  This year is the first time in four years where the numbers of Russians drafted has increased from the previous year, which bodes well for their stock in general.  If more players continue to make the journey West, then NHL teams will be less hesitant to pick a Russian player out of fear of bailing to their home country.  Despite it being easy to label Russians for slipping in the draft due to the "Russian Factor", the dedication of talented, young players coming to North America to build a career may diminish the "Russian Factor" stigma to the point where it becomes almost nonexistent.