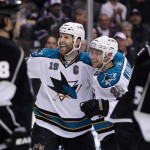 Back when the western portion of eastern Canada was young, there was a big kid straight out of the frozen, blustery plains of Ontario.  At 6'4″ and well over 200 pounds, he was a menacing figure, sporting a stubbly beard and carrying a trusty boomstick.  He roamed the frozen, untamed rinks with lawless abandon, shooting at will and evoking screams from the huddled citizenry.  Katy, bar the door:   Joey the Kid was in town. 

83 goals for the Elgin-Middlesex Chiefs in 1993-94.  40 goals in 50 games for the St. Thomas Stars.  71 goals in 125 games for the Sault Ste. Marie Greyhounds.  And then, after a season-and-a-half of NHL acclimation, 118 goals in his next 295 games.  The big man could score goals, and with his size, strength, passing ability and net prowess, nothing seemed able to stop him from dominating the NHL in all phases for years to come.
Somewhere along the line, however, the shooter became a distributor, which managed to work with both his final few Bruins' teams as well as six years in San Jose.  His teams made the playoffs, the last two reaching the conference finals.  However, with the Sharks having been summarily defeated in both conference finals' series, General Manager Doug Wilson deemed change in order, trading for the likes of Brent Burns, Martin Havlat and James Sheppard while signing Jim Vandermeer, Michal Handzus, Thomas Greiss, Andrew Murray and Colin White, amongst others.  And yet, one more fundamental change may still be forthcoming:  Joey the Kid may need to ride back into town.
The Sharks have a solid offense again on paper, despite losing Devin Setoguchi's 22 goals and Dany Heatley's 26.  Heatley's total was his lowest full-season number since 2001-02, and at  just 30 years of age, is poised for a bounce-back season.  Yet the moves Wilson made  in strengthening the defense and acquiring proven playoff performers came at the expense of the team's surplus of offensive explosiveness.   More than ever before, the Sharks may need Big Joe to put the puck on net this season.
Although not generally considered a natural scorer, Thornton had a greater inclination to do so earlier in his career.  Thornton put 149 shots on net in 2010-11 and scored 21 times.  The year before, he registered 141 shots and 20 goals, and the year before that, 139 and 25.  As a frame of reference, 55 NHL centerman shot more times than Thornton last year, who still tied for 23rd in goals at his position.  Previous to the past three campaigns, he put up no fewer than 171 shots over his first ten full seasons, peaking at 213 in 2006-07.  Ironically, he scored just 22 goals that year, bouncing back with 29 in 2007-08 — on 178 shots.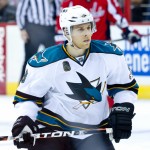 Shot totals in the 170's are far from aggressive for a top-six center in the NHL.  Jeff Carter put 335 shots up last year, Eric Staal 296.  Teammate Joe Pavelski, never shy to throw the puck at the net, was third in the league with 282, scoring just 20 times.  Thornton scored more goals than that on nearly 50% fewer attempts.  At a 15% shooting percentage throughout his thirteen year NHL career, the ability to score 30+ consistently is well-documented.  The role of distributor/space creator is the single reason the goals haven't quite followed suit.
This season may be different.  Havlat-for-Heatley made sense from a financial standpoint, not to mention speed and playoff performances. But Havlat simply does not possess the electric offense Heatley brings to the arena every night.   While Marleau is still Marleau and Couture, Clowe and Pavelski round out a formidable top six, Thornton may no longer have the luxury of being the team's sixth scoring option amongst forwards.
"Joe's a very astute player," said San Jose coach Todd McLellan, during last year's playoffs.  "He uses his mind instead of his body, and studies the game a lot, which gives him a distinct advantage."  A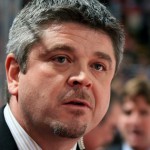 student of the game himself, McLellan understands the landscape of his team has changed substantially since the five-game playoff ouster at the hands of the Vancouver Canucks.  This year's roster is deeper, quicker and grittier on the blue line, while still maintaining balance in the forward ranks.  However, the sheer sniper firepower of Dany Heatley, even if somewhat lessened last season, gave Thornton the luxury of feeding him the puck in prime scoring areas and entrenching himself in front of the net.  To a lesser extent, the same held true for Setoguchi.  Losing two formidable top-sixers, even while acquiring a solid one in Havlat, may require Thornton to adjust his role once again.
Although his 70 points were Thornton's lowest since 1999-00, the depth and breadth of San Jose's offense likely had much to do with it.   At just 32, Thornton is seasoned, not sagging.  His shooting percentage last year was just a hair under his career average, and he was second on the team behind Marleau amongst forwards in ATOI.  "I think Joe's realized he doesn't have to carry the team nightly," said McLellan.  "He just has to find a way to contribute consistently.  It's not always about scoring and setting up plays, it's about what you do defensively, how you commit  yourself to different situations.  He's done a tremendous job in that area."
For San Jose to take the final step, however, he may need to don his cowboy hat once again.  Katy, bar the door — Joey the Man is riding back to town.