Follow Lukas on Twitter @LukasHardonk for more Maple Leafs coverage.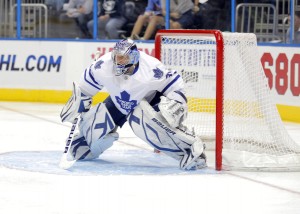 The 2011-2012 NHL season is sure to be an exciting one as far as the Toronto Maple Leafs are concerned, with multiple changes having been made in the last month.
Tim Connolly, Cody Franson, and John Michael Liles are all expected to be in the Leafs' lineup when they open up the season on October 6, while centre Matthew Lombardi may not be ready in time but will certainly provide some flare to the Leafs' lineup when he debuts.
What people tend to forget about though is all of the returning players who have their sights set on an improved season. That doesn't just mean those who are 30 goal scorers, All-Stars, or veterans, but it also includes all of the young players who are just beginning their careers.
While not all of them are entering their rookie season, the Maple Leafs' roster consists of at least 13 players of all positions who are ready for a big year in the NHL.
But of those returning, who are the five most likely players to improve upon their play last season? Let's take a look.
No. 1 – James Reimer
23-year-old James Reimer was outstanding for the Maple Leafs last season. He appeared in a total of 37 games and ended up with a record of 20-10-5, a goals against average of 2.60, and a save percentage of .921.
Those statistics were good enough to help the Leafs come as close as three points to the eighth and final playoff spot, which gave fans a reason to be optimistic.
Now as Reimer prepares to enter his sophomore season, many are worried about how he will handle himself. The goalie who was put into a position that had low expectations has now been named the number one goalie for the Toronto Maple Leafs after signing a brand new contract.
We did see signs from Reimer last season that showed he has the ability to maintain this pace, though. His strong positive mentality, his patience, his ability to remain calm, and his great attitude are all good hints towards a pleasant career.
After a season that taught him a lot about the NHL and an off-season full of workouts, what makes you think he can't improve?
No. 2 – Keith Aulie
Keith Aulie spent the majority of last season on a defence pairing with captain Dion Phaneuf, who was great for the youngster. Much like Reimer, the 22-year-old had never played in the NHL before and having a veteran to play with certainly helped his development.
While Aulie did struggle at times we also saw some positives. His strength was on display for much of the season, as well as his ability to keep up with the pace of the NHL.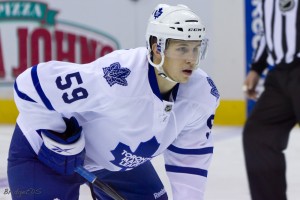 One of the biggest things that Aulie has going for him is himself─his size that is. The Rouleau, Saskatchewan native is listed as 6'5″ and 217 pounds, making him one of the biggest defenceman on the Leafs' roster. His size won't only be an advantage in training camp, but also in game action.
If last season is a sign, Aulie is likely to become a solid top-four defenceman for the Maple Leafs.
No. 3 – Luke Schenn
Last season was a good one for third-year defenceman Luke Schenn, who played well enough to earn himself what should be a relatively large raise for this coming season.
Schenn set a career-high in assists (17) and points (22), and tied his career-high of five goals. While Schenn was busy putting up better offensive numbers, the 21-year-old was also learning to become more discipline.
For the second consecutive season Schenn's penalty minute totals went down from the previous year. In 201o-2011, Schenn finished with just 34, 10 of which came from fighting majors.
Schenn also became more patient and never seemed to crack under pressure, which is exactly what a player needs to be able to thrive in Toronto.
No. 4 – Nikolai Kulemin
Some might say that Nikolai Kulemin became one of the Maple Leafs' offensive leaders last season. He was one of the forwards counted on by coach Ron Wilson when the team needed a goal and helped to spark his team when they were down.
With 30 goals last season, Kulemin was one of the Leafs' best forwards. That was never more evident than when he was used his great shot, drove to the net or was just fending off opposing players along the boards.
Like Aulie, Kulemin's size will certainly help him this season, just as it did in 2010-2011. The native of Magnitogorsk, Russia is listed as 6'1″ and 225 pounds, giving him a slight advantage over some others.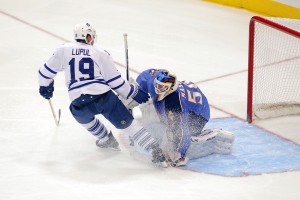 Now in a brand new situation, Kulemin had to adjust to new surroundings. He's already done that once during his time in the NHL, so why wouldn't he be able to do it again?
No. 5 – Joffrey Lupul
Joffrey Lupul has had a rough three years. The 27-year-old underwent back surgery in 2009 and didn't return until the following season. He scored 13 points in 26 games with the Ducks before being traded to the Maple Leafs.
Lupul continued to struggle after he was traded to the Leafs, but did manage to turn things around near the end. He ended up with nine goals and nine assists in 28 games with the Leafs.
What we saw from Lupul closer to the end of the season was a power forward who was more than willing to go to the net and score the dirty goals, but also one who could find the back of the net from farther out.
Being a former 28-goal scorer, that's what you would expect to see from Lupul. Now, can he return to his old form and reach the 25-goal plateau for the third time in his career?
That is certainly possible with new linemates and a fresh slate.
Twitter: @LukasHardonk | Email: lukas.hardonk@gmail.com | Lukas' archive
For every Leafs article on THW, follow @THW_MapleLeafs on Twitter.
Lukas, a student at the University of Ottawa, covers the Toronto Maple Leafs on a part-time basis for The Hockey Writers. Contact Lukas at lukas.hardonk@gmail.com or follow him on Twitter, @LukasHardonk.