by Jas Faulkner, Senior Correspondent – Nashville, TN, USA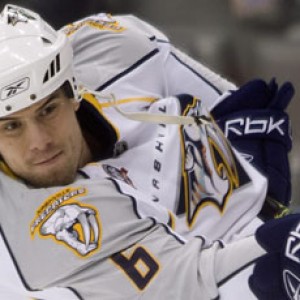 Git me a hockey star, Poile!  The rest of the NHL's got more than they can handle!
In the Coen Brothers' 1987 film, "Raising Arizona", an ex-convict named Hy is given marching orders by his wife to get some diapers for their newly stolen (by them) baby.  While he is in the store, Hy has a lapse and goes from being a doting adoptive dad to his former identity as a petty thief.  Pulling a pair of pantyhose over his head, he hitches up his trousers, musters up every last reserve of inner badass energy and walks up to the clerk where he demands all of the cash and a package of Huggies.   There is a pause as the clerk eyes him coolly and then drawls, "Son, you got a panty on your head."
This scene stands as an apt metaphor for Predators GM David Poile's summer.  The ownership, the fans and everyone involved with the team has demanded a followup to Nashville's best season to date.  Not wanting to disappoint, Poile went into the summer months with the bravado of someone who had the upper hand.  The free agents not named Shea Weber?  They would see it was a tough league out there and they would be back.  Shea?  Even though he's our number one priority, we also know he loves the team, the city and everything to do with the organisation.  Piece of cake.  Or so he thought.  As the annual free agency free-for-all wore on,  Poile worked to maintain his game face and Joel Ward, Marcel Goc and Shea Weber all eyed him coolly and said, "Mr. Poile, you got a panty on your head. "
Show me the money!
For all of the talent that has come through the Predators' system since their inception in 1998, the fact remains that they are one of the lowest paying teams in the NHL.  In some respects, this has been one of Nashville's saving graces.  A low overhead may very well have played a key role in keeping the team from relocating in leaner times.  The club that has launched or continued the careers of players who have gone on to success elsewhere is telling. It's an indication that someone at the Barn on Broad is doing something right when it comes to picking and developing talent. That someone, however, is not the one cutting the checks.
The disparity between what the organisation is willing to spend has been out of step with the economic realities of running a hockey team for quite some time.  A look at the before and after contracts offered to two recently departed members of the roster tells the story.   Joel ward was making in the mid-600k range his last year with the Predators.  He recently departed for Washington to the tune of twelve million dollars for four years.   Marcel Goc, a productive team member and fan favourite, made three-quarters of a million for his last season in the Tiger Den.  His new payday with Florida offers considerably more money at 5.1 million for three years.
Casual observers of the franchise and local sports talking heads who have followed the team closely for years have all noted what are essentially two recurring themes when it comes to the Predators:  They need to be more willing to pay for talent and when they do get extraordinary players -and- they don't seem to be willing to pay a competitive salary to keep them.
History will Be made…No!  Wait!
As of the publication date for this article, the settlement between Shea Weber and the Nashville Predators is the largest arbitration payout in NHL history.*  Going to the table, Shea's people were asking eight million, which was countered by the club with 4.75 million.  In the end, Weber was offered the option of staying for one or two years and a paycheck of seven and a half million dollars.  The defenseman took the payday and the one-year deal, which will mean he goes back to RFA status at the end of the 2011-12 season.  Also on the block at that time will be two other key players in Nashville's system:  Weber's Glimmer Twin and defensive brother in arms Ryan Suter and netminding phenom Pekka Rinne.
In agreeing to another year in Nashville and insisting on a contract that is more in keeping with his level of talent and status within the league, Weber and his agent are playing it very smart.   He is letting Nashville and the NHL in general know that business-wise, he is thinking like a top-echelon contender.   It means that over the course of the year, Nashville will get a chance to further negotiate with all three players before those critical deadlines and possibly avert the kind of situation that had Poile looking a bit on the queasy side on August 8th.  This move also means that Shea Weber doesn't have to be "that guy", the one who broke up the band to pursue and protect his own interests.
I Had This Dream Where We Were All Good...
Some pundits have labeled this move as disastrous for Nashville.  This will be the case only if the Predators view the deal with Weber as an aberration and revert back to getting players on the cheap.  The settlement could also be a sign that Nashville is ready to step into the upper echelon of the league at an administrative level.  They need to show a willingness to pay for talent that is commiserate with the coaching staff's skill.  This means stepping up with appropriate offers  for players they have developed and rehabilitated  instead of letting them walk when their worth shifts beyond the narrow range that the front office sets for them.   It means hanging on to the supporting talent that consistently produces and shows flashes of their own brilliance when the occasions present themselves.  The Predators have the potential to be a top-tier club within the league.  The greatness is there if they'll do what it takes to bring it forward.  This deal may be what pushes them to further internalise that mindset and act on it.
This is Jas Faulkner who enjoyed an all-Coen Brothers viewing night this past weekend with her BGBF Kevin and company and is now feeling downright bona fide.   To all the moms who have put their kidlets on the buses this week, congratulations!   Now you can swear, dance to Britney Spears, eat peanut butter out of the jar and watch telanovelas again!
*At this point he edges out John LeClare, who was awarded 7 million when he went into arbitration with the Flyers in 2000.