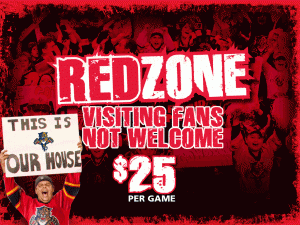 I don't know how many times I've heard Panthers fans complain that there often appeared to be more of our opponent's fans at home games than there were Panthers fans.  In fact, you could often hear the "Ole Ole" cheers starting a game or two before Montreal even came to town!  I will admit that it's not just a hockey thing in South Florida.  We seem to have the most fickle fans in all of sports!  With more than 70 games left in the season,  the Florida Marlins announced that they would close the entire upper level for the remainder of the season.  Wow.  Already giving up all playoff hopes?!
Way before the last season was over, the Panthers' marketing team was promoting Dale Tallon's blueprint for success!  You have to give them credit, the Panthers have been known for their creative marketing schemes.  There was the have a good time or get your money back guarantee; as well as the "Seats fit for a King" promotion when LeBron James joined the Miami Heat; and the "First timer," promotion where anyone with a Florida driver's license got two free seats!
So, how do the Cats plan on filling seats this season?  Well, maybe they've paid attention to those frustrated fans after all, as they introduce their Red Zone (a.k.a. Visiting fans not welcome!) campaign.  That's right.  You come to our house and you are not welcome (if you are from the opposing team!)…well, at least not in this small section…for now!
So, what is this all about?
 "The Red Zone is a place for passionate and committed Florida Panthers fans – that may not already be season ticket holders – to be among their dedicated peers and set the tone for every Cats home game at the BankAtlantic Center," said SSE president & COO Michael R. Yormark. "In addition, our great partners at South Florida Ford are giving fans an opportunity to 'see red' even more in a 2011 Ford Focus. The Red Zone is just the latest extension of our 'We See Red' campaign and the full-scale red conversion of our franchise including the new red home jerseys, red lower bowl seats, red paint and signage in the arena and the new blood that will be featured on the Panthers' opening night roster." – From Panthers Announce Red Zone Seating Section.
It seems like a step in the right direction.  One Panthers' promo video shows pictures of what appears to be an empty, Chicago, United Center in 2006 followed by the "now" sold out crowds.  One of the recent videos states "we'll be sold out too."
I hope to see that day soon!  Let's expand the "Red Zone" to the upper level (showing the Marlins what could have been) and send the message…"this is our house!"