'The Nuck Stops Here' is a Vancouver Canucks news and opinion column running every Sunday throughout the season.
NEWS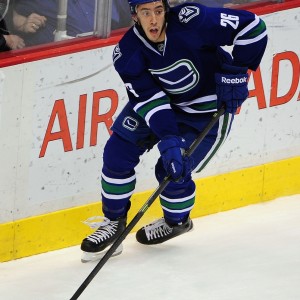 Richard Bachman Re-Called
The following is a pres-release from the organization:
Vancouver, BC – Vancouver Canucks General Manager Jim Benning announced today that the club has recalled goaltender Richard Bachman from the AHL Utica Comets and confirmed that goaltender Jacob Markstrom has a sustained a lower body injury and will be evaluated later today.
Bachman played the majority of last season with the AHL Oklahoma City Barons, finishing with a 2.38 goals-against average and a .918 save percentage in 23 games. He also played in seven games for the Edmonton Oilers, posting a 2.84 goals-against average and .911 save percentage.
The 28-year-old American goaltender has played in 42 career NHL games (Edmonton and Dallas) and has a record of 17-14-2.
Bachman was originally selected by the Dallas Stars in the fourth round, 120th overall in the 2006 NHL Entry Draft.
Frankie Corrado, Linden Vey, Alex Biega on Waivers
The following is a pres-release from the organization:
Vancouver, B.C. – Vancouver Canucks General Manager Jim Benning announced today that the Canucks have placed forward Linden Vey and defencemen Frank Corrado and Alex Biega on waivers today at 9:00 am with the intention of assigning them to the Utica Comets.
Frankie Corrado was later claimed by the Toronto Maple Leafs.
Corrado claimed by Leafs after being put on waivers by #Canucks,

— Ben Kuzma (@benkuzma) October 6, 2015
Scores of the week:
Calgary Flames – 1 : Vancouver Canucks – 5
Vancouver Canucks – 2 : Calgary Flames – 3 (OT)
ANALYSIS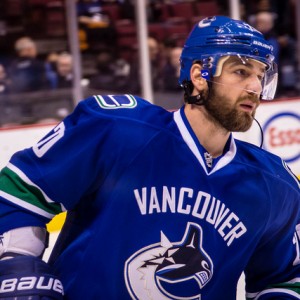 Ryan Miller off to hot start
One of the most undersold stories two games into the Canucks 2015-16 campaign has been the play of Ryan Miller. After a solid though unspectacular 2014-15, Miller has been absolutely dominant in both contests so far, posting a GAA of 1.96 and a SV% of 0.941. With the injury to backup Jacob Markstrom, Miller had to have a good start, and the 35-year-old has done just that, while perhaps helping some fans get over the trade of fan-favorite Eddie Lack with his spectacular play. Yes, it's a terribly small sample size, but it's hard to enjoy what Miller's been able to do in the early stages of the season.
Will Chris Higgins play a game with the Canucks this season?
When Chris Higgins went down to injury in the pre-season, it opened the door for an extra rookie to make the team out of camp. It appears as though it was Jared McCann winning that spot, and coming off a game in which he scored his first NHL goal off a laser beam shot, it could wind up being tough to send the centre back to junior. Should management be unable to make the tough decision, they may end up merely trading Higgins for a light return that doesn't quite equate to his value. Higgins has been a quality veteran winger for the Canucks for several years, but he may just end up being the first victim of the club's youth movement.
AROUND THE BLOG-O-SPHERE
Fun Vancouver Canucks links from around the internet
Ben Hutton's NHL career is off to a tremendous start [NHL.com]
Trevor Linden leaving his mark on the Canucks, this time in a different capacity [The Globe and Mail]
Canucks rolling the dice with their youth movement [The Hockey Writers]
Radim Vrbata enjoying playing alongside Bo Horvat and Sven Baertschi [Vancouver Sun]
What has to happen for the Canucks to make the playoffs according to Ed Willes [The Province]
Utica Comets defeated by the Rochester Americans two-to-one on opening night [Utica Comets]