'The Nuck Stops Here' is a Vancouver Canucks news, opinion, and analysis column that runs every Sunday throughout the regular season.
News
Anton Rodin Injury Update
It is being reported that forward Anton Rodin is not yet ready to return from injury. Rodin, 25, was the Swedish Hockey League MVP last season, but sustained a season-ending knee injury part way through the year.
According to general manager Jim Benning, he is still in the process of rehabbing, and the Canucks aren't aware of any set return date and the team is erring on the side of caution. Once he returns, Rodin will be expected to produce at a respectable secondary pace.
Benning on Anton Rodin: "He's rehabbing. We don't know when he's back, but we want to make sure he's 100%." #Canucks

— Canucks Now (@CanucksNow) October 20, 2016
Scores of the Week
Vancouver Canucks – 4 : Carolina Hurricanes – 3 (OT)
Vancouver Canucks – 2 : St. Louis Blues – 1 (OT)
Vancouver Canucks – 2 : Buffalo Sabres – 1
Los Angeles Kings – 4 : Vancouver Canucks – 3 (SO)
Current Record: 4-0-1 (9 Points ~ 1st in Pacific Division, 1st in Western Conference, 2nd in NHL)
Analysis
Brandon Sutter Proving Well Worth the Price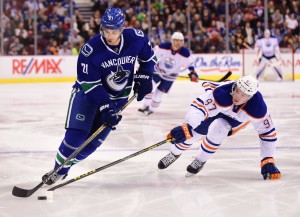 The trade for Brandon Sutter last season was a controversial one, and even more so was his five year extension worth $21.875 million. Unfortunately for Sutter, touted as a gifted two-way centreman, 2015-16 did not bring with it a shot for him to prove himself, as injuries limited the 27-year-old to just 20 contests.
This season is, in a lot of ways, the coming out party for Sutter, and so far, it's playing more than okay for him. Through five games, Sutter has been a point-a-game player, putting up one goal (an overtime winner against the Carolina Hurricanes) and four assists, along with a shootout winner on opening night. He has been an effective defensive presence, and has, overall, been arguably Vancouver's top forward.
While an 82 point season is far from a possibility, Sutter is proving himself to be a valuable part of the supporting cast and has put a 20 goal, 50 point campaign on the radar for 2016-17.
Bo Horvat's Start a Big Victory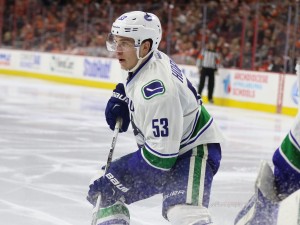 Through five games, 2013 ninth overall pick Bo Horvat has two goals to his name. While that doesn't sound particularly outstanding, one must consider Horvat's terrible start to the 2014-15 campaign, in which he failed to score for a large multitude of games, and had just 10 points over the course of the first half of the season. The fact that he's
The fact that he's potted two already is tremendous in ensuring his self-confidence. Had Horvat struggled to score in the first five games of the year, he would continue to develop the label of being a 'slow starter', and in just his third campaign, that could be damaging to his growth.
To have even a flash of production is big for the centre, and while on would like to see his overall offensive numbers improve, this is a big first step for the 21-year old. What he'll finish with is a whole other story, but for now, he has been far from an issue for the Canucks.
Around the Blog-O-Sphere
Fun links about the Vancouver Canucks from all around the internet.
What's fueling the Canucks' surprising start? [Sportsnet]
Brandon Sutter: The best Canuck so far [Vancouver Sun]
Brendan Gaunce finally getting to enjoy life in the big leagues [The Province]
Matt Hewitt, University of British Columbia goaltender, had his dream come true with an NHL call-up against the Blues [CBC]
Canucks fans pitched in to complete the anthems after a microphone malfunction [National Post]
Fans should be embracing these good times while they still can [CanucksArmy]