'The Nuck Stops Here' is a Vancouver Canucks news and opinion column running every Sunday throughout the season.
NEWS
Canucks sign Anton Rodin
Vancouver, B.C. – Vancouver Canucks General Manager Jim Benning announced today that the Canucks have signed Right Wing Anton Rodin to a one-year, one-way contract.
Rodin, 25, played for Brynas IF Gavle in 2015-16 recording 37 points (16-21-37) and 18 penalty minutes. The 5'11", 181-pound right winger was also awarded the Gold Helmet Award of the Swedish Hockey League as the League's Most Valuable Player. Prior to playing in the Swedish Hockey League, Rodin played two seasons in the AHL (2011-13) with the Chicago Wolves, collecting 41 points (14-27-41) in 111 games.
On the international stage, Rodin won a bronze medal with Sweden at the 2010 World Junior Championships. He collected 10 points (3-7-10) in six games, ranking tied for seventh in tournament scoring.
A native of Stockholm, Sweden Rodin was selected in the second round, 53rd overall by the Vancouver Canucks in the 2009 NHL Entry Draft.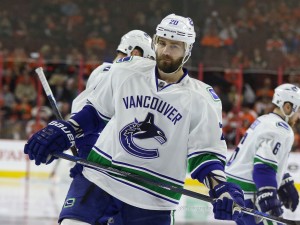 Canucks Recall Chris Higgins from Utica
The following is a press release from the organization:
Vancouver, B.C. – Vancouver Canucks General Manager Jim Benning announced today that the club has recalled forward Chris Higgins from the AHL Utica Comets.
Higgins, 32, has appeared in 22 games for the Comets this season, registering 13 points (9-4-13) including his first AHL hat trick on March 13th at Providence. He has also played in 25 games for the Canucks in 2015.16, registering three points (2-1-3) and four penalty minutes. Higgins appeared in his 700th career NHL game earlier this season on December 28th.
In parts of 12 NHL seasons, the Smithtown, New York, native has appeared in 703 career regular season games split between Montreal, the New York Rangers, Calgary, Florida, and Vancouver. In that span, he has recorded 332 points (164-168-332) along with 220 penalty minutes. In addition, Higgins has registered 21 points (11-10-21) and 10 penalty minutes in 62 career playoff games.
The 6'0", 195-pound forward was acquired from Florida in exchange for Evan Oberg and a 2013 third round pick on February 28, 2011. He was originally selected by Montreal 14th overall in the 2002 NHL Entry Draft.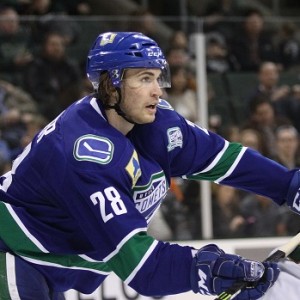 Canucks Reassign Alex Grenier to Utica
The following is a press release from the organization:
Vancouver, BC – Vancouver Canucks General Manager Jim Benning announced today that the club has reassigned right wing Alexandre Grenier to the AHL Utica Comets.
Grenier, 24, has appeared in 57 games with Utica this season, where he has registered 37 points (13-24-37) along with 41 penalty minutes. Grenier made his NHL debut earlier this season on November 18th at Winnipeg and has now appeared in six NHL games. In his second season with the Comets in 2014.15, the 6'4", 211-pound forward collected a career-high in points (43) and assists (26). He finished the season ranked second on the team in goals (17) and assists, and tied for second in points. Grenier also tied for second for the team lead in scoring during the 2015 Calder Cup Playoffs, registering 15 points (6-9-15) in 23 games played.
A native of Laval, Quebec, Grenier was originally selected by Vancouver in the third round, 90th overall, at the 2011 NHL Entry Draft.
Scores of the Week
Winnipeg Jets – 2 : Vancouver Canucks – 0
Nashville Predators – 3 : Vancouver Canucks – 2 (SO)
St. Louis Blues – 3 : Vancouver Canucks – 0
Current Record: 27-34-13 (67 Points ~ 6th in Pacific Division, 13th in Western Conference, 28th in NHL)
ANALYSIS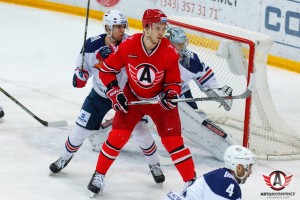 Nikita Tryamkin exceeding expectations
The hype around Nikita Tryamkin before joining the Canucks was tremendous. In a season lacking many feel-good stories, fans and media alike were excited to see what the hulking Russian defenceman could bring to the table. Selected in the 3rd round of the 2014 entry draft, Tryamkin's mix of size and skill was something that was beyond sparse on the Canucks' back end. While he's looked shaky at times, it's safe to say that Tryamkin has exceeded the expectations many had set for him before his stint began, and looks to have positioned himself nicely heading into next season. Through six games, Tryamkin has one assist, four shots and two penalty minutes, and has played an average of 17:58 per game (including two games above 20 minutes). For someone who had never played on North American ice before, the 21-year-old Tryamkin has played exceptionally well, leading head coach Willie Desjardins to even say "he's been a lot better than I thought he would be". A couple miscues aside, Tryamkin has played a solid defensive game, and has been using his size to an evident advantage against opponents. While he hasn't been perfect, Tryamkin has been playing above expectations, and is providing a little bit of comfort to what has been an exceptionally rough ending to the 2015-16 campaign for the Canucks.
Tryamkin was comfortable Friday. Tonight he looked confident. That's an upgrade. Progression in 3 games has been remarkable.

— Iain MacIntyre (@imacSportsnet) March 20, 2016
Daniel Sedin quietly having a strong season
Among all the negatives surrounding the club, Daniel Sedin has gone about his business putting together another impressive offensive season. With 27 goals and 59 points in 74 games, Daniel ranks 19th among all NHL'ers in goals (tied with New York Islanders' captain John Tavares) and 23rd in total points. He leads all Canucks skaters by a healthy margin of eight points (albeit in eight more games than his brother, Henrik Sedin), while also boasting an eight goal lead over Jannik Hansen (19) for the goal scoring lead on the team. At 35-years-old, it's astonishing that Daniel, who many considered "done" after the John Tortorella disaster, is putting up a season that will push 30 goals and 65 points, and while there haven't been a lot of good stories over the past several months, the success of Sedin is one that deserves more recognition. It remains to be seen how he progresses going into next season, but before now, Canucks fans should take a minute to appreciate just how much of a talent Daniel Sedin really is, and how strong of a campaign he's put together.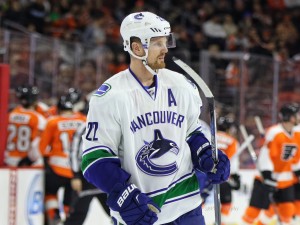 AROUND THE BLOG-O-SPHERE
Fun links about the Vancouver Canucks from all around the internet
Jake Virtanen on youngsters: "We have to prove we belong here" [National Post]
Nikita Tryamkin making a big impression early [Vancouver Sun]
Alex Burrows could very well be traded to free up cap space [Edmonton Sun]
Bo Horvat has performed in a high-profile role this season [Sportsnet]
There's more than one way to the bottom, says Jeff Paterson of CanucksArmy [CanucksArmy]
Would the Canucks prefer Auston Matthews or Arizona Coyotes defenceman Oliver Ekman-Larsson? [Last Word on Sports]
Markus is a Vancouver Canucks columnist out of Victoria, BC. Markus is also a Staff Writer for Last Word on Hockey, an Editor and Staff Writer for country music website The Shotgun Seat, and founder of This Is Country Music.