After a brief hiatus, 'The Nuck Stops Here' is back!
'The Nuck Stops Here' is a Vancouver Canucks news, opinion and analysis column that runs every Sunday through the regular season, and will continue to run periodically throughout the summer.
NEWS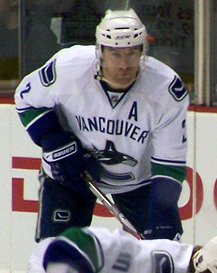 Ohlund to Be Inducted into Ring of Honour
The following is a press release from the organization:
Vancouver, BC – The Vancouver Canucks are proud to announce that they will celebrate the storied career of defenceman Mattias Ohlund by inducting him into the Canucks Ring of Honour on Friday, December 16th prior to their game against the Tampa Bay Lightning at Rogers Arena.
"Mattias led by example and brought a calming and steady presence to the Canucks organization for more than a decade," said Trevor Linden, Canucks President of Hockey Operations. "When you went into battle with him on any given night, you knew that he would give you his all and do whatever it takes to help the team win. The lasting imprint he has made not just on Canucks record books but on the current core including the likes of Edler and the Sedins is evident today. This is a very deserving honour for Mattias and his family."
Read more here.
Canucks Sign Etem to One-Year
The following is a press release from the organization:
Vancouver, B.C. –Vancouver Canucks General Manager Jim Benning announced today that the club has signed right wing Emerson Etem to a one-year, one-way contract that will carry a value of $775,000.
"Emerson is a hardworking 24-year-old who supports our plan to build a young, fast, high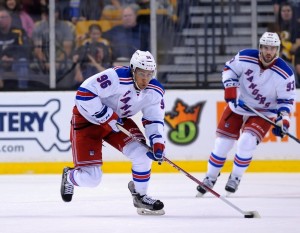 -character team," said Canucks General Manager Jim Benning. "His speed will help us compete next year and he is a good role model for our first and second year players because of the work ethic and professionalism he brings every single day." Etem, 24, split the 2015.16 season between the Vancouver Canucks (7-5-12 in 39 games played) and New York Rangers (0-3-3 in 19 games played). The Long Beach, California native set career highs in points (15) and tied a career high for goals (7) this season and also finished the 2015.16 campaign on a career high five game point streak (4-1-5). He was acquired by Vancouver from the Rangers in exchange for Nicklas Jensen and a sixth round pick in 2017 on January 8th, 2016.
Etem has played 170 career NHL games, accumulating 26 points (22-24-46) and 28 penalty minutes with the Canucks, Rangers and Anaheim Ducks. He played junior in Medicine Hat (WHL), where he led all WHL rookies in goals in the 2009.10 season.
On the international stage, Etem represented the United States twice at the World Junior Championships (2011 and 2012). He earned a bronze medal in 2011 with Team USA at the WJC.
The 6'1", 212-pound forward was originally drafted by Anaheim 29th overall in the 2010 NHL Entry Draft.
Canucks Sign Larsen to One-Year
The following is a press release from the organization:
Vancouver, B.C. – Vancouver Canucks General Manager Jim Benning announced today that the Canucks have signed defenceman Philip Larsen to a one-year, one-way contract that will carry a value of $1,025,000.
"Philip is a skilled, right shot defenceman who can anchor a power play," said General Manager Jim Benning. "He had a terrific year in the KHL last season and we look forward to him adding offence from the b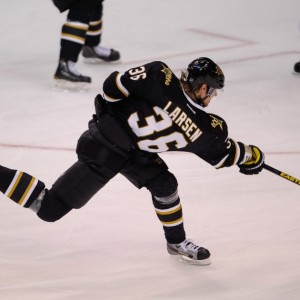 lue line."
Larsen, 26, spent the 2015.16 season with Jokerit Helsinki of the KHL where he accumulated 38 points (12-26-38) and 39 penalty minutes in 54 games. His 11 goals ranked him tied for second among KHL defencemen while his 36 points ranked him fifth. He also tallied four points (3-1-4) in four playoff games. The 6'1", 183-pound defenceman has appeared in 125 career NHL games with Dallas and Edmonton, recording 31 points (8-23-31) and 42 penalty minutes.
On the international stage, Larsen has represented Denmark at the World Junior Championships (2008) and the World Championships (2009, 2010, 2012, 2013 and 2014).
The Esbjerg, Denmark native was acquired from the Edmonton Oilers in exchange for a conditional fifth round pick in the 2017 NHL Entry Draft on February 24, 2016. He was originally drafted by Dallas in the fifth round, 149th overall, at the 2008 NHL Entry Draft.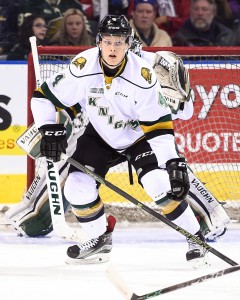 Olli Juolevi: Little Flash but Best Pick
After the initial disappointment of missing out on potential #1 centreman Pierre-Luc Dubois, anything would have felt like a disappointment. After many weeks of excitement about potentially drafting the team's next franchise centre, the Columbus Blue Jackets shocked the hockey world and took all wind from the sails of Canucks' fans by taking Dubois over winger Jesse Puljujarvi at third overall.
For many, it made draft day an instant loss for the Canucks, and it was only magnified by taking well rounded defender Olli Juolevi over flashy forward Matthew Tkachuk at the five slot.
However, despite missing out on their desired player, and then passing over the potentially game breaking winger in Tkachuk, one must realize the selecting Juolevi was the right move for the franchise. On the wings they boast both Brock Boeser and Jake Virtanen, with game changing ability in their games, making Tkachuk perhaps a tad redundant.
In addition to the fact that there were no franchise centres available, the choice to take who many considered the draft class' best blue liner makes a lot of sense. Juolevi has the capacity to play shutdown defence, while also being mobile — a mix the Canucks' will more than welcome.
While he's far from a slam-dunk future Norris candidate, he's the closest thing the club has had to a potential franchise d-man in ages, and he should be more than welcomed in Vancouver. If they hope to be a contender, they needed a go-to defender, and it's very possible that Juolevi will be that player.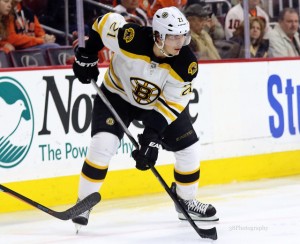 Impact of Loui Eriksson?
The Canucks made a splash at free agency, signing forward Loui Eriksson to a six year deal at $6 million per year. While this is certainly a big deal in Canuck-land, one has to question just how necessary this move was.
Sure, anyone would have love to have Eriksson —  a skilled, two-way winger capable of putting up 30 goals and contending for the Lady Byng  — as a member of their roster. But when that roster is one that is in desperate need of a rebuild, and already has a player capable of playing first-line minutes with the Sedin twins (Jannik Hansen), signing Eriksson is simply putting off the inevitable — a tear down.
So what will his impact be in his first year in Vancouver? He'll push 30 goals and 60 points. He'll provide a boost to the offence and the power play. Perhaps most importantly, he'll be a role model on how to be a complete hockey player for the younger players of the Canucks.
Despite all these positive contributions however, it's hard to feel like this signing anything more than Jim Benning's latest attempt at a 'retool'. Short term, sure, he'll score some goals, and he'll probably compliment Henrik and Daniel well (due to pre-existing chemistry through international tournaments). But long term, the affects of Loui Eriksson will not be felt, and even if it gets them further up the standings in 2016-17, fans hoping for a blow up of the roster will be left disappointed.
Around the Blog-o-Sphere
Fun links about the Vancouver Canucks from all around the internet.
Lost in the Loui Eriksson news and general free agent excitement was the fact that the Canucks signed the first ever Croatian-born NHLer in Borna Rendulic. [Nucks Misconduct]
Will the World Cup of Hockey help reinvigorate chemistry between Eriksson and the Sedins. [The Province]
Loui Eriksson will help the Canucks short term, but long term? Maybe not so much. [Sportsnet]
In honor of his departure to the Dallas Stars, the top-10 Dan Hamhuis moments as a Canuck [CanucksArmy]
Why Gino Odjick deserves Ring of Honour consideration [The Province]
Five directions the Canucks could go in free agency [Vancouver Sun]
Markus is a Vancouver Canucks columnist out of Victoria, BC. Markus is also a Staff Writer for Last Word on Hockey, an Editor and Staff Writer for country music website The Shotgun Seat, and founder of This Is Country Music.