'The Nuck Stops Here' is a Vancouver Canucks news, opinion and analysis column that runs every Sunday throughout the regular season.
News
Edler, Tanev Injured
The Canucks received some bad news, learning that both of their top pair defencemen, Alex Edler and Chris Tanev, would not play against the Toronto Maple Leafs. Edler is out with, reportedly, an upper-body injury, while Tanev is out with a bone bruise. No timeline has been given as to their return.
Does appear that #Canucks will not have top pair (Edler-Tanev) vs #Leafs and will start 27-44/5-63/Stecher-Tryamkin on blueline #TSN1040

— Jon Abbott (@HockeyAbbs) November 5, 2016
Scores of the Week
Montreal Canadiens – 3 : Vancouver Canucks – 0
Ottawa Senators – 1 : Vancouver Canucks – 0
Toronto Maple Leafs – 6 : Vancouver Canucks – 3
Current Record: 4-7-1 (9 Points ~ 6th in Pacific Division, 13th in Western Conference, 29th in NHL)
Analysis
Should the Canucks Trade Chris Tanev?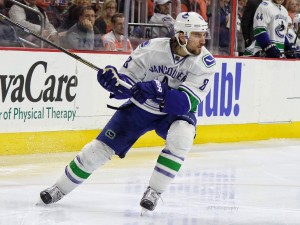 While the blue line has had its issues of late, a hot topic of discussion has been the potential trade of defensive stalwart Chris Tanev. Tanev, 26, has established himself as arguably the Canucks top defender, winning the team's "Best Defenceman Award" in 2014-15. With slick passing and near flawless defensive ability, he has established himself as a legitimate top pair defenceman in the National Hockey League.
All that said, for the Canucks, the best move may just be to trade him. Lacking in blue chip young talent, putting a top-end defender like Tanev on the block could bring the Canucks a respectable package built around a group of prospects and draft picks, that would help the now-necessary rebuild movement.
Would it hurt to trade a piece like Tanev? Absolutely, but at a time where the Canucks find themselves scoring below two goals per game, a dynamic piece for the future is a necessity. Additionally, Tanev is the only expendable piece that could get the Canucks a significant piece in return, as the only other pieces that appear available for trade are by and large bottom-six contributors. Going forward, a Tanev trade may be the best move, as painful as it may be.
Goaltending a Bright Spot for Vancouver
Among a sea of failures for the Canucks, one of the few bright spots has been the goaltending of both Ryan Miller and Jacob Markstrom. With almost no goal support, Markstrom has managed a 2.14 GAA and a .920 SV% in six games, while Miller has put up an also respectable 2.53 GAA and .916 SV%. Despite an, at times, decimated and often unstable defensive core, the two have managed to put up very strong numbers, and in the case of Miller, increase their trade value.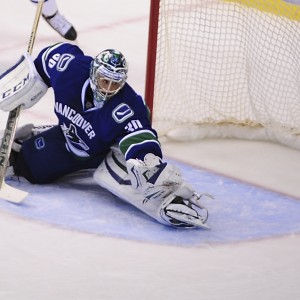 While he remains the management-endorsed starter at this point in time, many have speculated that a Miller trade is possible, which, depending on your point of view, has become a significantly better or worse possibility. In regards to Markstrom, it should give the higher-ups of the team increased confidence in his ability to lead this team to victory, and helps support the rebuild movement through the incorporation of a potential "goalie of the future".
It's been a dark couple of weeks for the Canucks, but their two netminders have been the least of their worries. What happens going forward is another story, but for now, fans should embrace the strong options they have between the pipes.
Around the Blog-O-Sphere
Fun links about the Vancouver Canucks from all around the internet.
Sedins taking blame for lack of offence [Sportsnet]
Story behind Canucks' slump is in the numbers [Today's Slapshot]
The Canucks need a scorer, but who could they trade in return? [National Post]
Erik Gudbranson can do more, even if he's not scoring [The Province]
Philip Larsen should be worried [The Canuck Way]
And finally, 25 years ago yesterday, Pavel Bure played his first game as a Canuck: