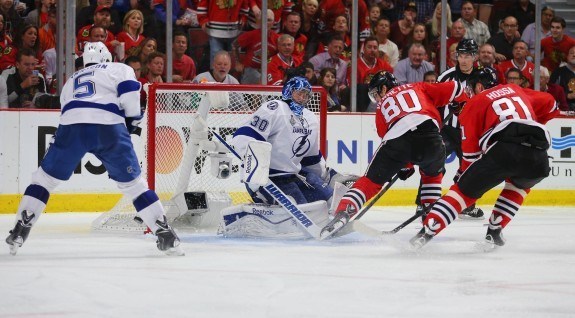 Now that we're three games into an interesting Stanley Cup Final, it is time to reflect on what has been going on so far. The national media will keep telling you that Patrick Kane and Jonathan Toews need to start scoring goals or that Corey Crawford has to be better than his opposing netminder who might be injured (in some capacity) in order for Chicago to come back from a two games to one deficit. With the help of modern day possession numbers, however, they will tell you a completely different story. All data comes from war-on-ice.com, stats.hockeyanalysis.com and the super WOWY section of puckalytics.com.
1. Marian Hossa is the best player in the series
To many of you, that is completely farfetched; especially after Victor Hedman absolutely dominated game three last Monday. At the end of the day, Hossa has been doing everything on both ends of the ice, just like he has been since he arrived in Chicago. As much as you want to hate his contract ($5.275 million cap hit per season until 2021), the guy is still one of the best defensive forwards in hockey and is doing it at age 36. For further proof, Hossa has played 41:16 of even strength ice time this series and has been on the ice for 54 shot attempts for and a miniscule 29 shot attempts against.
In games one and two, he was still on the second line as he was at the tail end of the Anaheim series and they were usually facing Tampa's top line of Steven Stamkos, Alex Killorn and Valteri Filppula. By game three, head coach Joel Quenneville put him back on the top line with Toews and Brandon Saad and took advantage of last change on home ice to shut down Tampa's triplets line of Nikita Kucherov, Tyler Johnson and Ondrej Palat.
That being said, that might be the only thing Chicago's head coach has gotten right all series so far.
2. Quenneville has not been good this series
If Tampa wins the Stanley Cup, this subject may not be the whole reason why, but it certainly is among the first things brought up in the discussion. Sure, Chicago may be down to three of their six best defenseman at (assumed) 100% health, even though Johnny Oduya will give it a go for game four after suffering an upper body injury in game three. That doesn't excuse the fact that Quenneville is not doing some smart things with his line combinations.
First, he needs to stop giving little playing time to replacement blue liners David Rundblad, Kyle Cumiskey and Trevor Van Riemsdyk. All three of them are significantly more sheltered than their fellow defenseman wearing sweaters regularly, but each deliver positive puck possession, especially during these Stanley Cup finals. Consider that in Van Riemsdyk's first Stanley Cup Final game last Monday, his team out-attempted the opposition 10-3 while he was on the ice. Too bad it was for 8:56 of even strength.
Next, please insert Kris Versteeg on the second line instead of Bryan Bickell! Even though Kane has been a negative possession player relative to his teammates, not having the correct teammates for him has hindered those numbers. This year, he no longer has to worry about playing a ton of minutes of Andrew Shaw as Brad Richards has been brought in for that duty. The left wing position, however, is where things get messy. Plain and simple, it has been a nightmare for Kane and Richards when Bickell is on the ice with them. It should be noted that, despite having a contract that will never come close to fitting his talents, Bickell is a solid bottom six forward during the entirety of Chicago's Stanley Cup finals run. He just is not a great fit as a second line player. While on the ice together, Kane, Bickell and Richards have only seen 46.8% of the teams shot attempts go in their favor. If Versteeg is swapped with Bickell, that number changes to 55.8% of the shot attempts going the Blackhawks way. However, Kane has played 155:33 minutes of even strength with Bickell in the playoffs while only playing a little 69 even strength minutes with Versteeg. Giving both Kane and Toews the best chances to succeed and score goals is critical and it will not do if they are not having the best talent around them.
You can also make a case for that Patrick Sharp should be a part of the second line because 56.8% of the shot attempts go in Chicago's favor, but considering his downer of a season, it is quite understandable why he is down on the sheltered third line. With all that in mind, there is a good chance that Quenneville's systems and/or the way the players are executing them might be put into question as well.
3. Tampa is winning the shot quality battle
Through three games so far, the Lightning have been out-attempted 125.4-115.1 when adjusted for score effects at even strength. However, those totals turn to 61.8-50.1 when only scoring chance opportunities are counted and 26.4-16.8 for high-danger zone scoring chances (for an explanation on the previous two statistics, I recommend reading Steven Burtch's piece on Hockey Prospectus).
If you have had the chance to read my Stanley Cup Final preview, this should come as no surprise that Tampa would generate so much of their shot attempts in to high quality scoring chances. During the regular season, 51.4% of their shot attempts were of the scoring chance variety and 22.4% of their shot attempts came from high danger zone areas. Both percentages were second highest in the league and that's remarkable considering how many shot attempts they generate on average every hockey game.
As for Chicago, they are 20th and 25th in percentage of shot attempts leading from scoring chances (47.9%) and high danger zone scoring chances (18.9%), respectively. Clearly, their mantra all season has been to fire the puck from anywhere, not matter what, and that has led to some of the highest shot attempt rates in the NHL, but their lack of shot quality has hindered their shooting percentage and it really comes to bite them when things don't work well. This almost cost them the Anaheim series and it is currently costing them in the Stanley Cup Final.
4. I told you Ryan Callahan was going to be the wild card
Also in my preview post, I mentioned that Callahan was going to be an important player for Tampa Bay if they were going to win the Stanley Cup. Just like that, Callahan has gone from valuable member of Tampa Bay's top line, to slowly regaining his playing time after undergoing an appendectomy, to being the best skater on the team not named Hedman. He has also been the team's best forward in puck possession as the Lightning are out-attempting the Blackhawks 40-33 during Callahan's 40 minutes of even strength ice time. Now that he is on a checking line with J.T. Brown and Cedric Paquette, the Lightning can now be dependent on three lines that can rattle Chicago when it comes to deciding who to match up with instead of two.
5. Tonight is another hockey game
This is your usual reminder that all these facts can change if Chicago can make the necessary changes or if Tampa can find another element to poke and prod the Blackhawks' weaknesses. This is hockey after all. Here's to a fun game four!