The resurgence of Rick Nash this season has been one of the hottest topics among New York Rangers fans, and hockey fans as a whole. The 30-year-old winger has certainly regained the scoring touch that made him the first overall pick of the Columbus Blue Jackets in the 2002 NHL Entry Draft. At 23 goals and 36 points through 32 games, Nash is currently on pace to smash his career highs in both categories (41 G, 79 P). It's not realistic to project this current pace over the full year and expect a 50-plus goal season, however. More likely, this year's totals will end up very close to (or slightly over) typical Rick Nash numbers (in the range of 37-45 goals, 25-30 assists).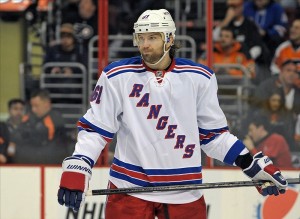 Don't fret, Blueshirt faithful–Nash's current production is still for real.  As we'll see shortly, he is very much a force to be reckoned with this year. But during the 82-game marathon of an NHL regular season, a number of things conspire to slow down the pace of scoring as the year progresses: teams make adjustments as they see opponents more often and read their tactics and tendencies, the sheer number of games wears players down, and the brand of hockey becomes distinctly more "playoff-like" (i.e., clutch-and-grab tactics are less likely to be whistled as referees "let the teams play" late in the year). Nash's scoring pace will slow down during the last two months of the season–but don't let the naysayers lead you to believe that it's the start of another playoff swoon.
"Vintage" Rick Nash
Before we look at Nash as a New York Ranger, let's recap what the Blueshirts thought they were getting when they traded Brandon Dubinsky, Artem Anisimov, and Tim Erixon to Columbus. The "top ten" goals video below should serve as a good refresher course.
These ten goals represent everything that the New York Rangers were looking for when they traded for Nash after the 2011-12 season. It's easy to see how Nash uses his size, speed, and reach to create time and space for himself. Another striking thing about these goals is the way he drives so fearlessly into the high-percentage scoring areas. Make no mistake, most of these goals were created by Rick Nash's unique skill set.  And created is exactly the word that comes to mind–as most of these tallies were all about #61's individual effort.
A Tough Run On Broadway
Rick Nash's Broadway debut was delayed three months by the NHL lockout that chopped off the start of the 2012-13 season. Given his later trials, it's easy to forget that Nash led the Rangers in scoring that year until suffering a concussion in a February game against the Boston Bruins. While he only missed four games, Nash's problems in New York began that day. He was nearly invisible during the Rangers' run to the Eastern Conference Final, finishing the playoffs with a lone goal in 12 games and carrying a shooting percentage of only 2.4% (after shooting 11.9% during the season). He didn't seem like the same player.
Season two saw more of the same difficulties for Nash. In only the third game of the season, on October 8, Nash took an elbow to the head from San Jose Sharks defenseman Brad Stuart at 2:32 of the first period. He took more shifts that period, but did not return after the first intermission. In fact, he did not come back for a month, playing his next game on November 9.
https://www.youtube.com/watch?feature=player_embedded&v=FuJKR2Kuru0
Nash says it himself in the interview: "Each case is different." And he had just had his second head injury in the span of eight months. Statistically, he showed a noticeable dip in production for the rest of the season–he was shooting more, but scoring less. His playing style had changed as well. His game was played more on the perimeter, without the fearless drives to the net that defined his play in Columbus. He adopted more of a shoot first mentality, but the increased number of shots were not going in. And at no time was this more apparent than in the 2014 playoffs.
During the Rangers' run to the Stanley Cup Final, nobody in the NHL directed more shots on net than Nash (83). But for all that, he scored only three goals. The more he was asked about his inability to score goals, the more at a loss he appeared. It was almost as if the supreme hand-eye coordination that propelled him to that point in his career had deserted him at the worst possible time.
Given what Nash has been able to accomplish this season, it seems that in spite of him being pronounced symptom-free last year, he was still hampered by the head injuries in some way.
A New Beginning
It was obvious from the start that this season's Rick Nash had turned a corner. He scored the first Rangers' goal of the year in typical Rick Nash style, with a full power drive to the slot. This was the Nash of old–no trace remained of the tentative player from the previous playoffs. His shots were now going in with dizzying regularity (19.1%). Rick Nash was back–with a vengeance.
But while there were (and still are) plenty of the "classic" Nash goals, a new player is starting to emerge. Even in the second game of the season, there were signs that Nash was going to be a scoring threat from every area of the offensive zone.  He scored the goal shown below late in the third period against his old Columbus mates. This was not a singular effort–he trusted his teammates to make plays and worked himself into a goal scoring area unchecked–something he didn't do consistently, even in the "good old days."

As this season has progressed, Nash has branched out to score in even more ways he was not previously known for. Take the final video below. In this play, while the Rangers were moving the puck around the perimeter, he sets up in front of the net for a deflection and winds up burying the rebound. Again, this is a style that Nash hadn't been able to do consistently in the past.

Where Does Rick Nash Go From Here?
This season has brought good things for Rick Nash so far, and it seems like that trend will continue. We're not just bandwagon jumping here–we predicted Nash's resurgence before the year started, just not exactly like this. Not only is he playing like the Rick Nash of old, he has also added a great deal of depth to his game. He is now as much a force in his own end of the ice as he is in the offensive zone. Consider that he is already at his career high plus/minus of +16 on the season, and we are not even to the All-Star Break yet. Granted, much of this has to do with the team's defensive concept, but Nash has shown that he's bought into the program.
This is not just a simple case of him regaining his old form, although he certainly has done that–and then some. No, this year's version of Rick Nash is a more complete player. It's not a wholesale reinvention, but more like an evolution. The Rangers now have a world-class power forward who is continuing to grow his game, and the rest of the NHL is taking notice. Don't be surprised to see Nash taking home some hardware from Las Vegas after the season–and adding some extra storylines for this year's All-Star Game in the process (you know, the All-Star Game being held in Columbus).
Kevin has been covering the Florida Panthers and New York Rangers for The Hockey Writers since the 2013-14 season. Before that, he has written about, played, and coached hockey at all levels. He grew up a Rangers fan in the Southern Tier of New York State, but now lives in the Atlanta area with his wife and two sons. You can reach him on Twitter as @kmizTHW , or via email (kmizsbl@gmail.com).