The month of September is a difficult time for New York Rangers fans, and hockey fans in general.  After an initial flurry starting July 1, there's now little free agent activity to speak of. Training camps are finally beginning, so there is some hope there. With so little hard news happening at the moment, though, we're going to take a different approach. We're going to make predictions for the upcoming season–not just any old predictions, mind you, but bona fide bold predictions.
We could sit here and predict that the Rangers will make the playoffs, but <yawn> that's hardly bold. It's far from a given, to be sure, but bold?  Nope. On the flip side, predicting an 82-0 season, while most definitely bold, is not exactly setting realistic expectations. What we'll try to do is strike a balance between bold and realistic. We'll set out some predictions that are (at least somewhat) possible, but at the same time far from run-of-the-mill. Maybe we'll stir the pot a little, but at least we can add some spice to an otherwise boring time of year.
1) Rick Nash Will Regain His Touch… On Left Wing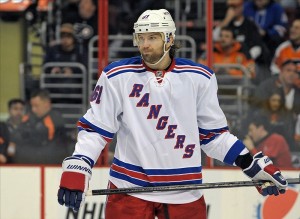 The "what ails Rick Nash?" stories were flying around fast and furious during the playoffs, and it's easy to see why.  While playing right wing on the first line, Nash was credited with the most shots on goal of any player (83), but only scored three goals for a shooting percentage of 3.6%. While he played a more engaged style and helped other Rangers players score, he couldn't find the back of the net for himself. The folks at the New York Rangers Blog have suggested that a move back to his natural position of left wing would help him regain his scoring touch. We'll take that a step further and predict that Alain Vigneault will move him back to LW, and that move will give New York the top-tier power forward they expected when they traded for him.
One of the things that many people noticed about Nash's playoff performance was that he never pushed through into the high scoring percentage areas of the ice.  Instead, he played most of his game on the perimeter, with predictable results. A return to the left side would immediately get him back into an area that's comfortable to him. While playing the right side was certainly not the only thing ailing Nash, getting him back to his natural side might just be the catalyst he so desperately seems to need. Also, because Nash is a left-hand shot, placing him on the left side gives him a better angle to protect the puck on the rush–no small thing for a power forward.
Bold Prediction: Rick Nash, moving back to LW, will put up similar numbers to 2008-09 (40G, 39A).
2) Joe Thornton Will Come to Broadway
If there's one area where the Rangers are lacking this season, it's depth at the center position. The necessary compliance buyout of Brad Richards created a gap that has yet to be completely filled. At this time, the Rangers have only three proven NHL-ready centers (Derek Stepan, Derick Brassard, and Dominic Moore). Youngster J.T. Miller is the current front-runner for the remaining slot. Jumbo Joe would easily fit into the current Blueshirts' lineup. He's also reportedly said that the Rangers are the only team he would be willing to waive his no-trade clause for.  Couple that with the very public way Thornton was stripped of his captaincy, and a trade of Thornton to the Rangers seems just as inevitable as the Rick Nash deal seemed leading up to the lockout.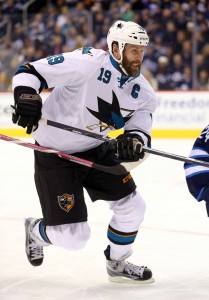 Obviously, a big roadblock to any potential deal will be the salary cap. The Rangers are already within $482,000 of the cap according to capgeek.com. Look for them to take a page out of the Pittsburgh Penguins' book (remember Jarome Iginla?) and stockpile enough cap space to deal for Thornton at the trading deadline. If the Rangers go about a deal this way, it will be their own bold move–Thornton will have an additional two years left on his contract at a cap hit of $6.75MM per year. With the number of Rangers becoming free agents in 2015 (St.Louis, Zuccarello, Stepan, Hagelin, & Staal), bringing Thornton to NY this way would be an "all-in" move to contend for the Stanley Cup this season.
A seemingly unrelated story is also adding to the feel of inevitability. Reports seem to be indicating that contract talks with Marc Staal are still stalled (no pun intended), with the parties quite far apart.  The NY Daily News reports that Staal is asking for a six or seven year deal worth around $6MM per year. The Rangers are reportedly offering a deal similar to Dan Girardi's (six years at $5.5MM per). The longer this story plays out, the more likely it becomes that Staal could be part of a potential deal for Thornton. The reasoning is as follows: If the Rangers feel that they can get Thornton in a deal by offering up Staal (which is pure speculation at this point), then they will not be in any hurry to sign such a large extension. However, if Staal is still in the Rangers' long-term plans, then they would certainly want to avoid a replay of last year's fiasco with Henrik Lundqvist's extension. It's subtle to be sure, but it does seem like more and more pieces of the Joe Thornton puzzle are falling into place.
Bold Prediction: At the trading deadline, the Rangers will trade Marc Staal to San Jose for Joe Thornton.
3) Ryan McDonagh Will Win the Norris Trophy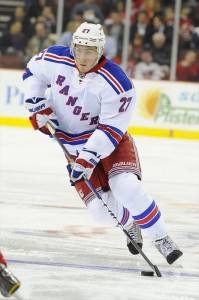 Ryan McDonagh continues to get better for the Rangers. He has blossomed into a true shutdown defenseman–someone who can consistently play against opponents' top players and keep them off the scoreboard. His leadership is also unquestioned–he will almost certainly be wearing an extra letter on the front of his jersey this season. Reports are now suggesting it will be a "C", and will be announced at the end of training camp. Until last season, the only thing missing from his game (and preventing him from being taken seriously as a Norris Trophy candidate) was his offensive numbers. The league's "best defenseman" award has become more and more about the blueliner who can put points up, and McDonagh had a career high in goals (14) during his first year under coach Alain Vigneault. If that trend can continue, expect McDonagh's name to be on the short list next June in Las Vegas.
Bold Prediction: Ryan McDonagh will set new career highs in goals and points, and win the Norris Trophy.
4) Tanner Glass Will Become a Fan Favorite
When the Rangers signed Tanner Glass on July 1, the move was either loved or hated–there was very little middle ground.  Fans either applauded the move for adding toughness or trashed Glass' atrocious puck possession numbers. There's no doubt the Rangers need toughness this year (Derek Dorsett moved to the Vancouver Canucks, and Daniel Carcillo has been given a tryout with Pittsburgh), and Glass can definitely fill that role. Yes, he had some of the worst puck possession numbers in the NHL last season–which is a very large concern. In fact, I raised red flags on this move in an earlier post. But even if signing Glass is a bad move for the Rangers' puck possession numbers, his willingness to go to war for his teammates could likely have a net positive effect on the team, and win over the Blueshirt faithful. I still believe there were better, cheaper options to fill this particular role, but now that he's here, look for Glass to become the Rangers' next Brandon Prust.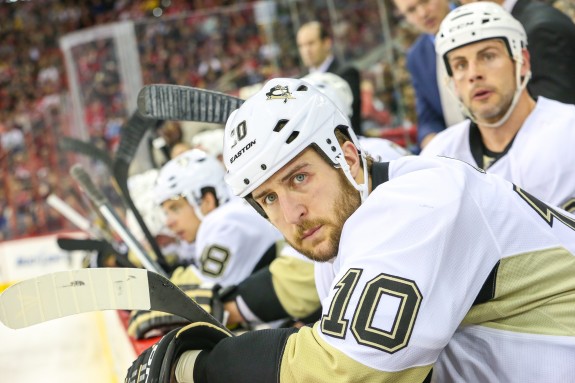 Bold Prediction: Tanner Glass will win the Steven McDonald Extra Effort Award.
So there you have it–four predictions that definitely go against the grain for the Rangers this year. Do you agree? Disagree?  Have a prediction of your own?  Let us know!