The Buffalo Sabres players reported to camp on Thursday.  Open practices begin Friday morning as the 2014-15 season is right around the corner.  For a team expected to finish in the league basement, the Sabres have a lot of interesting story lines to follow this camp.
Will He Stay or Go
A lot of preseason excitement and hype will be around 2014 2nd overall pick Sam Reinhart.  The question will be; does Reinhart earn a roster spot or go back to juniors?  Coach Ted Nolan said during his media availability today, that if Reinhart earns the spot then he will stay with the big club.  Nolan seems to have no issue with the 18 year old sticking around
I think Reinhart will show too much skill and talent that the Sabres will not be able to return him to juniors.  The Sabres don't have a lot of depth down the middle and Reinhart will likely grow more playing in the NHL against men, than dominating kids in the WHL.
Wide Open Net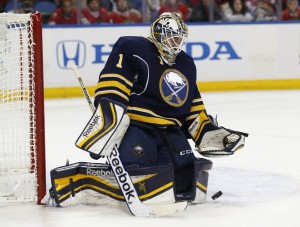 Jhonas Enroth and Michal Neuvirth will battle for the # 1 goaltending job in camp.  Nolan said it will be a wide open competition.  Enroth played well for the
Sabres last year with a .911 save % and a 2.82 GAA.  Those numbers don't jump out at you, but with the Sabres defense last year those are great numbers.  Neuvirth on the other hand only played two games with the Sabres last year after the trade deadline, but like Enroth finished the season on the shelf with an
injury.  Neuvirth has always had the talent to be a starting NHL goaltender, but he has never put it all together.  Matt Hackett would have thrown a third name into this competition, but he is recovering from an ACL tear, he won't see the ice until January at the soonest.
It'll be very hard for Neuvirth to unseat Enroth.  Whichever guy wins the competition, I believe Nolan will ride the hot hand throughout the season until one of the goalkeepers take the reins in the blue paint.
Overcrowded Blue Line
The Sabres enter training camp with 10 blue liners fighting for 6 jobs.   Myers, Gorges, and Meszaros are locked into the top three spots.  Leaving Mike Weber, Mark Pysyk, Rasmus Ristolainen, Chad Ruhwedel, Andre Benoit, and Nikita Zadorov battling for the remaining three spots.  Zadorov will more than likely be sent back to London for another season.  Weber and Benoit are likely to get roster spots as well.  That leaves Risto, Pysyk, and Ruhwedel fighting for that final spot.  It'll be very hard for the Sabres to send back Ristolainen to Rochester of the AHL.  However I think the Sabres use an excuse to get Finnish defenseman back to the minors, such as, having him work on his offensive game.  It'll come down to who plays better in camp with Pysyk and Ruhwedel to earn that final spot.
http://youtu.be/ckHL4R9JGuM
Some other story lines to watch include the captaincy, development of youth, and battle for the final roster spots on the 4th line.  The Sabres have a very bright future ahead of them and some of the future will be on display in training camp this year.  This roster as constructed is going to surprise some people this year.
Chad DeDominicis was born and raised in Buffalo, NY. Chad is currently a Buffalo Sabres contributor for The Hockey Writers. He is an avid sports fan and is passionate about the game of hockey. Chad works hard to share creative and quality content with his readers.