For the Arizona Coyotes, 2014 was a year filled with great moments. Memories were created both on and off the ice as the team went from the Phoenix Coyotes playing at Jobing.com Arena to the Arizona Coyotes playing at Gila River Arena. As Arizona gets ready to finish the 2014 portion of their season with three games in five nights, let's look back on some of the highlights from the last twelve months.
Coyotes at the Olympics
Hockey took the world stage in February with the 2014 Winter Olympics held in Sochi. After Arizona hosted a pregame ceremony on February 7 honoring the "Miracle On Ice" 1980 U.S. Olympic team, five members of the Coyotes represented their home countries in this year's Winter Games and three of them won medals. Arizona goaltender Mike Smith took home a gold medal as a member of Team Canada, although he did not see a second of playing time in Sochi. Fellow Coyotes Oliver Ekman-Larsson (Sweden) and Lauri Korpikoski (Finland) earned a silver and bronze medal respectively for their efforts. Zbynek Michalek and Martin Hanzal both played for Team Czech Republic, but did not win a medal.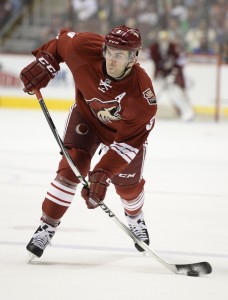 St. Patrick's Day Comeback
On March 17, the Coyotes faced the Los Angeles Kings at Staples Center in a Pacific Division showdown. Arizona jumped out to an early 2-0 lead, only to see Los Angeles respond with three straight goals to take a 3-2 edge into the third period. Heading into this game last season, the Kings had not lost when leading after two periods. However, Keith Yandle scored to tie the game midway through the period and Jeff Halpern notched the go-ahead goal late in regulation to give Arizona a come-from-behind 4-3 victory. While the Coyotes failed to qualify for the playoffs and the Kings went on to win the Stanley Cup, it was still an impressive win for Arizona against one of their biggest divisional rivals.
Late Heroics from Ekman-Larsson
The Coyotes have scored three goals during overtime in 2014. All three have come this season and all from the same player, Oliver Ekman-Larsson. The Swedish defenseman provided the game-winning strike against the Kings on October 11, the Florida Panthers on October 25, and the Edmonton Oilers on December 16. The last one was the most dramatic so far as he fired a rocket past Ben Scrivens with 0.3 seconds left in the extra frame.
While 2014 has seen the Coyotes miss the playoffs for the second consecutive season and get off to a slow start for this campaign, it has seen its positives as well. As the New Year approaches, Arizona fans hope that 2015 will be filled with even more great memories in the desert.
Charles Woodall-Pike is a journalist who writes about the Arizona Coyotes for The Hockey Writers.