To chart the burgeoning hockey career of Dylan Strome is like looking at a chart in a corporate boardroom. That's the one with lines going this way, lines going that way, up, down that somehow seems a tangled mess. Strome's brief NHL career seem to follow a like pattern.
Heralded out of Juniors with Erie teammate Connor McDavid, Strome was the third pick overall in the 2015 NHL draft. Selected just behind McDavid at number one and Jack Eichel at number two, Strome's selection by the Arizona Coyotes was regarded as a considerable boost an anaemic offense.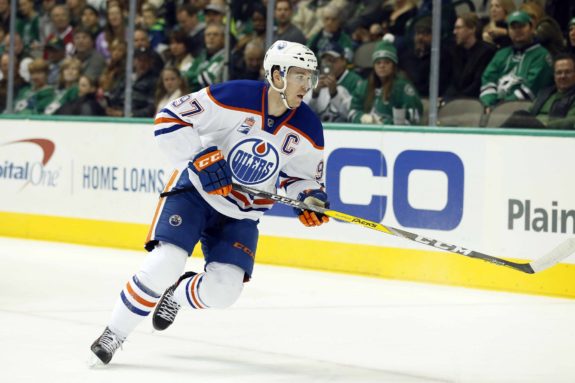 Despite monster numbers at the junior level, Strome still had to make the jump to the NHL, and compete, on a daily basis, with elite players. After his initial training camp with Arizona in 2015, Strome managed to hang around until the final days but was eventually sent back to Erie. After a season of 37 goals, 74 assists and 119 points, Strome showed up for Coyotes camp this past September with a renewed spirit and resolve.
What Strome Needs To Do
Now, another twist.
"The one thing I learned from last season is that I have to play a 200-foot game," Strome said during training camp. "Plus, I have to improve working in small areas."
From the Coyotes standpoint, they bought Strome's line, and the 19-year-old native of Mississuga, Ont. made the final, 23-man roster. Yet, all was not right.
On opening night against the Flyers at home, Strome was scratched and instead, coach Dave Tippett inserted Christian Dvorak at center between Anthony Duclair and Tobias Rieder. That was the beginning of an avalanche which took Strome out of the NHL and now back to his Erie Junior team.
This past Sunday morning, Tippett had breakfast with Strome and explained the organization decided to send the center back to juniors. On Monday after practice, Tippett told The Hockey Writers that Strome was all in about the decision and accepted the Coyotes' incentive for this move.
"This had nothing to do with (Strome's) skill set," Tippett told reporters after Monday's practice at Gila River Arena. "It all has to do with getting Dylan up to physical maturity. At this point, he doesn't want to be just an NHL player. He wants to be a very good NHL player."
Listed at 6-3, and 195 pounds, Strome needs to gain upper body strength, maintain a solid equilibrium where he is not driven off the puck, and develop a strong, power skating game. Skating in seven of the Coyotes' 17 games thus far,  Strome managed one assist and averaged 13:41 per game. He was also minus-5, tied for the team worst after the first 17 contests.
To support Strome's tenuous status, last Saturday's overtime win over San Jose provided ample evidence. After center Brad Richardson suffered two fractures in his right leg on Nov. 17 against Vancouver, the Coyotes were down a center. Two nights later, the Coyotes faced the Sharks at home, but Strome was again scratched. Instead, the Coyotes recalled Dvorak from AHL Tucson, and Dvorak was centered between Jamie McGinn on the left side and Duclair on the right wing.
Back To Juniors
Now, Strome returns to Erie with firm instructions.
"We're not interested in numbers from him," Tippett said. "From an offensive standpoint, we know what he can do. We want him to play an NHL game at the junior level. He knows what that means, and needs to play a 200-foot game."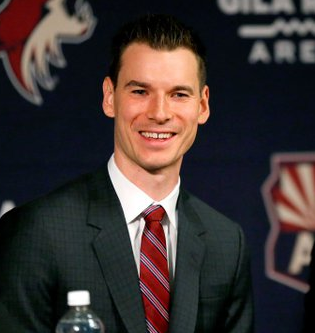 The Coyotes expect Strome to take a leadership role with both Erie and Team Canada in the upcoming Junior World Championships to be held in Toronto and Montreal from Dec. 26 to Jan. 5. During this period and beyond, the Coyotes plan to keep a close watch on Strome and stay in constant communication. Steve Sullivan, the club's director of player development, will be Strome's conduit to the NHL.
"This is an imperfect situation," said John Chayka, the Coyotes' general manager. "(Dylan) knows what he has to do to be here. He needs to fine-tune his game. At the same time, we want Dylan to get some games in at Erie and take that to the World Juniors."
End Of 2016-2017 NHL Season
Because of his age, at 19 Strome cannot be sent to the minors. Either he remained with the Coyotes or returned to Juniors. On his 20th birthday, which is next March 7, Strome becomes eligible to turn pro. At that point, the Coyotes could consider moving Strome to Tucson, but only at the end of Strome's junior season. Strome made it known he wants to win a Memorial Cup, and if Erie lasts deep into the playoffs, his next appearance in Sedona Red will not be until September at training camp.
For now, his days in the NHL for the 2016-17 season are over.
Mark Brown is a former sports editor for daily newspapers in the Philadelphia and Cincinnati markets. He was named Best Sports Columnist, honorable mention 2004 by the Associated Press Society of Ohio. He is a contributor to major daily newspapers, including the Chicago Sun Times, Philadelphia Inquirer, Honolulu Star-Bulletin, Milwaukee Journal, Arizona Republic, Nashville Tennessean and the Associated Press. He was a Featured Columnist for bleacherreport.com and covered the Arizona Coyotes.