Prospects are essential to the success of all NHL teams. In order to win games, and possibly even a Stanley Cup Championship, each and every organization must draft, or sign, and develop young players which will one day make massive contributions to said team on the ice.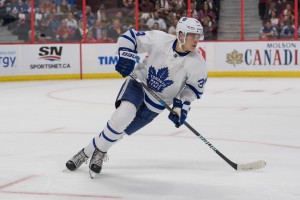 In Toronto, the situation is no different. In the midst of their rebuilding process, the Leafs are fortunate to have a number of stellar young players within their organization, with a select few already leaving lasting impressions on the NHL. Led by 2016 first overall selection Auston Matthews, the Leafs have already received heady contributions from the likes of William Nylander, Mitch Marner, Connor Brown and Nikita Zaitsev, to name a few.
However, the success of Toronto's rebuild as a whole will come down to much more than a few players in particular. In order for the Leafs to win games, both now and long into the future, they will need to develop a greater number of their young prospects at varying positions on the ice. This means that outside of their large class of forward prospects, Toronto will also need to have a number of their prospective defenders and goaltenders play a major role with the team.
Fortunately, what makes the Leafs' rebuild so strong, to date, is the depth of solid prospects under control by the organization. Sure, they have a number of highly notable prospects, but Toronto also possesses a number of young players which, undeservedly, are scarcely discussed. It is on these NHL hopefuls that the success of the Leafs' rebuild will depend.
So, with this being said, let's take a gander at a number of those Leafs prospects not typically discussed, as they could one day play a major role in Toronto's future success.
Joseph Woll – Boston College (NCAA)
Drafted by the Leafs 62nd overall in the 2016 NHL Draft, Joseph Woll is arguably the most highly touted goaltending prospect within Toronto's organization.
A product of the United States Development Program with a bevy of international experience under his belt, Woll is currently in the first season of his NCAA career in 2016-17. As a Freshman with Boston College, he got off to a great start, posting a .924% save percentage and 2.32 goals against average over his first 11 games.
Known as a highly athletic goaltender, Woll covers the net well with his immense 6'4″, 205-pound frame, and is widely regarded as a terrific competitor. In fact, Bruce Racine, a former Leafs farm hand himself and Woll's current goaltending coach, has long raved about the netminder's potential. Having coached Woll from the age of eight years, Racine knows virtually every aspect of his game and emphasizes Woll's passion, athleticism, and flexibility as the qualities which make him elite.
Our pals over at @SBNCollegePuck wrote up goalie of the future Joseph Woll and his hot start for Boston. https://t.co/n6TNx1PGkY

— Pension Plan Puppets (@PPPLeafs) November 4, 2016
In the long run, if Woll plays out his full four-year NCAA career, the Leafs will not see the netminder play for their organization until the 2020-21 season, at which point Frederik Andersen will be in the final year of his current contract. Regardless of when he begins to impact the Leafs, Toronto should remain confident in the fact that they finally possess a goaltending prospect who could one day assume the starting role.
J.D. Greenway – University of Wisconsin (NCAA)
James Greenway, more commonly known as J.D., was a third-round Toronto selection in the 2016 NHL Draft, 72nd overall.
A punishing defenseman, Greenway is a 6'4″, 205-pound force on the ice, and as such likes to play a highly physical game. Strong in his own zone as well as along the boards, Greenway has the ability to dominate opposing players before knocking them over or stripping them of the puck. Further, Greenway loves to throw big hits and isn't afraid to step up and lay the body on unsuspecting forwards.
However, there is much more to Greenway's game than his physical play, and it is these traits which combine to make him a highly valuable prospect.
Firstly, there is his mobility. In most cases, players of Greenway's size have difficulty moving around the ice, and, as a result, can be easily beaten by faster opposition. Yet, when it comes to Greenway, in no way is he burdened by his large frame. Given his size, Greenway has long legs and uses them to his advantage, accelerating quickly and with tremendous force. Further, Greenway has quick feet, allowing him to control opposing forwards and ensuring he has no issue traversing the ice on a nightly basis.
Next, there is Greenway's offensive abilities, an aspect of his game which is often overlooked given his physical presence. In possession of a solid shot, Greenway has the ability to put the puck on net from the point through traffic, and in doing so creates a ton of offensive opportunities for his forwards. Further, Greenway makes quick, crisp outlet passes and has no trouble breaking out of his own end.
Here's Leafs prospect JD Greenway scoring on Leafs prospect Joseph Woll yesterday. https://t.co/mgI2XgZOgR

— Scott Wheeler (@scottcwheeler) October 17, 2016
Given his unique skill set, Greenway is a prospect to watch in the coming years. Currently in his first season with the University of Wisconsin, Greenway will develop his game further playing against the extremely tough competition specific to the NCAA. Capable of becoming a dependable and consistent NHL defender, his development over the next few seasons should be a major area of interest for the Leafs, who remain in need of additional defensive prospects.
Andreas Johnsson – Toronto Marlies (AHL)
Who in the world is Andreas Johnsson? Well, considering he spent the past three seasons playing for Frolunda HC in the Swedish Hockey League, this question is completely understandable.
A seventh-round pick of Toronto in the 2013 NHL Draft, 202nd overall, Johnsson's play in the SHL has quickly put him on the Leafs' radar, and for good reason. Despite his young age, Johnsson stepped into the SHL and immediately became an outstanding offensive threat. After scoring 15 goals in 44 games as an 18-year-old, Johnsson netted 22 goals in his second season before finishing the 2015-16 campaign, his third with Frolunda, with an impressive 44 points in 52 games, a total good for second on his team.
At 5'10", 185 pounds, Johnsson is an electrifying skater whose game is defined by speed and skill. Gifted with quick hands and incredible stick-handling abilities, Johnsson can make a quick, hard pass to a teammate, or instead utilize his hard and accurate shot when the opportunity presents itself. Further, he is known for his excellent on-ice vision, a facet of his game that allows him to not only be a decision maker, but also one who can command the play in generating high-quality scoring opportunities.
Currently in his first campaign with the Toronto Marlies, Johnsson, having played in two playoff games with the team in 2015-16, began his season with a bang, netting two goals in the Marlies' opening game of the year.
My story on tonight's Marlies win and Andreas Johnsson's early success in North America: https://t.co/vGZB1T3h1M

— Scott Wheeler (@scottcwheeler) October 27, 2016
Given the breadth of prospects within the Leafs' organization, it is safe to say that Johnsson will play the vast majority of his hockey in the coming years at the AHL level. However, given his terrific skill-set and his ability to make an immediate impact with a new team, a surprisingly successful campaign in 2016-17 could vault Johnsson up Toronto's organizational depth chart and into contention for NHL experience.
Jack Walker – Victoria Royals (WHL)
Chances are you've never heard the name Jack Walker before. However, like the rest of those mentioned here, odds are he will become a household name in the not so distant future.
Selected by Toronto in the sixth round, 152nd overall, Walker is a typical late bloomer who has truly come into his own over the past few seasons. As a fifth-year player with the Victoria Royals of the Western Hockey League, Walker was passed over in two NHL Drafts before he heard his name called by the Leafs in 2016.
Now a dynamic offensive winger, Walker originally failed to make an impression in his first two WHL campaigns, as he scored 22 points as a rookie and 15 the year following. Yet, what is not commonly known is that when Walker signed with the Royals he was, in fact, a defenseman. On a team which, at the time, was flush with defenders and ice time for Walker scarce, an offer of guaranteed minutes to play a forward position was an easy proposition for Walker to accept.
So, cemented in a specific position and perhaps motivated by his first snub in the Draft, Walker took flight in 2014-15, scoring 18 goals and 55 points. Then, in 2015-16, Walker established himself as a truly consistent offensive force by scoring 36 goals and 84 points in 72 games played. It was this impressive campaign which caught the eye of Toronto.

Of smaller stature at 5'10", 180 pounds, Walker fits perfectly into the Leafs' rebuilding mould.
As a highly skilled forward, Walker, like most Toronto prospects, prides his game on his skating abilities and skill with the puck. A high-end skater with incredible top speed as well as acceleration, Walker can blow past defenders and drive right to the net, creating scoring opportunities along the way. Yet, what sets Walker apart as an elite prospect is not only his ability to handle the puck at top speed but his agility and edges. Walker can stop seemingly instantly, manoeuvre around an opposing player, and then reach top speed once again in a matter of strides.
Jack Walker (#Leafs) with a beautiful goal last night for Victoria. https://t.co/KiWWu2yYtC

— Scott Wheeler (@scottcwheeler) October 19, 2016
Walker's defensive game you ask? Well, fortunately he has some experience in the position, so it is one of his strong suits.
In all, Walker is yet another solid Toronto prospect who, despite his late development, appears poised for success at the professional level. Slated to hit the pro ranks to begin the 2017-18 season, Walker is a truly interesting wild card for the Leafs who may have snatched up yet another late-round gem.
Martins Dzierkals – Rouyn-Noranda Huskies (QMJHL)
Martins Dzierkals is the final Leafs prospect you need to know and was chosen by Toronto in the third-round of the 2015 NHL Draft, 68th overall.
Born in Ogre, Latvia, Dzierkals long dominated various levels of hockey in his native country before being selected 22nd overall in the 2015 CHL Import Draft by Rouyn-Noranda. As such, 2015-16 marked Dzierkals first season in North America, and to say it was successful would be an understatement.
As an 18-year-old rookie, Dzierkals stepped into the Quebec Major Junior Hockey League and made an immediate impact with the Huskies. In his first campaign with the team, Dzierkals potted 24 goals and 67 points in 59 games played. Overall, his 67 points ranked second highest amongst all QMJHL rookies, while his equally substantial goal total was good for fourth best, clearly indicating his lethal offensive abilities.
As another highly skilled forward of lesser size, Dzierkals, who stands 5'11" and 170 pounds, is somewhat similar to Johnsson and Walker in the sense that his game is based on incredible skating and puck skills. Known to be a fearless player on the ice, and one who is not afraid to crash the net or battle for the puck below the goal line, Dzierkals also possesses a solid, crisp shot and the ability to move the puck to teammates with relative ease. Characterized as a playmaker, Dzierkals has proven he can not only pass the puck but also surprise opposing netminders with his shot.
Martins Dzierkals Goal (11/12/16) pic.twitter.com/KyAZx2PzEI

— Leafs Prospects (@Leaf_Prospects) November 13, 2016
Now in his second season with Rouyn-Noranda, Dzierkals has continued to develop as a player and has further developed not only his skating and puck skills but also in terms of his size. Born from a family of significant size, there is the belief that Dzierkals will continue to grow, both in height and strength, in the coming years. If he continues to grow and develop his individual skills, he could debut with the Marlies in the 2017-18 season, however, a debut in 2018-19 would be much more likely.