When the Oilers drafted Connor McDavid this past June, he was their fourth first-overall draft selection in the last six years. The hype surrounding McDavid is massive and justly so – he is a rare and amazing talent.  Add in the existence of Taylor Hall, Ryan Nugent-Hopkins and Jordan Eberle, plus the rise of Oscar Klefbom and Darnell Nurse, and you have one of the most talented teams ever assembled in the salary cap era.
But lost in all this hype is Nail Yakupov. Yes, more has been expected out of the Russian winger than has been delivered to date, but with all the talent in Edmonton these days, he seems to be the forgotten man. But he shouldn't be. Yakupov is too talented to be written off just yet, and he is only 21 years old.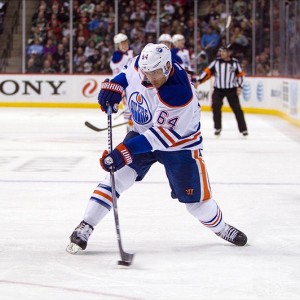 Potential
Let's forget about the past and focus on a few things that are beyond dispute:
From a pure talent perspective, Yakupov is one of the best hockey players in the world. His shot and speed combination is lethal. Regardless of whether or not it has translated into NHL success yet, no one can deny that just based on talent alone, Yakupov is an elite player.
It isn't all that rare for a player to be drafted, go back to junior for two seasons and then play a year in the AHL. Had Yakupov done that, right now he'd be hockey's second best prospect after Connor McDavid. Now, obviously that is never the development path that a first-overall pick takes, but the point is to show that with his talent and age, that the past three seasons are irrelevant.
There is a good  chance he'll be the right-winger on a line with McDavid and Hall.
Any negatives about Yakupov's game have to measure against the fact that he had three coaches in the last three seasons and played for the worst team in hockey over that time.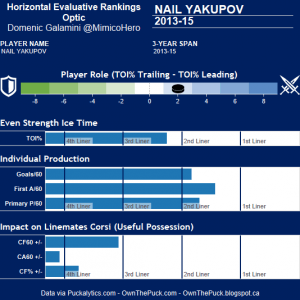 If we look at the Hero Chart, it becomes clear that Yakupov's reputation as a terrible defensive player is accurate. One thing that does look good, however, is that he has outscored his ice-time by a good margin.
If we assume that under the offensively minded Todd McLellan, Yakupov will get top-six ice time, then it is reasonable to expect a massive surge in his offensive performance.  While it is obviously optimal to be a possession driving, defensively responsible forward, there is still value in players who aren't but can score a ton, if they are surrounded with players who fulfill that responsibility. Playing with Taylor Hall and Connor McDavid should insulate Yakupov to the point where he can concentrate on the parts of his game that got him to the NHL in the first place.  It is also worth noting that the Oilers have been a possession black-hole and defensive nightmare for virtually his whole career so far, so there is reason to believe that with an improved team and better linemates, plus experience and maturity, that Yakupov can overcome his defensive deficiencies.
Look to the Past, Project the Future
While people are awfully quick to throw out the bust label, it should be noted that as a rookie, Yakupov scored at a 30 goal pace during the lockout shortened season. That is a very impressive total and while he has subsequently failed to build on that, it should also be noted that he did not mesh with Coach Dallas Eakins in his second year, and that seven other forwards received more power-play time than Yakupov did last year.
I don't mean to say these things as excuses, but when you look at the player's talent and his abilities, and compare them to having a coach who won't play him on the powerplay and who played him on the third line, you have to conclude that even if there are flaws in the player's game, that these are huge factors in his lack of success so far.
Worth pointing out as well: Yakupov's three most common line-mates since he entered the NHL are Sam Gagner, Teddy Purcell and Derek Roy. The player he's lined up with the most is defensive nightmare Justin Schultz. From his lack of power-play time, to the sub-par lineup of third-liners he's been forced to skate with so far, it's pretty clear that at least some of the blame for Yakupov's inability to live up to his draft position is not his fault.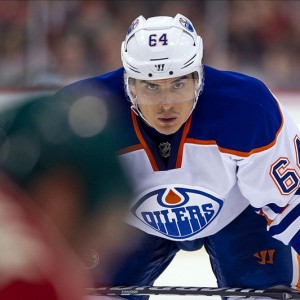 That is why this season , when the spotlight will be on Taylor Hall and Connor McDavid, when the team will ice actual NHL blue-liners and an actual NHL goalie, when he'll have a coach who is known for coaching a high-octane offensive attack, and the chance to play with peers instead of boat anchors, I believe Nail Yakupov will finally breakout and deliver a season worthy of his number-one overall selection.
The forgotten man will be forgotten no longer: expect a star turn from Yakupov in 2016.