The annual free-agent frenzy is an event that hockey fans look forward to every summer. July 1 marks the day that players' contracts come off the books and they are able to pursue new opportunities elsewhere.
Some players get a significant raise. Others sign with a powerhouse in the hopes that they can be part of a championship in the coming years. Fan- and media-types alike debate each and every move and how it will affect the team and the league in general. This past summer's free-agent crop wasn't the strongest and didn't involve many high-profile players changing homes. There are, however, a few skaters who are able to contribute at the NHL level that have yet to be signed. I delve into three of the most notable and what they can bring to an NHL roster.
Jiri Tlusty: Forward
Jiri Tlusty is a player who could most likely use a change of scenery. The former first round pick of the Toronto Maple Leafs in the 2006 NHL Entry Draft never gained any traction with the organization that drafted him. He was sent to the Carolina Hurricanes, where he had his best season in 2012-13 when he scored 23 goals and 38 points.
This past year, he was traded to the Winnipeg Jets as they were bolstering their roster for the playoffs. Tlusty didn't put up the numbers the team was looking for and only scored one goal and eight points the rest of the regular season. The Jets got swept in the first round by the Anaheim Ducks without the former Hurricane registering a single point.
Tlusty is only 27-years old, which means he still has some solid years ahead of him. If a team takes a chance on him and plays him with good linemates, he could see his production rise back to Hurricanes levels once again. He's a good skater with some offensive upside that could come in handy for a team needing some depth on the wing.
Brad Boyes: Forward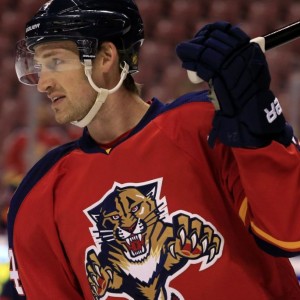 This one is a bit of a head scratcher. Boyes was playing on the Florida Panthers, where he put up 14 goals and 38 points in 72 games. That's decent production from the forward who was usually relegated to the second and third lines. His contract was bought out by the Panthers this summer and he has been searching for a new team ever since.
Boyes can still be a productive member of an NHL team. This past season in Florida proved exactly that. The last three seasons have seen him put up 35, 36 and 38 points respectively. In the NHL, consistency is key to making a lasting impact and Boyes has demonstrated that he is able to keep pace.
Boyes is able to add some scoring and grit to any NHL team's bottom six. He would be in the same boat as the aforementioned Tlusty. He would be a solid if unspectacular presence for depth that could provide the occasional burst of offense.
Cody Franson: Defenseman
Cody Franson not having a contract at this point is extremely confusing. The former Maple Leaf was traded last year to the Nashville Predators. That was the first move that really kicked off the Leafs' rebuild. Franson didn't perform as expected in the Music City and his stock took a massive hit because of it.
The 28-year-old defenseman had 32 points in 55 games with the Leafs this past season. He played out the rest of the campaign in Nashville and only managed one goal and four points in the following 23 games. Two assists in five playoff games didn't help matters much, either.
Despite the bad finish to the season, Franson is still an extremely valuable commodity. He's got excellent size and is surprisingly mobile for a big man. He has a knack for putting up points and is routinely able to get shots on net through traffic. Franson is looking to bounce back from his time with the Preds. If a team is smart, they will be able to scoop up the former third round pick on a short-term, low-dollar contract.