After rampant speculation lasting nearly a calendar year, all 30 National Hockey League teams have released their protection lists for the upcoming NHL Expansion Draft. Ever since 10:00 a.m. Eastern Standard Time (err, sorry, make that 10:30) Sunday morning, there have been heads scratched around the league due to the sheer volume of inexplicable decisions, many of which stand to greatly benefit the newly formed Vegas Golden Knights.
Of course Vegas slept through its alarm. We've all been there. https://t.co/KApi3XyG9I

— Greg Wyshynski (@wyshynski) June 18, 2017
The St. Louis Blues, Toronto Maple Leafs and Washington Capitals all choose to protect enforcers (who likely would not have been taken, anyway) over other, more helpful players. Because, you know, grit and sandpaper and chemistry and stuff. The Minnesota Wild jettisoned their leading goal-scorer, who also happened to come second on the team in points and is making a very affordable $3.5 million dollars.
But perhaps the most surprising team of the day was the Florida Panthers.
Panthers' Salary Cap Sorrows
The Cats entered the expansion process in pretty poor contractual shape. They threw a lot of money at a lot of players this past summer, and not all of it has worked out. The result is a team that is extremely top-heavy in salary, with 10 players currently making $4 million or more against the cap. This does not include unrestricted free agent Jaromir Jagr ($4 million dollar cap hit in 2016-17, plus another $1.515 million in performance bonuses), or future big-money players Michael Matheson and Jonathan Marchessault.
As a result, I saw the Expansion Draft as an opportunity for a young, talented team that is (probably) on the rise to trim some fat from their payroll to free up space for some smarter trades and or free agent signings. The Panthers are also quite highly rated in terms of their pool of prospects (The Hockey News ranked them fifth in their Future Watch 2017), so I figured the Panthers would ensure these young players have room to play on the big-league squad.
Boy, was I wrong.
Who the Panthers Protected
Goaltenders
In goal, Florida protected the lovable and effective James Reimer, who makes a very palatable $3.4 million dollars. I really don't see Vegas taking on over $4.5 million dollars in salary for a 38-year-old Roberto Luongo, so the Panthers' solid goaltending tandem from last season should return unscathed.
Defensemen
On defense, the Panthers protected Aaron Ekblad (obviously), Keith Yandle (no-movement clause), Alex Petrovic and Mark Pysyk. I don't hate the Cats choosing the "eight skaters, one goalie" option. Petrovic and Pysyk are good depth defensemen for the Cats; assuming they can re-sign both of these restricted free agents to affordable deals, protecting them will look like a stroke of genius.
As for Yandle, his $6.35 million-dollar cap hit for the next six seasons is…less than ideal, but he should eventually pay dividends for the Cats. As long as Michael Matheson (who did not need to be protected) continues to develop as planned, the Panthers will be able to move Yandle down the lineup and give the offensively brilliant rearguard easier matchups, sheltering his defensive liabilities from other teams' top lines.
Forwards
At forward, the Panthers protected Aleksander Barkov, Jonathan Huberdeau, Vincent Trocheck and…Nick Bjugstad? Seriously?!
The 2010 first-round pick's career-high is 43 points, and he has been racked by injuries the past two seasons. Not to mention the fact he is the team's third-line centre (behind Barkov and Trocheck), which further hampers his ability to display the offensive potential he showed at the University of Minnesota.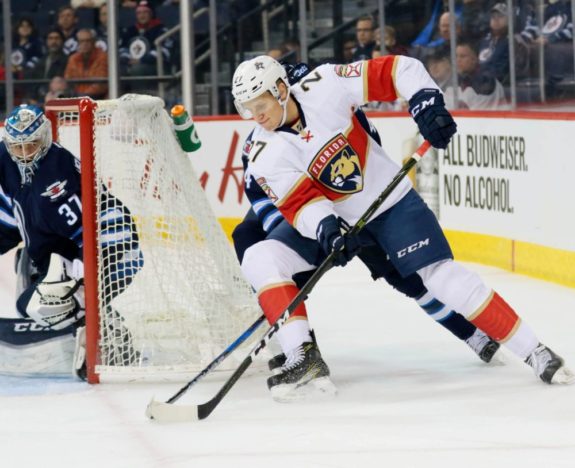 Look, Bjugstad is a hugely enticing player. The combination of his 6-foot-6, 218-pound frame and silky smooth hands does not come along every day. I would be intrigued to see his size and power coming off the wing, instead of at centre. But you can't escape the fact that, in four full NHL seasons, the Minneapolis native just hasn't been able to put it together offensively. $4.1 million for the next four seasons is a lot to play an offensive-minded player who averages 0.46 points per game.
Who the Panthers Did Not Protect
Goaltenders
As mentioned, Luongo, though still a serviceable goaltender, is now 38 years of age and makes over $4.5 million dollars. Vegas can find better goaltenders with longer horizons for very much cheaper.
Defensemen
The Panthers exposed Jason Demers, another signee from the summer of 2016. At $4.5 million per season, he was deemed the odd man out in the Florida defense corps, sandwiched between the highly paid top end (the budding star Ekblad and the immovable Yandle) and the younger, more affordable Matheson, Petrovic and Pysyk. A solid pro for a very long time, Demers is the victim of a numbers game in Florida. Though probably somewhat overpaid, he should continue to be an effective defenseman wherever he lands, whether it be in Vegas, back in South Florida, or in another NHL destination altogether.
Forwards
This is where it gets fun.
Now, it isn't really a surprise to see Jussi Jokinen left unprotected. The versatile veteran has a single year remaining on a contract paying him $4 million per season. Each selection for the Golden Knights is of extraordinary value; I really don't think they'll spend a pick on Jokinen, who is 34, coming off a poor season, and could very well leave in free agency next summer.
Nor is it particularly shocking to see Reilly Smith exposed. Everyone remembers his 25-goal campaign two seasons ago, but a miserable 2016-17 and a history (short as it may be) of inconsistency has, evidently, made the Panthers unsure about the five-year, $5 million per extension they gave the Toronto native this past summer. If Smith's ceiling is being a 20-goal, 45-point player in the NHL (as the rough averaging of his numbers suggests), the Panthers should be able to replace that production for far less money.
But leaving Jonathan Marchessault exposed… This one is a mystery. The 26-year-old was the steal of the 2016-17 NHL season, rising up from obscurity and bursting onto the scene in spectacular fashion. He potted 30 goals, despite playing on a team that couldn't score and that was riddled with injuries all season long. His speed and skill make him an ideal part on a team that prides itself on being on the cutting edge. And the best part? He only made $750,000 last season, and is locked in for one more year at the very same price.
Panthers Predators or Prey?
What were the Panthers thinking? They risk letting a young, speedy, versatile forward get away for free, robbing the team of its leading goal-scorer. Even if he's not snapped up by the Golden Knights, will he really want to re-sign in South Florida next summer after this inexplicable snub?
There very well could be deeper reasons for the above decisions. But even if Panthers general manager Dale Tallon cut a side deal with Vegas to dissuade them from taking Marchessault, why was he left unprotected in the first place, given that the Panthers had enough slots to protect him (sans Bjugstad)? And if there is indeed a side deal, what will it end up costing the Panthers?
The Panthers have exposed a young, talented player who is perfect for the modern game, choosing to protect the bigger, slower, less-productive Nick Bjugstad instead. They've eschewed the future, in favour of the past. They've exposed someone who's done it before, in favour of someone who maybe might be able to possibly one day do it in the future. I just don't get it.
We won't know anything for sure until the Expansion Draft Wednesday night. Until then, let's all panic.