The 2017 NHL Draft will be a little unfamiliar for Toronto Maple Leaf fans, especially after the loads of prospects they picked up at last year's event.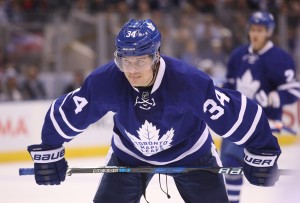 Of course, Toronto selected Auston Matthews with the first overall pick in 2016 to lead a cast of seven draft picks over the first 72 picks of the draft.
This year, the Leafs will head in with a slightly different mindset.
Toronto surprised everyone with the amount of success they found in 2016-17, not only on the individual player level, but as a team as well. As a result, the Leafs will enter the 2017 draft with just two draft picks in the first three rounds.
They own their first-round selection, 17th overall. Their second-round pick now belongs to the Tampa Bay Lightning as part of the Brian Boyle trade. They also lost their third-round pick to the Detroit Red Wings by way of the hiring of head coach Mike Babcock.
However, they did hold on to another second-round draft pick, 59th overall, which was acquired by the Ottawa Senators in the 10-piece Dion Phaneuf trade.
With how undecided this year's draft appears to be, it will make Toronto's pick at 59th overall extremely interesting. There's no saying who will or won't be available at that time due to differing player opinions.
Here are a few hopeful, yet realistic, options that the Leafs may have when they announce the 59th overall pick at the 2017 NHL Draft.
Max Gildon – LHD – U.S. National U18 Team (USDP)
Birthplace: Plano, Texas
Birthday: May 17, 1999
Size: 6-foot-3, 187 pounds
Shoots: Left
2016-17 Stats: 11 goals and 22 assists (33 points) in 63 games.
Ranking: 54th by NHL Central Scouting
Max Gildon entered the 2016-17 season as one of the favourites for the 2017 NHL Draft but slowly fell off in the rankings. He is known as a solid two-way defender who primarily excels in the defensive zone. He has the size and compete to wear down opponents along the wall, and uses a long reach to maintain tight gaps.
Offensively, Gildon moves the puck up ice well and offers a strong point shot which is continuously getting harder. He won't put up eye-popping numbers, but will certainly pinch in. His coaches have generally trusted his play in all situations, mainly as a result of his strength down low and smooth transition game.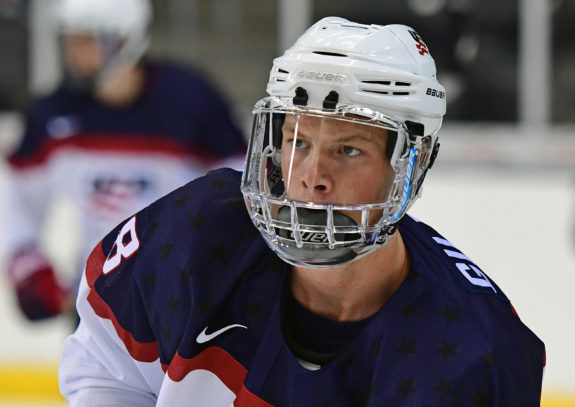 Many teams are enticed by Gildon's ceiling of potential, seeing a constant growth trend and an ability to make more of an offensive impact. As a hulking left-handed defenceman, Gildon is still filling out a huge frame and only getting stronger.
Gildon is committed to the University of New Hampshire for 2017-18.
Ranked 54th by Central Scouting and 46th by Future Considerations, Gildon is projected to be a mid-second to high third-round pick. A probable range is 45th-70th overall, giving Toronto a fairly strong shot at a chance to select him.
Antoine Morand – C – Acadie-Bathurst Titan (QMJHL)
Birthplace: Mercier, Quebec
Birthday: February 18, 1999
Size: 5-foot-9, 170 pounds
Shoots: Left
2016-17 Stats: 28 goals and 46 assists (74 points) in 67 games
Ranking: 53rd by NHL Central Scouting
A second overall pick in the 2015 QMJHL Draft, Antoine Morand has all the tools to be a dangerous offensive threat each time he takes the ice. His game thrives through an elusive skating ability and excellent vision of the ice. Labelled as a natural playmaker, Morand has quick hands and can find passing lanes through traffic to create scoring chances.
What makes Morand such an exciting prospect is his skating ability. He has tremendous agility and an electric first three steps. He can blow by defenders along the wall and use his edges to cut to the inside. Despite a relatively small frame, Morand is rarely knocked off the puck and can use his lower body to protect the puck well.
An area of improvement for Morand would be in the defensive zone, where he can fail to cut off the opponent's cycle game, and is often overworked in front of the net. He also had his fair share of struggles in the face-off circle, forcing many to project him as a winger in the future.
Morand will very likely return to Acadie-Bathurst for the 2017-18 season.
Ranked 53rd by Central Scouting and 47th by Future Considerations, Morand is predicted to be drafted somewhere in the 40-60 overall range, giving the Leafs a slight chance to have the opportunity to draft him.
Scott Reedy – C/RW – U.S. National U18 Team (USDP)
Birthplace: Prior Lake, Minnesota
Birthday: April 4, 1999
Size: 6-foot-1, 203 pounds
Shoots: Right
2016-17 Stats: 22 goals and 20 assists (42 points) in 60 games
Ranking: 40th by NHL Central Scouting
Scott Reedy, like Gildon, had a lot of hype surrounding him after an outstanding 2015-16 season, but was unable to live up to mighty expectations. Reedy is a highly-skilled center who thinks the game well and has the size and strength to potentially fit a power-forward role.
Reedy may boast the most impressive hands in this year's draft and, when included with an innate ability to read developing plays, that makes him extremely fun to watch on the rush. Reedy also has a very strong stride and can hold opponents off with ease. While he doesn't have the best top speeds, that certainly doesn't hold him back.
With a large frame, Reedy explodes off of the half-wall with purpose and drives the net with authority. He finds a way to be in the right place at the right time and doesn't hold back in the defensive zone either. Reedy is responsible positionally, back-checking hard and battling to earn possession of the puck.
Reedy is committed to the University of Minnesota for the 2017-18 season.
Ranked 40th by Central Scouting and 53rd by Future Considerations, Reedy is expected to be selected in the 35-60 overall range. While it is slightly unlikely that he falls to 59th, it is definitely not out of the question, making him a man on the Leafs' radar.