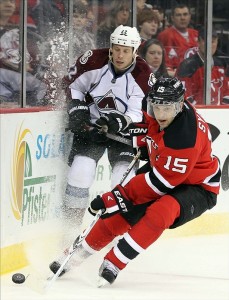 Petr Sykora is one of six New Jersey Devils forwards set to hit the free-agency market if the Devils do not offer him a new contract. Sykora joined the team this season for his second stint after playing the 2010-11 season in Europe and was a pleasant surprise, scoring 44 points in all 82 games.
Last week, Rich Chere of The Star-Ledger reported that Sykora would like to return to the Devils if cap space allows. As with any free-agent situation, there are positive and negative sides to Sykora coming back for 2012-13.
Pros
In three of his last four NHL seasons, Sykora has shown he can stay healthy for a full year, or close to it. He played 81 games in 2008 and 76 games in 2009, both with the Pittsburgh Penguins. After a 14-game stint with the Minnesota Wild to start the 2009-10 season, he logged a full season this year.
The 35-year-old forward is also a proven winner. He won the 2000 Stanley Cup with the Devils, then hoisted the trophy once again as a member of the Penguins in 2009. In addition, he has been on teams that finished as the runners-up in four finals series (2001 Devils team that lost to the Colorado Avalanche, 2003 Anaheim Mighty Ducks team that lost to New Jersey, 2008 Penguins squad that fell to the Detroit Red Wings and this year's Devils team that lost to the Los Angeles Kings).
Sykora has 74 points over 133 career playoff games, showing that he can raise his game when needed.
Also, he is devoted to the Devils franchise, as shown when he came back to New Jersey without a contract to take part in this year's training camp. In The Star-Ledger report, he further elaborated upon his feelings about the team:
"So my priority is to play in the NHL. Of course with the Devils. I love playing here, I love the area. I love New Jersey. For sure my priority is to play in New Jersey, but in this business you never know."
If the Devils choose to re-sign Sykora, he will not need to be paid a lot of money. He made $650,000 this year, costing less than other pending free agents such as Ryan Carter ($750,000 salary) and Alexei Ponikarovsky ($1.5 million salary).
Cons
Sykora will be 36 this November, and the Devils already have aging players under contract. Both Patrik Elias, who is 36, and Dainius Zubrus, who is 34, are signed through 2013.
These players are just as productive as Sykora. Elias was 10th in the NHL in scoring this season with 78 points in 81 games, and he was also seventh with 52 assists. He won the 2000 and 2003 Cups with New Jersey and was a finalist in 2001 and this season. He has 125 points in 162 career playoff games.
Meanwhile, Zubrus had 44 points in 82 games this year and finished fourth in the NHL with three shorthanded goals. He added 10 points in 24 playoff games. Prior to helping the Devils in this year's Cup finals, he played for the 1997 Philadelphia Flyers team that was swept by the Red Wings in the finals.
Elias and Zubrus are long-standing members of the team, and although Sykora appreciates the Devils, he could be squeezed out simply because his role is redundant.
Sykora is also easily replaced in the lineup. During the playoffs, he was scratched to make room for Jacob Josefson, a 21-year-old center who was in his first full NHL season. Josefson was limited to 41 games this year with an injury and had 10 points before going down. However, scratching Sykora for Josefson could indicate that the Devils are looking towards the future, and that future may not include an aging forward.
Even though Sykora is up there in years, one can't argue with his experience and dedication to the team. The Devils should make an effort to bring him back, but if they can't, Sykora can leave New Jersey on a high note.