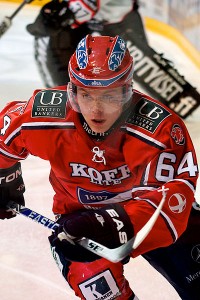 Mikael Granlund
DOB: February 26, 1992
NHL Rights: Minnesota Wild
Drafted: 1st round (9th overall) 2010
Height: 5'10"  Weight: 180 lbs
Position: Centre
Current Team: HIFK Helsinki (SM-liiga)
                        ◊◊◊◊
Drafted 9th overall in 2010, Granlund is widely considered one of the best players in the world outside of the NHL, and is expected to be an impact player when he does step into the Wild lineup.  Currently playing for HIFK Helsinki in Finland's top league, the SM-liiga he is leading the team in scoring as a 19 year old and is 2nd in league scoring.
Making a name for himself in one of Europe's top men's leagues, Granlund has also gained notoriety in the hockey world playing in various tournaments for his native Finland.  Captaining Finland to a 4th place finish in this past IIHF World Junior Championships, Granlund lead the team in scoring with 11 points in 7 games and was second in tournament scoring to only Russia's Evgeny Kuznetsov.  He also played for the gold medal winning Finland in the 2011 IIHF Men's World Championships as a 19 year old, finishing second in team scoring with 9 points in 9 games.  It was also in that tournament that he scored the famous lacrosse style goal against Russia (2:14 mark of videa below) that became a youtube sensation.
Minnesota Wild management could not be happier with the way their Finnish prospect has progressed.  Knowing that they were getting a player with high end skill and a lot of natural ability, he was considered somewhat of a risky pick due to his size and concerns over how he would handle the rigors of NHL life.  While that still remains to be seen, Granlund has eased a number of these fears with his play for HIFK Helsinki and Finland in the World Championships, as he has shown increased development in terms of winning one on one battles and playing against men.
Dubbed a Saku Koivu clone, that is high praise in itself coming from Finnish hockey fans, Granlund has plenty of offensive skill.  One of the most creative players in the 2010 draft, Granlund thinks the game at a very high level with top notch hockey sense.  A crafty playmaker and elite stickhandler, Granlund makes those around him better.
While he lacks top end speed, Granlund is very quick and agile and strong on his skates.  Like any prospect in his situation, lack of size is always a concern for NHL scouts.  Granlund will have to continue to get stronger and try and put muscle on to handle other players at the NHL level.  He does, however, play a competitive style of game and battles hard in all areas.
NHL Potential:  1st line playmaking centre
NHL Comparable:  Saku Koivu
NHL ETA: 2012
"The Prospect Report" is a weekly feature at The Hockey Writers and profiles NHL team prospects.  Check back next week for the next profile and follow Carl on twitter