A few days ago I wrote about the Rangers doing a solid job of making trades to keep their organizations well stocked with talent. In this article I will point to the Rangers ability to find talent through different channels, whether it be drafting late or signing free-agents, I'll even bring up some of those trades that have paid off so well for this team. Not everyone mentioned is still with the club, but I still credit the organization for finding the talent and maximizing their asset.
Anthony Duclair (Drafted in the third-round, 80th overall)
Duclair only ended up playing 18 games for the Rangers, but that doesn't change the fact that New York found some top end talent in the third round of the draft. The Rangers ended up sending Duclair to Arizona in the trade that brought Keith Yandle to New York. So even though Duclairs' on ice impact was limited, he was still a piece that brought the Rangers a key return, and stands to prove that those mid-round picks can turn into valuable assets down the line. Duclair is starting to blossom in Arizona, and I don't doubt that he will be a star in the NHL.
Dan Girardi (Undrafted, signed as a free-agent)
Girardi has been a key piece on the Rangers back-end for years now, and in New York his name is synonymous with courage and work ethic, as he always throws himself in front of shots, and always seems to take big hits to make the small plays. Girardi first cracked the roster in 2006-2007 and his stay-at-home style was a welcome addition to the club as he became one of the Rangers reliable defenders for years to come.
Amazing is the fact that Girardi was never even drafted, he had quite a journey to make it to the NHL that started with a tryout in the 2005 training camp. Girardi ended up getting an AHL contract and working his way to the big club. Getting a key player for your blue line for years is hard enough, now keep in mind that the Rangers didn't even use a pick for his services.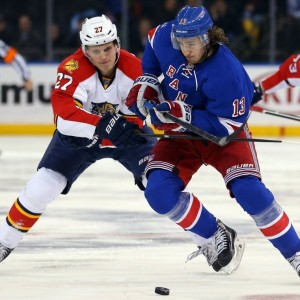 Kevin Hayes (Signed as a free-agent)
Kevin Hayes is another guy who signed onto the Rangers, but he was indeed drafted (first-round, 24th overall). Hayes was selected by the Blackhawks, and developed by playing the College game, but things didn't work out for him as he couldn't find common ground with the organization on a contract. There was also a bit of an issue with finding him a place to play, being that the Hawks were loaded up-front.  The Rangers saw the talent, and were able to scoop him up despite several other teams showing interest in the big forward. Hayes was excellent in his first year with the club recording 45 points in 79 games played. With Hayes being still just 23-years-old, it looks like he will be a key part of the Rangers offense for a long time.
Henrik Lundqvist (Drafted in the seventh-round, 205th overall in 2000)
He's been the back bone of the club since 2005-2006 where he debuted with the team. He has won 30 or more games in every season except for 2012-2013, but that year he only played in 42 games due to the lockout. He's getting older but his game is as sharp as ever. Lundqvist isn't the first excellent player to get drafted in the seventh-round, but it's clear that what seemed at the time to be a throw away pick has paid off huge. Finding a guy who could hold the fort on a nightly basis allowed the Rangers to focus on building up their defense and offense. The lesson here is that every pick counts.
Jesper Fast (Drafted in the sixth-round, 157th overall in 2010)
Fast is another late pick that became a roster regular. Not every diamond in the rough type player has to be a super-star, in fact you need guys who are just well-rounded, who can make the bottom six go and that is exactly what Fast does. He's currently in his second full season with the club, and he has carved out a nice place for himself on the wing as a speedster. Keep in mind, Fast is still 23-years old, so he could certainly develop into a top-nine type player, but for now he's doing a good job at giving the Rangers lower lines some jump.
Ryan McDonagh (Acquired from Montreal)
McDonagh is the Rangers top defenseman right now, and for them to go out and get him for essentially Scott Gomez makes it one of the best transactions in the clubs history. Gomez was good, but way overpaid, so for New York to grab a key part of their current organization for him is a huge step. It's clear that New York saw something in the player that Montreal didn't so give them credit for going out and getting him. Potential is great, the hard part is getting the player to tap into it, and the organization deserves acknowledgement for helping him become the player we see today.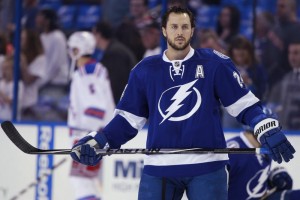 Ryan Callahan (Drafted in the fourth-round, 127th overall)
When you think of the kind of players that go in the fourth-round, you usually expect the players to be grinders, or skill guys who are very inconsistent. For the Rangers, they were able to grab their future captain, and a key part of their team for years to come. Callahan would end up playing eight seasons on Broadway and in three of those seasons he was able to notch more than 20 tallies. He ended up being traded to Tampa Bay with some picks for Martin St. Louis. The trade helped both teams and Callahan is still a big part of a good Tampa Bay team.
Mats Zuccarello (Un-drafted, signed as a free agent)
Zuccarello got on the radar as a player with a strong showing in the 2010 Olympics as part of team Norway. The slick forward jumped off the page with his ability to pass the puck and dictate play despite his stature. The Rangers saw some real skill, decided to bring him in, and he's paid off huge for the organization. He's now in his sixth season with the club and he has become a key part of the Rangers offense.
My Take
The reason that the Rangers have managed to remain successful revolves around their ability to find talent, and help players maximize their potential. When you look at the core of this team you notice that most of them have been developed by the organization at some point. Sure the Rangers aren't shy about bringing in skill from other teams, but the key to staying successful is to grow your own players and it's clear that this is the approach that the Rangers are taking. The Rangers staff deserves a ton of credit for their scouting work, but we also have to acknowledge Ken Gernander, who's run a stellar program preparing players with the Wolf Pack. All of these elements play a key role in a successful on ice product, and the Rangers have found a good formula.
I graduated from Brooklyn College with a B.S. in Broadcast Journalism. Shortly after, I began writing for the Full Tilt Hockey Network, where I still contribute, covering a broad range of topics across the NHL.
I have been contributing to The Hockey Writers since February of this year focusing on the New York Rangers. My articles tend to focus on analysis of players, and possible directions that the organization could go.