To build a successful team in today's NHL, an organization needs to be able to make trades, and find players through other means than just drafting and plucking players from the free-agent pool. Below I will examine some of the major trades that the Rangers have made over the last 15 years, and discuss how they helped the team generate winning seasons, and also point to how they impact the current team.
2000-2001
Detroit Red Wings Get: second-round pick (#38-Tomas Kopecky)
Rangers Get: 2000 second-round pick (#64-Filip Novak), and a 2000 third-round pick (#95-Dominic Moore)
For the Rangers this move served them twice; In Moore's first full season with the club in 2005-2006, where he had nine goals and nine assists helping the Rangers get to the post-season, and second when the Rangers decided to bring Moore back for the 2013-2014 campaign. Knowing an organization and the personnel around it is always a benefit to a player, as it's simply less for them to adjust too. Moore is still with the club as a valuable depth player and has helped the team in deep playoff runs. A small move for the Rangers but it has paid off for them.
 2003-2004
Washington Capitals Get: Anson Carter
Rangers Get: Jaromir Jagr
Jagr was a key piece in turning the Rangers organization in the right direction; as he helped the team make the playoffs in 2006, 2007, and 2008. Prior to that, they hadn't been there since the 1997 season.  Coming out of the lock-out, Jagr was excellent posting  123 points in 82 games. The Rangers were swept in the opening round by their rivals the New Jersey Devils in 2006, but Jagr continued to help the team return to the playoffs in the two following years by posting 96 and 71 points respectively, he even took on the captaincy. These were crucial years for this organization, as learning to win and compete behind the veteran helped create the confident culture that the club has today. Jagr helped the Rangers get ahead of schedule with their re-build, was a good captain, and with him leading the charge on offense, he made it easier for younger players to discover their duties. Carter was always a good hockey player, but this was a move that got the organization headed in the right direction.

Flames Get: Chris Simon, and a 2004 seventh-round pick (#200-Matt Schneider)
Rangers Get: Blair Betts, Jamie McLennan, and Greg Moore

Ok, this wasn't a huge move for the franchise, but I think this displays the importance of having a GM who can pull the string on a small but effective trade. Here the Rangers got rid of a late pick and an enforcer in Simon, but scooped up a solid player for them in the coming years with Betts. His name won't be in the rafters, but he was a solid fourth-line center for this team, helping them keep a strong product on the ice; and most fans loved him because of how hard he worked. He ended up playing four seasons on Broadway and was an important player in the teams playoff appearances.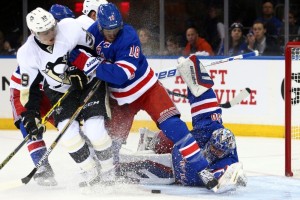 2005-2006
Atlanta Thrashers (Winnipeg Jets) Get: 2005 first-round pick (#16-Alex Bourret), 2005 second-round pick (#41-Ondrej Pavelec) for
Rangers Get: 2005 first-round pick (#12-Marc Staal)

The Rangers saw that Staal was on the board at the 2005 draft and moved a few picks to make sure that he wore their jersey. At the time, it seemed tough to give up a first and a second round pick to move up from 16 to 12, but looking back it was a great move by Glen Sather. Staal is in his ninth season with New York and he's been a key defender for them during some very competitive years. As of now he's played in 87 playoff games on Broadway and is usually deployed against the other teams top players. The lesson to GM's is if you know you like a guy then go grab him.
2006-2007
Los Angeles Kings Get: Jason Ward, 2008 conditional third-round pick (if the Kings fail to sign Jan Marek this year) (#81-Corey Fienhage)
the rights to Jan Marek, and the rights to Marc-Andre Cliche for
Rangers Get: Sean Avery, and the rights to John Seymour

Sean Avery was loved in New York, and hated pretty much everywhere else. The agitating winger was a spark plug when he first arrived and his ability to annoy opponents and score timely goals made him a hero for the franchise, as the club had gotten away from that style of play in seasons prior. Avery played in 86 games with the club during his first stint with New York and accumulated 53 points.  He ended up leaving via free-agency, but landed back with the club after just 23 games in Dallas. Avery would end up retiring in 2012, but still has a fan base in the big city.
A bonus from his tenure is that we now have the "Avery Rule".
2008-2009
Blue Jackets Get: Christian Backman, and Fedor Tyutin 
Rangers Get: Dan Fritsche and Nikolai Zherdev
The Rangers wanted to add scoring so they went out to get Zherdev, whom to that point was an extremely talented winger who never got it together. The Russian forward only played in one season with the Rangers where he posted 58 points; the campaign wasn't enough to make the Rangers keep him. He was an inconsistent player and as skilled as he was, you simply couldn't structure an offense around him. Zherdev would play one more season with the Flyers before moving over to the KHL. Tutyin on the other hand is still in the NHL and has had a very nice career, as he's into his eighth season in Columbus, where he's solidified himself on their defense. Clearly the Jackets got the better of this deal.
2009-2010
Kings Get: 2010 third-round pick (#70-Jordan Weal)
Rangers Get: Brian Boyle
We don't know how Weal, (who was drafted by the Kings with the Rangers pick) will turn out just yet, but all signs point to very well according to my colleague Brett Slawson. No matter how it works out I still think that this was a good move for the Rangers. They grabbed Boyle whom they worked with, and after an "ok" first season with the club, the big man blossomed into a decent point producer, and solid bottom six forward. Boyle has since moved on to Tampa Bay, but he's still remembered for the hard work he put forth, helping a good Rangers team compete on a nightly basis. This is an example of the Rangers finding a guy who couldn't get his footing in the big league, so they grabbed him cheap, and helped him adjust turning him into an effective player.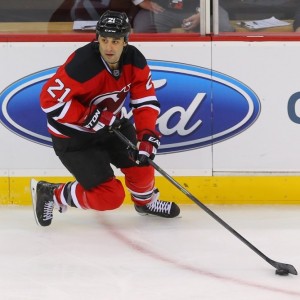 Montreal Canadiens Get: Tom Pyatt, Michael Busto, and Scott Gomez
Rangers Get:Ryan McDonagh, Doug Janik, Christopher Higgins, and Pavel Valentenko
This deal will be remembered as one of the worst moves in Canadiens history. New York was able to grab their current number one defender and off-load an awful contract in one move. McDonagh is sill a key player for the Rangers and Gomez is four-years removed from Montreal and has been bouncing around teams since being bought out of his big contract.
Arizona Coyotes Get: Lauri Korpikoski
Rangers Get: Enver Lisin
Lisin is long gone after one season in New York and has moved on to the KHL. Korpikoski went on to play six seasons in Arizona and currently plays in Edmonton. He's proven to be a solid depth forward in the league. This is probably a move the Rangers wouldn't do over.
Flames Get: Christopher Higgins and Ales Kotalik
Rangers Get: Olli Jokinen and Brandon Prust
This trade stands out, because the Rangers were able to move two guys with big contracts who were struggling, and were able to grab valuable pieces in return. Jokinen was a veteran center that helped the Rangers in the short term and Prust would go on to become a fan favorite, and one of the better grinders that the Rangers have had in recent history. Jokinen moved on, but Prust became the center piece of that trade playing two more seasons for the Rangers, while finding a way to become a good penalty killer, a great enforcer, and even a solid offensive contributor. Prust left the Rangers for a well-earned contract in 2012, and some say that the team is still trying to fill the hole he left. The Flames on the other hand didn't benefit much from the trade, as neither forward went on to make their mark with the club.
2011-2012
Arizona Coyotes Get: Ethan Werek
Rangers Get: Oscar Lindberg
We still have to wait before we know just how well this trade works out for New York, but so far things seem to be going good. Lindberg is in his first season with New York and is off to a terrific start, he looks like he will have a place on this team for a long time. Werek on the other hand is playing in the ECHL which is a step down from the AHL. He has promise and I think he could still end up making the NHL at some point, but as of now you have to think that Lindberg will be the more successful player.
2012-2013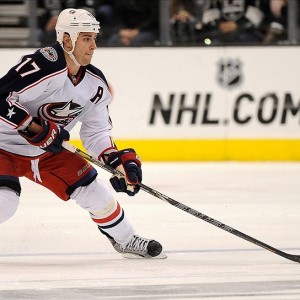 Columbus Blue Jackets Get: Brandon Dubinsky, Artem Anisimov, Tim Erixon, and a 2013 first-round pick
Rangers Get: Rick Nash, Steven Delisle, and a 2013 third-round pick
This was a block buster when it happened, the Rangers won the Nash sweepstakes and landed one of the best power forwards in the NHL. Of course New York paid a steep price by giving up guys like Dubinsky and Anisimov who were a key part of their identity, but I think it's fair to say that this move marked the beginning of the Rangers transitioning from being a solely meat and potatoes team, to being more based on skill.
This deal is one of the few that really helps both teams, Nash is still a key cog in the Rangers offense, and Dubinsky and Anisimov helped turn the Blue Jackets into a competitive team with playoff potential.
Columbus Blue Jackets Get: Marian Gaborik, Blake Parlett, and Steven Delisle
Rangers Get: Derick Brassard, Derek Dorsett, John Moore, and a 2014 sixth-round pick
After Gaborik struggled to find his game with Nash and Richards the Rangers decided to move him and his big contract. New York was able to grab three sturdy players in Moore, Brassard, and Dorsett; who helped the team from the jump. Since the trade Moore was moved, and so was Dorsett, but both players are consistent NHLers. Brassard on the other hand still bounces around between the Rangers first and second lines; This turned out to be another great move by Rangers management when you consider the cap space they made and the quality return they got.
2013-2014
Los Angeles Kings Get: A 2014 seventh-round pick.
Rangers Get: Daniel Carcillo
This was an under the radar move, Rangers fans weren't crazy about Carcillo at first considering his long history as a pest with the Flyers, but the winger gave the Rangers some much-needed grit at the time, and turned out to be a great addition when he scored some important goals for the club.
Nashville Predators Get: Michael Del Zotto
Rangers Get: Kevin Klein
To put it mildly Del Zotto had lost the support of the fans and the organization near the end of his tenure wearing blue. When the Rangers first announced that they had moved Del Zotto and added Klein most weren't sure what to think, because Klein wasn't a name they had heard much. Fast forward to 2015, and Klein is a key defender on the team, who logs heavy minutes, scores some goals, and even drops the mittens. The right-handed defender had run his course in Nashville as well, but clearly New York saw somethings that they liked in his game, grabbed him and it has paid off terrifically since.
Del Zotto was released by Nashville after the season, but has since jump started his career with the Flyers.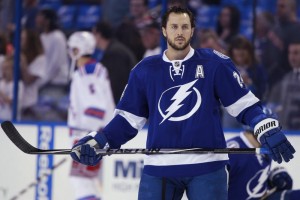 Tampa Bay Lightning Get: Ryan Callahan, a 2015 first-round pick, and a conditional 2014 second-round pick
Rangers Get: Martin St. Louis
This is a hard trade for me to say who truly benefited most. Sure Tampa won the deal long-term, by getting a few nice picks and even a good winger for themselves in Callahan. But for the Rangers, St. Louis helped them win the Eastern Conference and compete for their first Stanley Cup since 1994. They didn't win, but I still see it as a big accomplishment to make it there. No one can deny that St .Louis was a huge presence for that Ranger team that went to the final. So for me this was a risk worth taking.
2014-2015
Vancouver Canucks Get: Derek Dorsett
Rangers Get: 2014 third-round pick
Dorsett was a solid pest for the Rangers, but they simply couldn't pass up a good pick and cap relief for his services.
Arizona Coyotes Get: Anthony Duclair, John Moore, 2015 second-round pick, and a 2016 first-round pick
Rangers Get: Keith Yandle, Chris Summers, and a 2015 fourth-round pick
The big names in this trade are Yandle and Duclair, and to this point we don't know for sure who won. For Arizona they got some terrific young talent, but on the Rangers side of things they got one of the better offensive defenders in the NHL. Fans are quick to criticize giving up young talent but the fact is, you have to give something to get something. Yandle found some points in the post-season, and seems to be getting more comfortable. Much of this trades true outcome will be determined if the Rangers let him walk at the end of the season.
I decided to leave out trades that happened this season because in my opinion, it's to soon to begin to analyze them. Think I got it wrong? Feel free to leave it in the comments!
I graduated from Brooklyn College with a B.S. in Broadcast Journalism. Shortly after, I began writing for the Full Tilt Hockey Network, where I still contribute, covering a broad range of topics across the NHL.
I have been contributing to The Hockey Writers since February of this year focusing on the New York Rangers. My articles tend to focus on analysis of players, and possible directions that the organization could go.