Odds are you haven't heard of Jordan Weal before. However, you very likely will in the near future.
A third round, 70th overall draft pick by the Los Angeles Kings in 2010, 23 year old Jordan Weal has been marinating with the Manchester Monarchs, the Kings' AHL affiliate, since the 2011-12 season.
---
WHL Star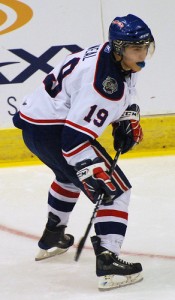 Drafted in the fourth round, 79th overall by the Regina Pats in the 2007 WHL Bantam Draft, Jordan Weal enjoyed an extremely successful Canadian Hockey League career over four years.
In the 2008-09 season, Weal's rookie year, Jordan scored 16 goals and added an incredible 54 assists for a total of 70 points, capturing the WHL award for the most assists by a rookie.
Next season in 2009-10, Weal was simply tremendous, teaming with star teammate Jordan Eberle to eclipse the 100 point mark. 35 goals, 67 assists and 102 points through 72 games by Weal was good enough for third best in the WHL behind only Eberle and current Toronto Maple Leaf Brandon Kozun.
In Weal's third season in Regina, although his points total regressed, his goal scoring touch developed greatly. Through another 72 games, Weal improved his upon his previous career high goal total of 35 by notching 43 goals. With Jordan Eberle now in the NHL, Weal proved that he could still be an elite offensive performer without the aid of an elite line mate. In fact, he scored 44 more points than his nearest teammate.
In 2011-12, after playing seven games with Manchester, Weal returned to the WHL and enjoyed his most successful CHL season. In 70 games, Weal netted 41 goals and an incredible 75 assists, good for 116 points. Jordan had such a great season that he was named to the WHL's first all-star team.
All in all, Weal had a fantastic CHL career. Jordan scored an immense 250 assists in his time with the Pats, while he also added 135 goals. That's 385 points in only 282 games! In Regina Pats' all time history, Weal ranks third in assists and fourth in points!
---
Budding NHL Star
Following his graduation from the Canadian Hockey League, Weal has made a seamless transition to professional hockey. In his first season in the AHL with the Manchester Monarchs, Weal scored 15 goals and 33 points, while in his second season, he more than doubled his offensive output with 23 goals and 70 points!
In 2014-15, his third full season in the AHL, Weal was once again nearly a point per game player, scoring 20 goals and 69 points in 73 games. Jordan was so successful in fact, that he was named to the AHL all-star game for the first time in his career.
Take a quick look at this quick prospect profile on Jordan Weal:
Further, in the playoffs, Weal has scored 10 goals and 15 points in only 10 games and is currently leading the league in playoff scoring!
---
Future Projection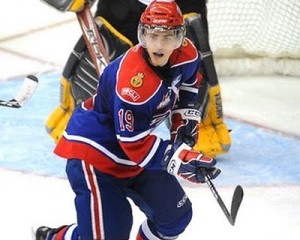 In terms of Weal's future potential, the only possible limiting factor is Jordan's size. At 5 foot 10, 171 pounds, Weal is an undersized centerman who could have difficulties in the NHL, especially in the big, bad Western Conference.
Potentially matching up against the likes of Joe Thornton or Ryan Getzlaf in the future, there is the possibility that Weal could be easily dominated on the ice physically. However, what makes Weal unique is his ability to combine speed, agility and skill on a consistent basis. No matter where he has played, Jordan has been an elite offensive performer.
Based on the Kings' current depth chart, Weal could fit in on the teams third line, serving as a future offensive upgrade to current centerman Trevor Lewis. If not, Weal's presence on the wing would bring a boost of energy and offense to an annually strong Los Angeles Kings team.
Regardless of where he plays, it is only a matter of time before Weal is given an opportunity at the NHL level, whether it be with the Kings or another NHL team. As at the end of the day, Weal's consistent ability to be an effective player will earn him the opportunity to achieve his childhood dream of playing in the National Hockey League.
Brett Slawson is a four-year veteran of The Hockey Writers who covers the Toronto Maple Leafs, NHL prospects, and the OHL's Mississauga Steelheads.
Contact Brett on Twitter @brettslawson92, or by email at brett_slawson@hotmail.com.