When the Winnipeg Jets traded Evander Kane and Zach Bogosian to the Buffalo Sabres back in February, the biggest part of the five-piece acquisition by general manager Kevin Cheveldayoff was 6'8″ defenseman Tyler Myers.
A former Calder Trophy winner as the NHL's Rookie of the Year, Myers had all the makings of a future Norris Trophy (Top Defenseman) candidate following his first season in the league. Unfortunately, every season since his 48 point (11+37) effort in 2009-10 has seen a drop off in point production. So much so that many fans in Buffalo were left wondering if his rookie year was nothing more than a flash in the pan.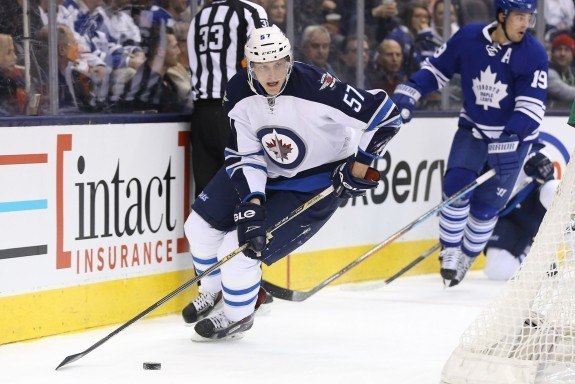 The concern that he wouldn't amount to anything more than a bottom-pairing defenseman didn't seem to put any worry into Cheveldayoff as he made the deal to send away a young defenseman of his own in Bogosian to make room for the big guy from Calgary, Alberta. And the results have been pretty good, so far.
It's only been a handful of games, but Myers has looked every bit of the player that Cheveldayoff and the rest of the Jets organization believed he was when they brought him into the fold. In 12 games with Winnipeg, Myers has recorded two goals, seven assists and is a plus-three. In 47 games with the Sabres this season, Myers had just four goals, nine assists and was a minus-15.
Everyone knew he was going to a better situation in Winnipeg than what he was in with Buffalo the last few years, but why exactly has Myers seemingly found his groove with the Jets? It's really a pretty simple question to answer.
In Buffalo, Myers was eating up a lot of minutes going up against teams' top units. He was "the guy" with the Sabres. It was a role he wasn't quite ready for, but was thrust into because of the moves the team has made over recent years.With the Jets, Myers has played an average of about three minutes less per game than he did with Buffalo this year. He is also no longer being forced to constantly go against an opponent's top line, something that happened nearly every game with Buffalo.
By playing less minutes and going against lesser, for lack of a better term, opposition, Myers doesn't have the pressures on him that he did in Western New York. He has the ability to go on the ice relaxed, and play his game. There's a comfort level Myers seems to have with his new Jets teammates that he clearly didn't have in his final seasons in Buffalo.
Myers has shown more of an effort to push deeper into the zone since coming to Winnipeg. It's something people who've watched him throughout his career haven't really seen since his earlier NHL years. Maybe it's the fact that he actually has something to play for with the Jets, or maybe he now feels comfortable in playing an aggressive style due to not having to worry about whether or not his teammates will be able to bail him out if he gets a bit too overzealous.
Nevertheless, the Myers to Winnipeg experiment has paid off thus far for Cheveldayoff. He brought in a player who, despite still having work to do to become the player he's fully expected to be, has shown that he has all the tools to become a centerpiece of the Jets blueline. With more time under head coach Paul Maurice, Myers could finally be primed to blossom into the top-pair defenseman Winnipeg fans hope he becomes.
Michael is a former Managing Editor for The Hockey Writers. He's covered the Buffalo Sabres, along with the NHL in general, for various outlets since 2009. His work has been featured on outlets such as Yahoo, Sports Illustrated and Fox Sports.