St. Louis forward Patrik Berglund hasn't suited up for the team since their elimination from the playoffs last spring due to re-aggravating a shoulder injury in offseason training. Now four months later almost half way through the regular season, Berglund is set to return.
Preparation
Once it became clear that no. 21 could hit the ice for the Blues in the near future the team began preparing for just that. They sent veteran forward Scott Gomez down the minors via waivers, which he cleared. In twenty-one games played this season for the note Gomez recorded one goal and eight assists as the fill-in for injured players.
With those guys ready to play once again, Gomez's place in the locker room became obsolete prompting his being sent down.
Offense
Berglund offers another offensively talented forward at St. Louis' disposal, which will only benefit the team as a whole. They currently sit 22nd in the league in both scoring at 2.45 goals per game and goals against at 2.38.
Improving their game in both of those regards will ultimately make for a better, more well-rounded hockey team and it will allow them to be even more competitive in the Central Division.
What to Expect
Berglund is a second line player with the ability to score, which is something the Blues could use. He totaled 27 points (12G, 15A) in 77 games last season with a four-point performance (2G, 2A) in St. Louis' six game playoff appearance. No. 21's best season in the NHL was back in 2010-2011 when he scored 52 points (22G, 30A) in 81 games.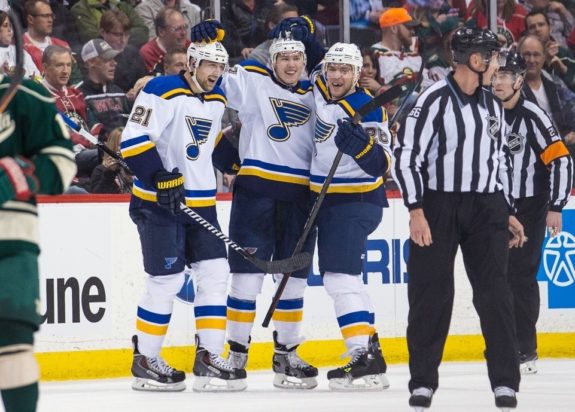 While he isn't St. Louis' second Vladimir Tarasenko, he's a offensively talented forward with the ability to contribute. He's been a twenty goal scorer twice in his career and could put up as many as ten goals in the remaining games this season.
Moving Forward
The return of Berglund to the line-up isn't going to drastically chance the make-up or direction of the team; however, his impact will be felt. As long as his readjustment period to the league is relatively short, St. Louis will be reaping the benefits of the Swedish native's return rather quickly, which will only better prepare them for any injuries down the line.