The University of North Dakota Hockey team is having a good run. After going 34-6-4 last season, this season the Fighting Hawks are off and running with 5-0-0 record. Last year, through five games, UND was 3-0-2 (.800). Before we get ahead of ourselves, UND has racked up a 5-0-0 (1.00) record playing opponents with a combined record of 7-8-2 (.470). It's an impressive start, but the team hasn't played the stiffest competition.
Let's be realistic, national titles aren't won in October and November. There's no team award for being number one in the polls during the first month of the season. There's a very tough stretch awaiting the Fighting Hawks. In their next eight games, UND will play Minnesota-Duluth (3-1-2), Minnesota (2-2-0), Denver (4-2-0) and St. Cloud (2-2-0). Their opponents have a combined record of 11-7-2 (.600), and every one of those teams will be chomping at the bit to hang a loss on the Fighting Hawks.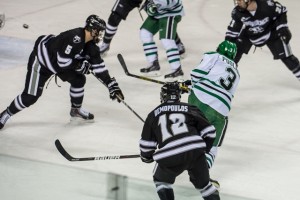 Obviously, the UND coaching staff isn't going to let anyone celebrate, there's a lot of work to be done. The road to a championship only gets tougher. They're already preparing for a tough series with the Minnesota-Duluth Bulldogs. In the last 10 games against the Bulldogs, the Fighting Hawks are 7-3-0 (.700).
Last Saturday night, the Fighting Hawks almost let one slip away when the Bemidji State Beavers scored a shorthanded goal and two power play goals during the third period. The Fighting Hawks won the game 5-4, but they learned that you have to play a complete 60-minute game if you want to finish strong.
"We kind of took a little time off, and obviously that's a team that works extremely hard for 60 minutes and has a lot of pride," head coach Brad Berry said. "I've got to commend them on the way they played. They played the right way. We'll have to learn from this game, too. With a young team, you've got to close out games, and you got to play 60 minutes."
The Players know that the season is only going to get tougher, National Collegiate Hockey Conference play begins this weekend. The veteran leaders also know that once you have an opponent on the ropes they can't take their foot off of the gas.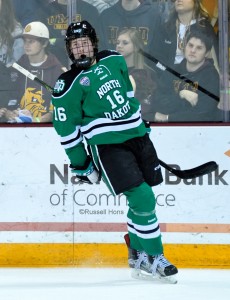 "We're a young team, and it's early in the year," senior captain Greg Ausmus said. "You have a lead going into the third and it obviously happened against Colorado College last year. I think every team goes through moments like this. We're just fortunate we came out with a win, and we can learn from this one. We're learning from a win, so that's a plus."
Stats of Interest
This morning I was reading the Brad Schlossman's blog and I found a few stats that I wanted to expound on. There's no doubt that UND has been on a remarkable run. Over the last 49 games, UND has gone 39-6-4 (.836).
Over the last 19 games, UND has a 17-1-1 (.921) record. The last team to beat the Fighting Hawks was the Minnesota-Duluth Bulldogs in the Frozen Faceoff. The last tie came against the Denver Pioneers 1-1, in the third place game of the Frozen Faceoff.
Over the last 22 home games, UND is 20-1-1 (.931). During that 22-game run, UND has lost one game, in overtime, to the Nebraska-Omaha Mavericks 4-3. The tie in question came during a game against the Colorado College Tigers. UND would go on to win the shootout.
Finally, for those keeping track, the last opponent to sweep the Fighting Hawks is the Denver Pioneers, Feb. 12-13, 2016 at Denver (6-4, 4-1). That sweep came two and a half seasons after UND was swept by the St. Cloud State Huskies Nov. 1-2, 2013 (3-2, 3-1) at St. Cloud State.