It's been no secret these days that the Buffalo Sabres are in a rebuild.
Not that anyone in the front office will formally say it but when you start trading away veterans and acquiring draft picks, it's pretty transparent no matter what type of image you're trying to maintain.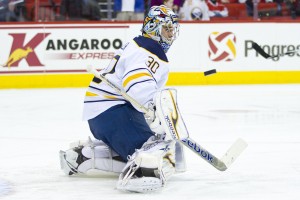 One of the casualties of the rebuild could, and most likely will, be franchise goaltender Ryan Miller. He's even sold his house, for those of you who think that kind of thing automatically means a player will be traded.  Miller doesn't spend his off-seasons in Buffalo anyways but speculate away.
Before we dive into just where he might end up, there's the tricky little detail about which eight teams will be on Miller's list of teams he won't go to. Some will be cut and dry; some will be surprising.
Firstly, here's who's out because they don't need a goaltender: Chicago (Crawford), Columbus (Bobrovsky), Detroit (Howard), Nashville (Rinne), NY Rangers (Lundqvist), Boston (Rask), Vancouver (Schneider/Luongo), Montreal (Price), Ottawa (Anderson), Carolina (Ward), San Jose (Niemi), Los Angeles (Quick), and Washington (Holtby).
Before his strong performance in the playoffs, Holtby and Washington wouldn't have been on that list but he came out and had himself a series so here we are.
Let's take a look at which teams could, and in all likelihood will, be on that list:
Florida Panthers
It's simple from Miller's end: the Panthers suck. Like real bad. They have Jonathan Huberdeau and another high-end player on the way but what else is there, really? Erik Gudbranson hasn't shown signs of improvement and their best player is Stephen Weiss — a 50 point guy if he's lucky who would be a really good number three center on a lot of teams. Miller isn't going to want to toil away his latter years for a team who's even worse than Buffalo.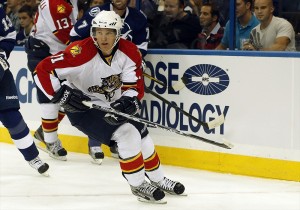 But here's the twist: the Panthers probably don't want Miller, either. Why? Jacob Markstrom.  Sure, Miller's better than he is but the Panthers believe they have their franchise guy and it would make no sense for them to acquire Miller when he's there.
Not to mention that Florida is a dead market where happiness and hockey success is engulfed like a black hole.
Toronto Maple Leafs
More than likely out of the running after James Reimer turned in a pretty decent performance against Boston, Toronto is likely not an option for several reasons:
Darcy Regier doesn't typically deal guys to anyone in his conference, let alone his division. Having to see Miller several times a year playing for a bitter rival would not be ideal for the Sabres or their GM.  Even having to see him a couple of times in conference games would be less than desired.  Trade him as far away as you can.
Ryan Miller doesn't like Toronto. Like at all, apparently. Naturally, I can't find the exact quotes because I actually need them but Miller has expressed his distaste for both the franchise and the fans in past media sessions. If the dislike for Leaf Nation is as strong as it once seemed, Miller might make it easy on Darcy and just nix the Leafs from his list of potential destinations.
Dallas Stars
This smells eerily similar to Florida's situation: a bad team in flux with an established goaltender. The Stars were sellers at the deadline and look to be in transition once again heading into the off-season.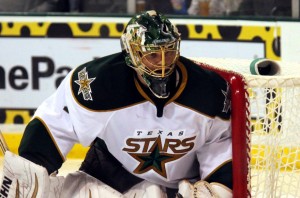 Not to mention the fact that Kari Lehtonen is the established starter and has performed relatively well for the Stars thusfar. DOUBLE not to mention the fact that Jack Campbell, stud goaltending prospect, is waiting in the wings to take over the reigns when Lehtonen is gone.
Plus it's Texas. Self-explanatory.
Phoenix Coyotes
This one would be interesting if not for the constant ownership issues and the fact that an end to said issues doesn't seem to be in sight.  Even when someone steps forward claiming interest in purchasing the team, it ends up falling through. There's a very real chance this franchise is DOA in Arizona.
From Phoenix's end, they might not be able/willing to commit to someone like Miller and that's another issue. At his age, he's going to want to re-sign and finish out his career wherever it is he ends up; Phoenix would at best be a one-year rental situation.
Calgary Flames
Let's see here: would Ryan Miller, arguably a franchise goaltender just entering the latter part of his career and looking to win, want to go to frigid Calgary, Alberta to play for what will undoubtedly be one of the worst teams in hockey next year?
That's a toughie.
Miller doesn't fit for the Flames in the logical sense — sure, he's better than what they have but he's more costly and they aren't winning right away so they don't need him at his age — and sure as hell isn't going to want to toil away in for a team worse than Buffalo in a city colder than Buffalo.
Edmonton Oilers
This one intrigued me, I'll admit. There is a ton of young talent and someone like Miller could be the push the Oilers need to not only get back into the post-season but to make some noise.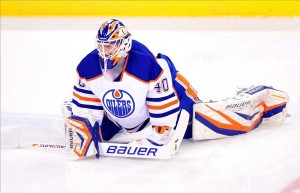 Still, would Miller want to go to frigid Alberta to play for a mid-level team on the league's worst ice? Not only that but how much does Edmonton believe in Devan Dubnyk?
If Miller were a few years younger and could afford to give away a year or two waiting for the core to develop, this could be a real possibility.
Winnipeg Jets
Noticing a theme here? The Great White North doesn't offer beach resorts and the travel schedule for the Jets could still be brutal even under future realignment scenarios.
Not only that but this team isn't contending even with Miller in net. Sure, he's an upgrade over Ondrej Pavelec but the Jets are still a few pieces away from being contenders and have a few key in-house pieces to look after this off-season.
New Jersey Devils
This could be interesting depending on Martin Brodeur. If he comes back, he stands in the way of any Miller acquistion. If he retires, Miller could go to New Jersey and try to establish himself as the guy to succeed arguably the greatest goalie in NHL history, something an already-pretty good 33 year old might not want to do.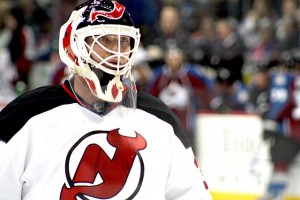 Another caveat: this isn't the team that made the Finals last year. Parise is gone, Adam Henrique has taken a step back, and several key free agents could leave. Not an ideal situation for someone like Miller.
Twenty-two teams have been eliminated. So who's in the running to acquire Miller? We'll cover that comprehensively on Tuesday. See you then!
Follow me: @RWTFC
A long-time (and long-suffering) Buffalo sports fan. Sometimes optimistic, always weary. I write other stuff for a lot of other people.