Every game within a series tells it's own story.
The narrative after Sunday night's double-overtime game in Ottawa was bone-headed play and silly coaching decisions by a team infinitely superior to it's opponent.
The final result: Ottawa Senators 2 – Pittsburgh Penguins 1.
Wednesday night however, in the end, told a much different tale:
Starting it How They Ended it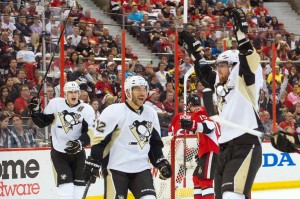 After beginning Game Four much the way they ended regulation in Game Three, the Penguins were handed an early power play, and promptly squandered it. Milan Michalek scored for Ottawa short-handed to give the Sens the early 1-0 advantage. Another power play shortly thereafter didn't prove to be any better for a Pens team clearly rattled with the man-advantage.
Ironically enough, however, the Penguins carried the play for the majority of the first period. With just over five minutes left in the opening frame, James Neal finally got himself back on the score sheet with a wicked wrist shot to tie the affair at one. And then just 19 seconds later, Kyle Turris tallied his fifth goal of these playoffs, sending Ottawa to the locker room with a 2-1 lead after one period.
The Eruption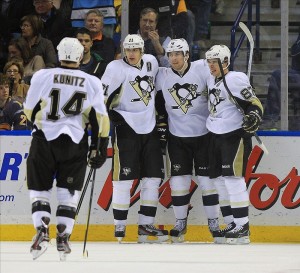 As though it were a switch that could be flipped at any time, the Penguins, starting with Chris Kunitz' equalizer just over a minute in to the second period, erupted offensively over the last two frames to salt this game away. Jarome Iginla capitalized on a Kris Letang shot, just 40 seconds later, that Sens' goalie Craig Anderson somehow just allowed to lay in the crease, giving the Pens a lead that they would not relinquish.
Two minutes into the final period, Neal added his second of the game (third of the playoffs) on the power play, by firing into an empty net after Anderson was caught out of position. Pascal Dupuis tallied his seventh of the postseason, and second short-handed goal of the series at 8:08 off a nice play by Matt Cooke on the forecheck. Crosby added a backhander for his seventh of the playoffs (tying him with Dupuis for the league lead in goals) 30 seconds later. And Iginla added the icing just about 1:20 later on the power play to cap the scoring for the Penguins.
The Ottawa Fallout
Paul MacLean was not in a chatty mood with the media afterwards. His press conference consisted of this line: "I think everything is right here. It's 7-3. See ya in Pittsburgh. We're going to Pittsburgh, and we're coming to play. Have a good night." All of a sudden, Ottawa fans and the media got a taste of John Tortorella. Suffice it to say that I don't think MacLean was satisfied with his team's effort on Wednesday night.
The Sens captain, Daniel Alfredsson, was a bit more forthcoming, when asked if he thought his team could come back from a 3-1 series deficit, he responded "I don't think so. They have too much depth." Not quite the tenor that you want from your team captain heading in to an elimination game on Friday night.
But Alfie is right. The Penguins probably do have too much depth for the Senators. The only reason that this series is coming back to Pittsburgh is not because of anything that Ottawa has done. Rather, it's because of what the Penguins allowed to happen. This is a team that has arguably been it's own worst enemy through ten playoff games.
The Final Story
After putting an abominable first period behind them, the Penguins got their power play figured out (for now), clamped down defensively, and looked every bit the better, more talented team on Wednesday night. The Iginla-Malkin-Neal line finally produced results, despite Malkin being kept off the score sheet for the second game in a row. And Jussi Jokinen an Beau Bennett each made triumphant returns to the lineup.
Last night, in the Pens' locker room, there was an air of confidence about this group. Something that has been missing for a little while now. One could get the sense that this team finally realizes what it's capable of.
"I think we showed we're for real" said Dupuis. "I believe that."
"We're not done, you know? We're not. But it's important that we're confident" quipped Letang.
And now that they have that confidence, we'll see what they can do with it come Friday night.
Shameless Self-Promotion
You can keep up with all the latest from me on your Pittsburgh Penguins by following me on Twitter. If you're not already doing so, shame on you for six weeks. Please do so here: Follow @TDT_Pens4Life

That's it for now. I'll have my Game Five recap for you Saturday afternoon most likely. See ya out there, and remember:
"It's a great day for hockey!!"
Pittsburgh, Pa. Class of 2000 graduate from Robert Morris University with a B.A. in Mass Communications. Full-time objective sports fan.