For years Gagner has been the center of trade talks in Edmonton but will this finally be the off-season in which a deal actually takes place?
Gagner was pegged to be one of the Oilers pieces to grow around in his rookie 49-point season alongside other members of the "Kid Line" in Andrew Cogliano and Robert Nilsson. Cogliano was eventually traded to Anaheim where he has rejuvenated his career. Nilsson eventually fell out of favour and is now playing overseas.
In the past few seasons the Oilers have undergone a much-maligned full scale rebuild of the organization that has centered around the likes of Taylor Hall, Jordan Eberle, Ryan Nugent-Hopkins, Nail Yakupov and Justin Schultz. Gagner has yo-yo'ed in and out of the core group depending on the day, enough to suggest he is no longer considered an untouchable player in Edmonton.
No Longer Untouchable
Why is that?
After about 7 seasons in the NHL, Gagner has proven to be a small skilled forward that struggles when the puck is not on his stick. His tantalizing skill including his 8-point night against the Chicago Blackhawks in February 2012 had fans excited about a breakout. Gagner would have a strong year during last year's lockout-shortened season as one of the Oilers offensive leaders earning a new $14.4M 3-year extension. Unfortunately for Oiler fans everywhere an errand high-stick by Vancouver's Zack Kassian during the pre-season broke Gagner's jaw causing him to miss the start of the season.
Gagner never got his legs under him as the year went on battling injuries and having to work his way back into not only game-shape but the new system brought forth by Dallas Eakins.
There are plenty of articles circulating the web even on this website, including Carl Maloney's article from February 2014 just prior to the trade deadline. This was also touched on during an April Oilers Panel by the THW Oilers contributors.
The LA Deal That Fell Through
While general manager Craig MacTavish worked on restructuring the Oilers forward depth, Gagner was offered up to the Los Angeles Kings in a package that would bring the Oilers back a package centering around Kyle Clifford. Oiler fans were initially insulted when they found that the return for a former 6th overall pick was a third-line checking forward.
EDM needs a big, physical player who can play in top 6, not another fourth-line banger, if they move Gagner. Clifford is not that guy.

— Robin Brownlee (@Robin_Brownlee) February 6, 2014
Clifford, 23, is a clear representation of how far Gagner, like many other Oilers, have seen their stock fall. Eventually where you were drafted means nothing. Walter McLaughlin touched on this as well going as far as suggesting Gagner didn't even fit a need for the Kings. The Kings eventually went on to trade for Marian Gaborik fitting a need for another goal-scoring forward to compliment centers Anze Kopitar and Mike Richards. So if a Gagner for Clifford deal wasn't beneficial, what will a potential Gagner deal look like?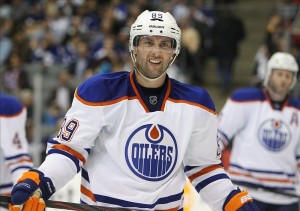 The Return Must Answer A Need
It's clear the Oilers need a stud top-pairing defenseman but fans need to realize chasing the pipe dream that is Shea Weber may never come to fruition. Neither will trying to pry Kristopher Letang, Dion Phaneuf and Duncan Keith from their respective teams. Point being legitimate top-pairing defenders are almost always grown in house so the answer for that may come in the form of in-house prospects Darnell Nurse, Oscar Klefbom, Justin Schultz and to a lesser extent Martin Marincin. The other thing is diversity and size in the top six.  
"In Edmonton's case, too much of a good thing is a bad thing. The Oilers top seven offensive forwards are all cut from a similar cloth. They're all supremely skilled, but lack size, strength and toughness. None of Taylor Hall, Ryan Nugent-Hopkins, Jordan Eberle, David Perron, Gagner or Nail Yakupov are what you would call bruisers. No one questions the skill level, but if the last few seasons have proven anything, there needs to be some balance in the top six." – Carl Maloney, The Hockey Writers
With the emergence of Brandon Dubinsky in Columbus as a solid shut-down defensive center to compliment the more skilled and finesse of Ryan Johansen, should the Oilers take a page out of the Blue Jackets book? There were rumours years ago that the Oilers were in on Dubinsky but those rumours were ultimately squashed. It's clear the Blue Jackets won't be moving Dubinsky after a stellar playoff performance despite exiting in the first round against the Pittsburgh Penguins. What the Oilers need in their second-line center is a player of Dubinsky's ilk, something they don't have in house.
"Sam Gagner has value. A team that can move his bubble down toward the Arcobello bubble, and maintain the quality zone starts, is probably getting a 50-point player. Edmonton? They need a more complete player. Full stop. That's it, that's all." – "Lowetide" Allan Mitchell
An Answer At The Draft?
The top three prospects of this years draft are Aaron Ekblad, Sam Reinhart and Sam Bennett. The Florida Panthers are openly saying they are shopping the 1st overall pick. It's due diligence and if they don't get a favorable deal it's believed Aaron Ekblad is their guy. Which leaves the Buffalo Sabres and the Edmonton Oilers to fight over Reinhart, Bennett and dark-horse Leon Draisaitl.
Seeing the big-bodied presence of Ryan Johansen come into his own makes you wonder if Draisaitl is a better option than Bennett or Reinhart — Bob Stauffer (@Bob_Stauffer) April 20, 2014
So what does this mean for Gagner?
Bob Stauffer is the Edmonton Oilers radio host hosting a lunch-time radio show in Edmonton called Oilers Now on 630 CHED. Stauffer has been known to throw hints to sway public opinion in advance. Stauffer in the past was a huge supporter for Taylor Hall over Tyler Seguin, Ryan Nugent-Hopkins over Jonathan Huberdeau and Darnell Nurse last year. This year Stauffer has been hard on Draisaitl, which would mean they would go over whoever is left in Reinhart or Bennett.
Most others believe it's Bennett that the Oilers will take, an emotional leader who plays a two-way game crossed between Jonathan Toews and Matt Duchene. If it's Reinhart the Oilers get a tough high-offensive player. Both with higher ceilings than Gagner, effectively replacing him on the depth chart. Moving Boyd Gordon out of the third-line checking role makes little to no sense, as does moving Gagner to the fourth-line.
The Oilers don't have a 2nd or 3rd round pick at this year's draft so it's most likely the need the Oilers will get is a fringe or fallen prospect and a second-round pick to help boost the quality of the Oilers draft. Only having a single draft pick in the top 109 selections is a poor strategy for a rebuilding team.
With Gagner's fallen stock, that might be the unfortunate reality Oiler fans may be left with.