Prior to the start of their current road trip, the San Jose Sharks called up right-handed forward Kevin Labanc. In the first game of the trip, coach Peter DeBoer inserted Labanc on the second line. Following a victory in Washington, DeBoer kept the lines intact for the next game in Florida against the Panthers. In all, DeBoer kept the same lines for the first five periods of the road trip, and those lines were unusual.
It Is Different, Is It Better?
Among the Sharks' 12 forwards, six are left-handed and six are right-handed. But how San Jose deploys its left-handed and right-handed forwards is, well, quirky.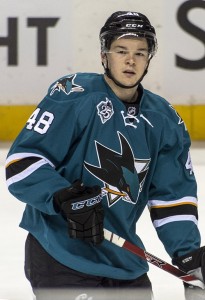 The Sharks' four centers are left-handed. They are Chris Tierney (fourth line), Tomas Hertl (third line), Logan Couture (second line) and Joe Thornton (top line).
The wingers on the top line are both right-handed. Joel Ward is the right winger with Joe Pavelski playing on his off hand, as the left winger. On the second line, again, both wingers are right-handed. Kevin Labanc plays right wing, while Joonas Donskoi is on his off hand manning the left wing.
With only two left-handed wingers, one might think DeBoer would have them on separate lines. But no, he has left-hander Mikkel Boedker as the right winger on the third line. The left winger is left-hander Patrick Marleau. Which leaves Tommy Wingels and Melker Karlsson, both right–handed, as the wingers on the fourth line. Karlsson is the one who plays the off-hand role at left wing.
On all four lines, the Sharks wingers are same-handed, ensuring one winger plays on his off side. On the third line, all three forwards are lefties.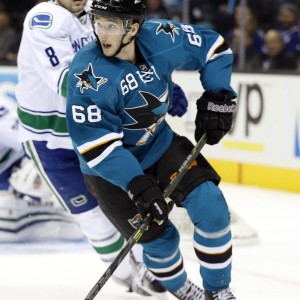 I should note, DeBoer did switch things up for the third period against Florida. DeBoer changed Labanc and Boedker, giving the second and third-lines a more traditional look. It didn't appear to change either line for the better, though. The lines, particularly the second line with Labanc, were effective in both games. Boedker, meanwhile has been line-shuffled quite a bit so far this season.
I'm not sold on the conventional wisdom when it comes to wingers – that there is a real detriment to wingers playing on their off side. As long as players know where to position themselves, this can be almost seamless. In some cases, it can even work as an advantage, as James Neal of Nashville described. Further, it is common for players to wind up in a different place from their nominally assigned spot, including every time a guy gets tossed from the face-off circle. Players must be able to adapt.
I applaud DeBoer for willing to be so unconventional. It worked well, though it remains unclear where the coach will use Boedker and Labanc next game.
The key measure of a line is typically defined by how well they work together. In two games with these unusual lines, the Sharks are 2-0.  Quirky isn't inherently good or bad, but two games in quirky is working.
Zeke's Notes
The Sharks' annual game against the Florida Panthers at BB&T Center generally features two common characteristics: Lots of empty seats and really poor ice. In the game this year, the crowd was reliably small, but the ice was better than last year. Last season, the ice was about the worst I can recall for any Sharks game. It acted like another defenseman, consistently breaking up plays with unpredictable puck movement.
Against Florida, the Sharks faced goalie James Reimer. Reimer was stellar as San Jose's backup down the stretch. I keep thinking Reimer and San Jose missed a chance to stay together. Reimer is earning less than starter money, though he plays at a starter's level. Another strong year in goal backing up Martin Jones would have given Reimer a chance to increase his earning power, as the league needs a new starting goalie with the expansion to Las Vegas. Reimer would have been expensive compared to current Sharks backup, Aaron Dell and would have required passing on Boedker (a free agent signing) or trading a player such as Tommy Wingels. Still, Jones and Reimer formed an elite goalie duo when they were together. As for Dell, he has only one start in the Sharks' first 14 games.