San Jose Sharks defenseman Dylan DeMelo has been the seventh defenseman since the start of the playoffs last season. He sat for all 24 playoff games last season and now through the first six games of the 2016-17 season. DeMelo has demonstrated he can handle NHL-level play, but has lost out to more proven veterans. Still, younger players need to play to continue their development. This creates a dilemma for San Jose Sharks coach Peter DeBoer: how does he play his best line-up while also helping his youngest defenseman to develop? It is time for DeBoer to reconsider his early-season approach. Interestingly, the coach has a number of viable options to consider should he turn to DeMelo.
Options Abound
The Sharks top six defensemen, as currently paired, include Marc-Edouard Vlasic (left) with Justin Braun (right). Paul Martin (left) is paired with Brent Burns (right). And the third pair is Brenden Dillon (left) paired with David Schlemko (left-handed, playing the right side).
Should DeBoer turn to the right-handed DeMelo, he will have dozens of potential options to consider. Fortunately, the number of options can be whittled down to a much more reasonable number.
http://gty.im/519988312
Two defensemen are not coming out of the line-up when healthy, Burns and Vlasic. They are both elite players and by using them on separate pairings, the Sharks have the ice tipped their way for large chunks of the game. The other four defensemen are candidates for a night off should DeBoer decide to play DeMelo.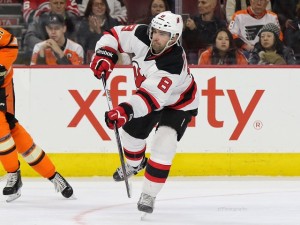 Given the numerous options, I'm going to constrain them by adding certain criteria. First, I'm not taking out Schlemko. He needs the ice time more than anyone else, as he is newest to the team. Further, he's been the third best defensemen thus far. The second constraint is to keep Vlasic and Burns on different pairings resulting in one or the other on the ice for 45 minutes per game. Third, I'm not making any right-right pairings. Fourth, I'm not pairing Brenden Dillon with Brent Burns, this combination has had plenty of chances to work out and simply hasn't. Lastly, the pairings will all have a left-hander on the left side and a right-hander on the right side, with exception of Schlemko, who can act in either a left-side or right-side role.
Even with these constraints, there are still eight combinations of interest.
Vlasic-DeMelo; Schlemko-Burns; Martin-Braun (out=Dillon)
Vlasic-DeMelo; Martin-Burns; Schlemko-Braun  (out=Dillon)
Vlasic-DeMelo; Martin-Burns; Schlemko-Dillon (out=Braun)
Vlasic-DeMelo; Schlemko-Burns; Dillon-Braun (out=Martin)
Vlasic-Braun; Martin-Burns; Schlemko-DeMelo  (out=Dillon)
Vlasic-Braun; Schlemko-Burns; Martin-DeMelo   (out=Dillon)
Vlasic-Braun; Schlemko-Burns; Dillon-DeMelo  (out=Martin)
Vlasic-Schlemko; Martin-Burns; Dillon-DeMelo  (out=Braun)
What To Do?
All these choices for DeBoer are interesting.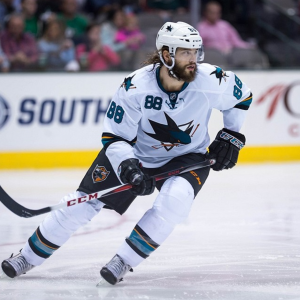 Four of these choices include a change in partner for Brent Burns, going from Paul Martin to David Schlemko. This intrigues me. Schlemko has been good and appears to have a feel for a complimentary role. This matters a lot if your partner happens to be the most interesting player in hockey, Brent Burns. Paul Martin, meanwhile, has been inconsistent to start the season. His third period on familiar Pittsburgh ice was especially concerning. Martin had a role in all three goals against (the Sharks coughed up a 2-0 lead and lost 3-2), plus a delay of game penalty to boot. Strangely, Martin was with a different defensive partner on each goal, Braun, Dillon and Burns (a power play goal). Two nights later against Detroit, he failed to get back on defense, which led to a Grover Nyquist goal.
Martin turned 35 years old back in March. He is coming off his career high (by a lot) in games played and the shortest offseason of his career. He might be primed for a less taxing role this season. This is where I'd go. Pencil in the Schlemko-Burns pairing, at least when DeMelo is in the line-up.
This leaves four remaining choices. Two choices have DeMelo paired with Vlasic, the other two have DeMelo on the third pair with either his partner from last season (Brenden Dillon) or with Paul Martin. In two cases, Paul Martin is the odd man out, in the other two cases it is Dillon who sits.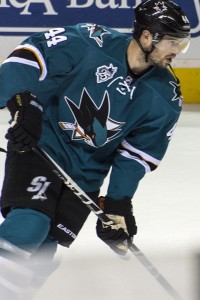 Vlasic is a 20+ minutes per night player, fully deserving of top pair minutes. However, DeMelo has not shown he merits even top four minutes. Still, this pairing does not require DeMelo to follow Vlasic on special teams, so 22 minutes a night for Vlasic could equate to a more reasonable 18 minutes for DeMelo. Further, the Sharks have an interest in not over-taxing Vlasic. Vlasic was superb in the playoffs last season, taking on and pretty much shutting down every elite forward he matched up against. Having a fresh and healthy Vlasic for the playoffs is a major advantage for San Jose.
That said, I doubt DeBoer will consider putting DeMelo with Vlasic at this point. Which brings this down to two combinations, one which pairs DeMelo with Paul Martin, the other which pairs him with Brenden Dillon.
I'd be interested in seeing both pairings. DeMelo should be most comfortable with Brenden Dillon, but Paul Martin's veteran savvy might help DeMelo develop his game more quickly.
There is little question DeBoer will make a move at some point. Sooner is better. It doesn't help the 23-year-old DeMelo to watch game after game. In turn, Martin should benefit from either the reduction in his in-game minutes or from periodically taking games off.
Dilemma or Solution?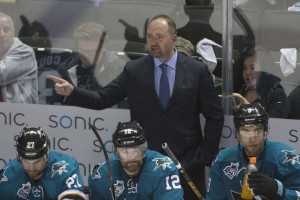 As tempting as other scenarios are, I'd begin by moving DeMelo into Schlemko's spot on the right side of the third pair with Dillon. Schlemko then moves into Paul Martin's spot opposite Brent Burns. Martin heads to the press box.
Peter DeBoer will have plenty of opportunities to change his defensive pairings over the course of the season. If nothing else, injuries will force some juggling. By using all seven rostered defensemen before injuries hit, he can accomplish several things. These include better management of his player minutes and improved readiness for adjustments needed over the course of the season. Dylan DeMelo is key to both. In that regard, DeMelo is not really a dilemma, he is a key piece of the solution.
---
Complete Sharks Coverage From THW
---
Zeke's Notes
Douglas Murray recently confirmed his retirement. He is the third prominent former Sharks defensemen to formally call it a career in 2016. Scott Hannan announced he was done in February, Dan Boyle made his official announcement just a few weeks ago. It is possible Brad Stuart, who battled injuries the past few seasons and is now without an NHL team, will add to the list. Boyle, Murray, Stuart and Hannan are all among the top ten Sharks in career ice time and are four of the top six defenseman in Sharks career ice time.
ZEKE is a native of the DC area where he witnessed the birth of the Capitals franchise. After graduating from Cornell University, which had seen hockey glory before he arrived, he moved west to San Jose. There he witnessed the birth of the Sharks franchise. His wait to witness a Championship from any of these teams finally ended in 2018.