The San Jose Sharks have used just 19 skaters this season. All six defensemen and 11 of the 12 forwards have played all 10 games. It is the 12th forward spot which conjures up an atypical debate.
Matt Nieto started the season in this spot and has played five games. Micheal Haley has played the other five.
Contrasting Styles
The contrast in styles between Haley and Nieto is striking. Haley is primarily known as a puncher. While small in height, Haley is built like a bulldozer. He is physical and intense in every aspect of the game. He is not, however, talented at the aspects of the game usually associated with winning. In his 76 career games, he's racked up 239 penalty minutes, with just six career points.
http://gty.im/498039094
Nieto is similar in height to Haley, but the resemblance ends there. The slender Nieto is listed as the Sharks' lightest player. He is a fast skater whose offensive output has been modest. Defensively and in 50/50 puck situations, Nieto is often outmuscled. His best asset may be his underappreciated work on the penalty kill, where his quickness has proven disruptive to other teams. Now in his fourth NHL season, Nieto has 68 career points.
Comparing Results
Nieto creates plenty of disagreement among Sharks fans. There are those who argue his speed is an asset when properly deployed and his puck possession game is underrated. Others bemoan Nieto's modest finishing skills and how easily he gets pushed around. His linemates thus far this season, primarily Tommy Wingels and Melker Karlsson, are reasonably talented players. I disagree with those who argue the team is best served by playing Nieto with greater talent. A year ago, I suggested Nieto was on the bubble. Bubble players usually tip one way or the other. Nieto has, remarkably, managed to stay on the bubble.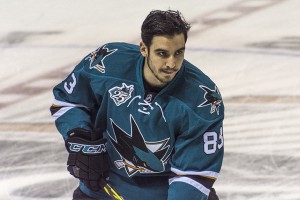 So far this season, Nieto has 60 minutes of ice time. He has not scored nor taken a penalty and is minus-2. Haley, with 37 minutes of ice time, has two points, is plus-1 and has 22 minutes of penalty box time. Just two of those minutes resulted in an opponent's power play.
Numbers aside, one thing is clear 10 games into the season. The Sharks have been better with Haley in the lineup. They are 4-1 when Haley plays, compared to 2-3 with Nieto.
Frustrations and Challenges
This no doubt frustrates many Nieto supporters, but it is what it is. Back in the John Scott days (it was just two years ago for those attempting to forget), many thought his skill set was so weak that it greatly hurt the team. Yet, the team's record was decidedly better with Scott's lineup presence than his absence.
Some of Haley's success is probably due to the line construct. Though his linemates have varied, he has mostly been with Wingels, another physical presence. Having the second 'banger' on the fourth line seems to improve puck retrieval, a useful element given the modest scoring skills on the line. This is perhaps even more important as DeBoer added Chris Tierney to the fourth line, another player who lacks a heavy game.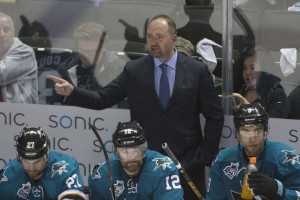 Another argument in this debate has merit. Haley's lack of skill forces DeBoer to use the fourth line players less than he would with Nieto. The numbers bear this out. Nieto averages 12 minutes a night, over 50 percent more than Haley, who averages under eight minutes. Haley's presence can also lead to fewer shifts for other fourth liners, meaning the higher skill players (top three lines) are getting more ice time. The shifting of ice time to higher skill players should result in a better result.
The downside is you can wear down the top-line players more readily. This is a meaningful consideration for San Jose, a team with older players coupled with a short offseason recovery time. Adding ice time to the top lines has only modest impact on any individual game, but over the course of a season, added wear and tear is more problematic. The Sharks want to be a "roll four lines" team and clearly, Nieto fits better in this role than Haley.
Grit Matters
In recent years, the debate about the need for 'grit' on a team has been challenged. One perspective (a difficult one to dispute) cites the league's need to diminish the role of fighting. There is now a constant stream of reports citing the role of head trauma in the very diminished lives some players lead after their NHL careers end. It seems particularly common among players who fight frequently. This is a very big issue and the spotlight is only getting brighter.
I have taken the position (on several occasions) of pushing the league to do far more to limit both fighting and head trauma (some suggestions are here).
All this leads to an uneasy conclusion. The Sharks have a better record with the fighter in the lineup. It is not the first time this has happened in recent years. As much as I'd like this form of 'grit' to become a relic, it isn't.
The Haley Effect
Last season, Edmonton's Darnell Nurse fought the Sharks' Roman Polak in a fight Polak wasn't expecting. Nurse left Polak bloodied with a broken nose. When the teams met a few games later, as expected, it was Haley who went after Nurse at the first possible opportunity. Many were dismissive of DeBoer's choice to insert Haley into the lineup for that game, with the specific purpose to fight Nurse. In terms of game strategy, the criticisms were fair and the Sharks ultimately did lose the game. But it is also safe to say the move was not intended to help win the game. It was intended to win the locker room. In that regard, it had the desired effect.
I am a critic of fighting, but I have to acknowledge reality. There is evidence to suggest having a fighter in the lineup can work out better for a team than having a more skilled player in the lineup. Many, myself included, do not believe this is in the best interests of hockey. However, the leadership of the world's premier hockey league has often had difficulty in managing the game's best interests.
Nieto is a more skilled player than Haley. But the Sharks have been more energetic and effective in the games Haley has played.
Resolution
The Nieto and Haley situation may resolve itself with neither player ultimately in a major role for the Sharks. Instead of Haley and Nieto in this 12th forward role, it might serve San Jose to rotate in some of their AHL forwards, sooner rather than later.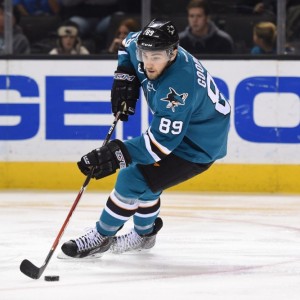 Highly regarded Timo Meier has returned to the ice for the AHL Barracuda team after a bout with mononucleosis. A 2016 call-up to the Sharks seems almost inevitable. Meanwhile, several of Meier's teammates, including Kevin Labanc, Barclay Goodrow and Marcus Sorenson, seem to merit at least a look with the Sharks.
The current debate over the Sharks' 12th forward is one about skill versus grit, and thus far, grit is winning. How this ultimately resolves though, will have to do with other factors, including injuries and the readiness of the Sharks' AHL players to jump to the NHL.
Zeke's Notes
In the offseason, I traded correspondence with a colleague and mentioned Justin Braun could be traded. Working against a trade were several issues, including the Sharks shortage of right-handed defensemen. On the flip side, the reasons for considering a trade were several, but the top reason was simple enough: sell high. Braun has the advantage of being paired with Marc-Edouard Vlasic and Vlasic makes everyone around him better. In the prior three seasons, Braun has posted a respectable 63 points (59 at even strength) and is plus-38. Couple this with a good-value contract and he fits the classic "sell high" profile.
Ten games into this season, Braun is scoreless and a minus-6. Selling high might have to wait.