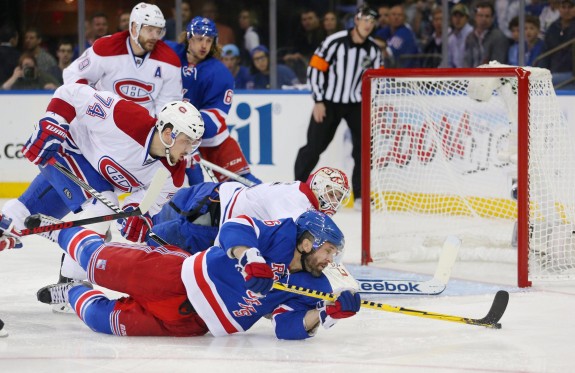 Skate like a butterfly, shoot like Gretzky, the Rangers will be better off with Marty St. Louis!
Yes, I know it's cheesy, but despite the bad attempt at paraphrasing a classic sports phrase, this statement is also very true for the New York Rangers.
This offseason so far has proven very difficult for the defending Eastern Conference Champions. Despite decent acquisitions such as veteran defenseman Dan Boyle, Matt Lombardi, Lee Stempniak, Tanner Glass, and numerous other depth players, the Rangers lost a fair amount of their nucleus that helped them come within 3 wins of the Stanley Cup.
The buyout of Brad Richards is a tough one to swallow, because while there was no real way to justify the numbers in his contract, he was still a major part of the leadership group both on and off the ice.
Had his salary hit been even remotely more friendly for the Blueshirts, it would have been a no-brainer to keep him in the fold, but as we've seen so many times before, the business of hockey takes over and has now claimed another victim in the former Conn Smythe Trophy winner.
The Rangers also lost PK and faceoff specialist, Brian Boyle, who despite having a difficult regular season, completely transformed his game come playoff time and became one of the Rangers' most valuable commodities in the bottom six.
His shot-blocking abilities, and defensive zone faceoff prowess will surely be something the Rangers will miss, but he was searching for an expanded role that he simply wasn't going to get in New York.
Then there's Anton Stralman, a minor acquisition from the Columbus Blue Jackets just a few years ago, who quickly become one of the Rangers' most important and reliable defensemen down the stretch.
His steady play, and good positioning allowed him to quietly become a top 4 D-man, and helped round out the Blueshirts blue line core as Marc Staal's right hand man this past spring.
His loss, while not as flashy as a name such as Richards, will surely be felt in the locker room and on the ice, as he was a nice shut down guy, especially in the Eastern Conference Final and Stanley Cup Final this past spring.
Dan Boyle will certainly help to fill his role, but Stralman will be definitely be missed by some of the Rangers most dedicated fans.
While the Rangers did fill some need with their recent signings, the key losses they have had so far this summer have delivered a critical hit to the Rangers most valuable asset…chemistry.
The Faceoff Circle of Life
So where does that leave us? Who will take the reigns as the veteran leader who provides the intangibles needed both on and off the ice to help lead the charge for a Rangers team desperate to keep its close-knit mentality and push-the-pace identity alive heading into the 2014-15 season?
Look no further than a man who wasn't even part of the fold until the last month of the last season.
While speculation and rumors have Ryan McDonagh wearing the coveted "C" for the Blueshirts in the fall (and rightfully so), the man who can and will accomplish this feat is 5'8″ from Laval, Quebec and wears #26 in Red, White, and Blue.
As one regime ends, a new one begins. With Martin St. Louis coming to the Big Apple from Tampa Bay in March for then-captain Ryan Callahan, it marked a very quick, and very direct changing of the guard.
St. Louis was brought in to give the Rangers that extra offensive spark needed to bring them to the next level. As popular as Callahan was both in the dressing room and among the fan base, the Rangers' front office did not feel comfortable meeting the demands he laid out in order to sign a contract extension with the team.
While nearing the end of his career, St. Louis is still a very capable scorer and has plenty left in the tank. He's a speedy winger, who won the Art Ross Trophy as the highest scorer in the league in the lockout-shortened 2012-13 season, making him the oldest player to secure the award at age 37.
As his New York tenure began, there were a lot of mixed reactions from the Garden Faithful. Many fans, who have watched Marty defy the odds and become an elite player in the NHL over the past decade plus, were excited to see what the future Hall of Famer could do at MSG on a daily basis.
At the same time, many fans were still recovering from the shock they were experiencing after Callahan, a fan favorite and once untouchable commodity, was dealt away in the middle of a playoff race.
St. Louis' start didn't do much for the confidence in the move either, as he managed just one goal in 19 regular season games on Broadway to close out the regular season.
Then the playoffs came.
As St. Louis has proven time and time again, the brightest lights on the biggest stage is when he shines the most, and in just a few short weeks, he became an absolute staple in the Rangers organization.
Do It for France
When St. Louis asked out of Tampa Bay, his character came into question. People believe that he had let a falling out with GM Steve Yzerman undo an astounding decade plus in the Sunshine state. They believed that by requesting a trade, he quit on the organization that had been his home for nearly his entire illustrious career.
As the Rangers found themselves fighting for their playoff lives, down 3-1 to the Pittsburgh Penguins in the second round of the Stanley Cup Playoffs, St. Louis once again quieted his critics.
Just hours after the Blueshirts were booed off the ice for a poor performance in Game 4 that dropped them into a seemingly insurmountable hole, tragedy struck in an unimaginable way.
Martin St. Louis' mother, France, unexpectedly passed away from a heart attack at age 63. While the team flew Marty straight home to Montreal to be with his family, he decided that his mother would want him to carry on and continue playing, and with the help of his father, chose to fly back to Pittsburgh the next day to play in Game 5.
While difficult, his return provided a spark for the Rangers, who rallied around their grieving teammate to mount an incredible comeback.
They handled the Pens mightily on the road in Game 5 to set up a return to Madison Square Garden for Game 6 on of all days, Mother's Day.
With St. Louis' father and sister in the crowd, Marty provided a storybook beginning for the Blueshirts, putting the puck past Marc-Andre Fleury to start the scoring and raised the intensity and emotion in the building to an electrifying level.
It was a moment that Marty will never forget, and for Rangers' fans, it made that game, that series, and this past playoff run, an instant classic.
It was the perfect moment, and as the team and fan base quickly found out, it couldn't have happened to a better guy. For all the immense heartache he was suffering through, he never slowed down and became an instant leader, both physical and emotional for the Rangers.
For everyone who questioned his character right after the trade, no one questioned his heart in the way he dealt with this tragedy.
It became a rallying point for the Blueshirts, who finally woke up and began playing up to their slogan's standards of "Above and Beyond," after following St. Louis' example.
For the remainder of the postseason, Henrik Lundqvist may have been their Most Valuable Player, but Marty St. Louis was without a doubt their centerpiece.
He provided a spark off the ice, and contributed largely on it, including a dramatic OT goal that put the Rangers within one win from their first Stanley Cup Final in 20 years with a rocket of a wrist shot.
Who can forget this beauty:
In just a few short months with him in a Rangers uniform, St. Louis has already made a lasting impression on the organization and has provided fans with memories to look back fondly on as the Rangers fell just short of the greatest prize in sports.
While the Blueshirts weren't able to complete their goal of capturing the 5th Stanley Cup in franchise history, their run this spring was still nothing short of magical. They accomplished things that nobody had expected them to accomplish, and the showed a tremendous amount of heart and courage in the process.
At the forefront of that was Martin St. Louis, who became engrained within the fabric of the organization after a very short amount of time. Rangers' fans learned very quickly the type of player that he is, and more importantly learned what a great person he is as well. While he may not be wearing the "C" in this upcoming 2014-15 season, don't be fooled by the letters.
With Richards no longer in the fold, and Callahan in Tampa Bay long term, Martin St. Louis has now, very rapidly, become the unquestioned leader of this New York Rangers team.
Defying the Odds, The Spirit of St. Louis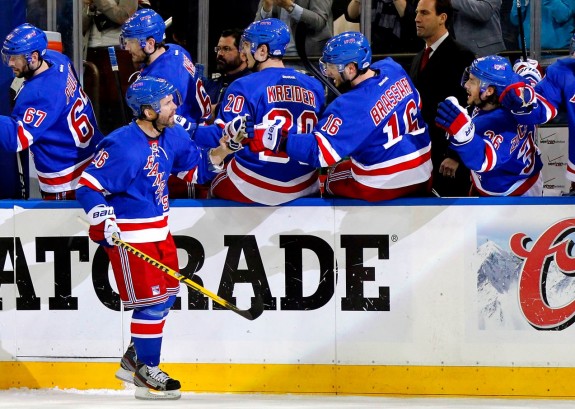 At a time when the Rangers desperately needed a spark, St. Louis was there to provide it. When they needed an emotional lift, St. Louis was there to provide it.
As we enter a new season, with a new team, and a new goal in mind, we will find out just how important Martin St. Louis will be to the success of the Rangers.
As a grizzled veteran, who has certainly seen it all, he will help the younger players, such as Chris Kreider, Derek Stepan, Mats Zuccarello, Carl Hagelin, and more who are all speedy, skilled players, to develop and understand what they need to do to reach their full potential.
St. Louis was never supposed to have an NHL career, he was too small, he was too weak; but when he signed undrafted with the Calgary Flames, the world finally took notice. His career with the Tampa Bay Lightning established him as a Stanley Cup Champion and now future hall of famer. He went from being a virtual unknown to an unforgettable presence in the hockey world.
And now…he brings his presence to New York. He now has a full season to showcase just how much he has left in the tank, and in the process of doing so, still has the chance to lead the Rangers to that elusive Stanley Cup. It won't be easy but if anybody knows how to deal with adversity, it is St. Louis.
As stated before, the Rangers slogan this past spring was "Above and Beyond…Earn It." From an individual standpoint, that is what Marty St. Louis has done his entire career.
Now his time has come in New York, and while winning over the hearts of New Yorkers in such a short amount of time, a full season with St. Louis should be something that is an exiting thought for the New York Rangers and their fans.
From the first time he slipped on the Ranger blue, St. Louis has worked very hard to earn his place. In the playoffs, he truly did go "Above and Beyond," he did earn it.
Now, as he solidifies his place within the team, it's time for him to go out there and get it; to lead the New York Rangers to the promised land and capture a (once again unlikely) Stanley Cup Championship.
He's defied the odds his whole career, now it is time for him to do it one more time and etch himself in New York sports history.