There may be two games left in the 2012/13 season, but for all intents and purposes, the season is over for the Buffalo Sabres.
Technically, it was over with Friday night's blowout loss to the New York Rangers on home ice, one that saw the Sabres limply fall into a 5-0 deficit, leaving the fans too shocked to even be upset. That loss officially eliminated the team from playoff contention, ending any far-fetched hopes the team had of reaching the second season.
Now, this season was a disappointment no matter how you look at it. Sure, no one expected big things out of this team – a seventh or eighth seed in the playoffs at best – but watching this team, you always felt like there was more.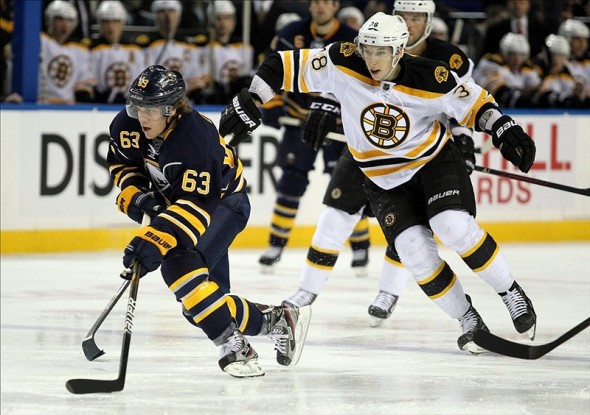 Ever have a sibling or relative who spent his days in high school sleeping in class, skipping it entirely, or smoking pot and playing video games when there was homework to do only to buckle down come finals and try to still make it? That was this version of the Sabres. Hell, that was the last two versions of the Sabres. Neither time did it work out well in the end.
It's frustrating as hell to watch your favorite team look like they're going through the motions. "I don't even care if you suck, just TRY!" And the "sending them to their room" analogy works here, too: they're rich and don't have to listen to you.  You send them to their room and they'll just play with their toys. No amount of yelling or skating or whatever seemed to reach them and it was frustrating to no end.
So when the team finally gave GM Darcy Regier no choice but to do SOMETHING, long-time coach Lindy Ruff was the unfortunate scapegoat. Granted, Lindy was at fault, too. His voice had clearly stopped reaching the players and their already lax attitude just seemed exacerbated with Lindy behind the bench. When you ain't care, you ain't care.
Yet even when the supposed problem was removed, things didn't really get much better.  New coach Ron Rolston, who looks like an AP Chemistry teacher to really hammer home this analogy, seemed to get improved effort but that's when the horrible truth hit the entire Sabres fan base: this team just isn't good.
Maybe it didn't have to do with effort.  Oh gawd, Lindy's gone so why isn't this team that much better? Maybe all this time, we were all convincing ourselves that perhaps the realization that, if someone like Lindy could be fired, they were all a threat to be chopped, they'd wake up, stop smoking pot, and become that honors student we all knew was there.
Instead, it was too little, too late and they flunked out in the end.
Breaking away from the analogy, things aren't totally bleak. The lack of fight and heart they showed under Lindy has been replaced by a much scrappier team.  The Sabres of old would lay down and die the second adversity faced them. Even when holding a lead, it was uncanny how shell-shocked this team would get when scored on. You shouldn't feel bad about your chances when you have a lead and get scored on but the team went into a funk that could clear the building with its stench.
The Sabres down the stretch fought tooth and nail until the end, with several last-minute goals that earned them an extra point.  It's nice to see this team get punched in the jaw and fight back instead of curling up in a ball and waiting for it to be over.
Now, that's an important trait to have but it means nothing when you're still not a good team.  And the Sabres are NOT a good team. They play like old people bang; slow and sloppy. Get that visual out of your head. I DARE YOU.
The team isn't overly physical but they don't have many burners, either. Outside of Tyler Ennis, there isn't much in the way of shiftiness and speed.  Thomas Vanek, Marcus Foligno, Cody Hodgson – there's a load of skaters slower than dial-up.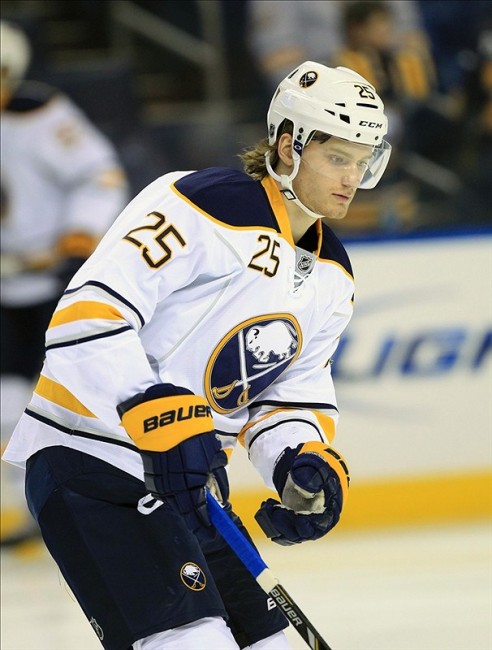 The general dearth of talent is concerning for the time being; there are reinforcements on the way in the way of Mikhail Grigorenko, Zegmus Girgensons, Johan Larsson, Joel Armia, et al but until then, the team lacks high-end talent. Vanek is the only star on the team at the moment and, outside of he, Ennis, and Hodgson, the only real scoring talent.
Steve Ott and Marcus Foligno are more third-line types, Drew Stafford shouldn't be on the team at all, and Nathan Gerbe, for as much as I like him, doesn't belong in the NHL. The rest of the forward unit is filled out by fourth-line/AHL types which is fine unless some of them are seeing third-line minutes.
As for the defense, some of the pieces are in place. At least I think so but those pieces are also apart of the worst defense in hockey so, really, how much can I possibly know? I love Andrej Sekera more than anyone outside of Buffalo could possibly believe.  He's been one of the Sabres' best defensemen for two years now and deserves top-pairing minutes.
Mike Weber and Christian Ehrhoff have been solid through and through, with Alex Sulzer coming back from injury to fill the 5/6 slot admirably (By the way: anyone saying that one side "won" the Hodgson/Kassian deal is a moron. Both teams got unique fits for their teams and are benefitting. Leave it there).
The real wild card of the group is the $5.5M man Tyler Myers. Everyone knows that Myers was in the dog house earlier in the season but he'd really began to come around when he broke his leg a few weeks back. He's indecisive, which is a huge problem when you hold the puck as long as Myers does, and he's not nearly aggressive enough in his own zone but he's big, a good skater, and has the offensive instincts to be a real contributor (as we've seen before).  If he can get his head right, he's worth every penny of that contract.  If not? That's going to be a bigger weight around the Sabres' neck than that giant clock is to Flava Flav's tiny head.
The one real bright spot for the team is the goaltending situation.  Ryan Miller has been a superstar this year, despite what some of his stats say.  He's kept the Sabres in more games they had no business being in than anyone not watching the games could know. It's a shame they're wasting a year of his talent.
Behind him, Jhonas Enroth came back from the dead mid-season like a walker in Georgia. Things were so bad for him under Lindy that it looked like he might not get another start again this season.  Lindy gets fired, Enroth gets the much-criticized "he looks good in practice" talk from Rolston and then he's suddenly Superman (only more interesting). He's been so good that Sabreland is discussing life after Miller with Enroth at the helm.  That kind of a season, I tells ya.
So while it's nice to see the Sabres finally giving it the old "college try", the issues still remain.  Only now, we can't all blame it on a lack of effort or the coach not reaching the players. They're clearly fighting hard, playing until the final buzzer but now the realization is finally hitting us: this team just stinks.
At least come next year, we won't be fooled into having expectations, right?
Follow me on Twitter: @RWTFC