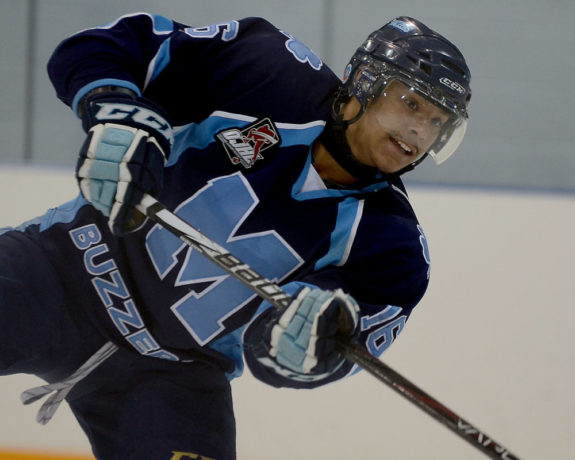 Troy Josephs's name doesn't often come up first when discussing Ontario Junior Hockey League prospects for the upcoming NHL Entry Draft. Typically, teammate Matt Buckles receives the most attention in that department.
But that doesn't mean Josephs is far behind.
The St. Michael's Buzzers forward has emerged as one of the league's top prospects for June's NHL draft. This season with the Buzzers, Josephs had 37 points in 42 games, with over half his assists coming on the powerplay. And in 24 playoff games, Josephs had 20 points.
"I wanted to be a point-per-game player this year, but I also wanted to be effective in both end of the rink," Josephs told Hockey Now earlier this season.
Josephs was ranked 166th on NHL Central Scouting's midterm rankings of North American eligibles. Only two players from the OJHL were listed: Buckles and Josephs.
Committed to Clarkson University in Potsdam, New York, Josephs hopes to become a key part of the Golden Knights' roster next season. The Whitby, Ontario native was drafted by the Ontario Hockey League's Belleville Bulls in the 2010 OHL Priority Selection, but ultimately ended up going the Junior A route with intentions of playing college hockey. Now that he's almost there, the second year NHL draft-eligible hopes to finally hear his name called a few months before lacing them up for the green and gold.
At 6'0", 179-pounds, Josephs doesn't have fantastic size, but believes he's strong enough to make physical impacts.
"I'm a strong two-way forward, who skates well, competes hard, and sees the ice well," Josephs told Future Considerations. "I worked hard over the offseason to improve my skating, my strength, and my overall game."
For those unfamiliar with the St. Michael's program, check out the video below from The Hockey News that looks at what the Buzzers are all about.
Josephs knew the Buzzers' program would help get him noticed. In two seasons with the team, Josephs has found that attention, and Clarkson picked up on his game.
"I am extremely happy to be committed to Clarkson," Josephs said in October shortly following his commitment. I have heard nothing but great things about the program and coach Casey Jones. I am following some Buzzers that have had outstanding careers at Clarkson. I want to live up to those expectations."
Buzzers head coach and general manager Rich Ricci is proud of Josephs's progression that led to NCAA attention.
"Troy was a project last year, Ricci said. "An outstanding athlete who had some raw skill and a lot of upside.He started well for us last year but suffered a serious mid-season injury that set him back. He came back this year, won our Combine Testing comfortably and had a completely different demeanor on the ice. Driven to say the least. A skilled guy with a real nasty streak and edge. We moved him to centre with the hope of capitalizing on his skill set. He hasn't disappointed as he has drawn a lot of early attention. I'm happy for him and his parents."
Josephs knows he won't be a high pick in the draft, but is confident he'll find himself being taken in one of the later rounds.
Had a quick chat with Troy Josephs (post-game) last night. He's hoping to go in the 6th or 7th round of NHL draft this summer. #OJHL

— Kevin Michie (@KevinMichie) April 16, 2013
The Buzzers won the Buckland Cup as OJHL champions on Sunday. That ticked off one of Josephs's goals this season. Next stop, New Jersey.
___________________________________________