Jim Nill is General Manager of the Dallas Stars. He's also a former NHL player, skating on the right wing through 524 games with five teams. This season, he'll add "lumberjack" to his resume, because the Stars have a logjam on the blue line. The backup is organization-wide, running from Dallas all the way down to their farm team in Cedar Park. As problems go, it's a good one to have; but it's a problem, nonetheless.
The Stars have carried eight defensemen on their NHL roster since the season began. They've done so out of necessity: None of the eight can be sent down to the minors without passing through waivers, and there's enough interest across the league to ensure a waiver claim. With only six defensemen dressing for each game, two are left to watch from the press box every night. Most nights, the blueliners in street clothes are Patrik Nemeth and Jamie Oleksiak. Both are young and need to play in order to further their development, but each has dressed for just two games so far this season.
Down in Cedar Park, the Texas Stars are also carrying eight defenders. There, the team often dresses seven defensemen, keeping Esa Lindell and Stephen Johns together as a shutdown pairing while mixing-and-matching the other five blueliners on a situational basis. Though the lack of a regular partner makes it difficult to develop chemistry, at least these developing d-men are seeing (semi-)regular ice time. Of the eight, Lindell, Johns, Julius Honka, Mattias Backman and Ludwig Bystrom are projected to be NHL-ready within the next year or two.
Good General Managers Make Good Poker Players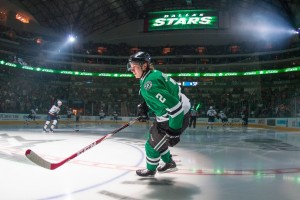 As with all personnel decisions, Nill has to address the problem with both the current and future seasons in mind. His approach probably looks something like this:
Do the top six defensemen currently skating in Dallas give us the best chance to win this year?
If the answer to (1) is "yes," should we consider trading Nemeth or Oleksiak, and if so, which one?
If the answer to (1) is "no," will moving either Nemeth or Oleksiak into the top six change the answer to "yes?"
If the answer to (3) is "no," do we need to consider dealing any of the eight d-men currently on the roster?
If neither Nemeth nor Oleksiak can crack the top six, how can we continue their development without exposing them to waivers?
Which d-men in Cedar Park might be ready to make the leap to the NHL next year, and what roles are they best equipped to fill?
Which of the three impending UFAs (Alex Goligoski, Jason Demers, Jordie Benn) should we re-sign?
Of the UFAs we decide not to re-sign (if any), how do we maximize our return for them prior to next July 1 without degrading our current defense; in other words, do we trade one or more of them prior to the deadline or take them all through the postseason, then get what we can for them at the draft?
How do we respond to in-season trade offers for any of our blueliners?
What are the salary cap ramifications of any move we make?
The sheer volume of multi-level thinking required for this single issue is dizzying. It's a safe bet (no pun intended) that the best general managers are also above-average poker players, as the card game requires the same mental skills. Poker aside, let's look at some realistic steps Nill could take to address the defensive logjam.
Likely Personnel Decisions
If Jim Nill hasn't already fielded calls from other general managers inquiring about this or that defenseman, it's only a matter of time before his phone starts ringing. When the Stars played host to the Vancouver Canucks on October 29, the press box was crowded:
Scouts with seats tonight: NSH, TBL, WSH, CAR, MTL, COL, FLA, PHI, CBJ, OTT, PIT, MIN, TOR, NJD, LAK. Stars pro scout Doug Overton here too.

— Mark Stepneski (@StarsInsideEdge) October 29, 2015
Since Nill is a potential seller in a seller's market, he can take some time to let offers roll in and weigh them carefully. Finding ice time for Nemeth and Oleksiak this season is definitely a concern, however, as they need to play as much as possible to further their development.
Given the current personnel situation and the number of kids in Cedar Park who could/should be ready to move to Dallas next season, it's almost certain the Stars won't be re-signing at least one, and possibly two, of the Goligoski, Demers, Jordie Benn trio. Mike Heika of The Dallas Morning News recently offered his take on the situation:
I don't think they can bring both Goligoski and Demers back, but they have to get more information this season before they can make that decision. As for two healthy scratches on D? That's their plan for the rest of the season right now. No use trading either, unless they received a stunning offer. And certainly no reason to trade them to a needy team in the West.
Personnel fit and salary cap hit will drive Nill's decisions, but circumstance (injuries, playoffs, can't-miss offers from other teams, etc.) will dictate the timing of his actions. At this point, the only certainty is change. Only three defensemen from the Stars' 2014-15 season opener played in the season finale last April. Only four blueliners who skated in that game last April dressed for the 2015-16 season opener last month. What will the Dallas blue line look like next April? A year from now? Right now, not even Jim Nill knows.
Matt blogged about all things hockey at On Goal Analysis/The OGA Blogs from 2008-2014 and has written several travel articles for The Dallas Morning News. He began covering the Dallas Stars and Florida Panthers for The Hockey Writers in August 2015. Matt is also writing a biography of "Tex" Rickard, the Texas cowboy who founded the New York Rangers and the Madison Square Garden Corporation.