The Pittsburgh Penguins, after defeating the Vancouver Canucks on Wednesday night by a score of 3-2, have now stretched their winning streak to five games and have won eight of their last nine. The team still has very clear faults but after their recent stretch, is it safe to say that this Penguins' team is for real?
Some have cited the Penguins' easy schedule as a reason for their surge. But, the teams they've defeated have a combined record of 39-31-13 and their three wins against the Maple Leafs and Sabres inflate that loss column. Teams like the Nashville Predators and Washington Capitals are far from slouches and even the Florida Panthers and Ottawa Senators should be considered formidable opponents. They aren't just tallying victories against pushovers.
Maybe the most impressive aspect of this streak for me is that the Penguins are winning in a variety of ways. They aren't limited to being the offensively prolific Pittsburgh Penguins that could only win 7-5 hockey games that many pegged them to be this summer. They're winning blowouts, tight-checking contests and even came from behind in the third period to pull off a win, something that they had yet to accomplish in the Mike Johnston era.
They aren't perfect yet but they are indeed proving a lot of skeptics wrong right now. And, I admit that after an 0-3 start to 2015-16 and their inability to score goals, I was one of the skeptics that they're proving wrong. Might I also add that they've been a fun team to watch over their last few contests?
Defense Improving But Still a Concern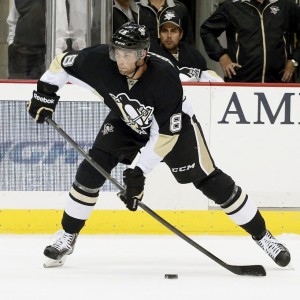 If you were watching last Wednesday night's broadcast, you heard the Root Sports broadcasters reference team defense multiple times throughout the game. They kept discussing the focus on defense and how good they've been, while taking their 1.83 goals-against per game into consideration. They're tied with the New York Rangers for number one in the NHL in that regard. But, the defense has had little to do with it.
Other outlets, including TribLive.Com, have jumped on board with crediting this team's defensive play. Let me be clear, Marc-Andre Fleury's stellar play is the sole reason for that number and a large reason for the Penguins' 8-4 record. However, over the last few games, there has been a noticeable uptick in their overall defensive effort, which is yet another reason to wonder if this team is finally figuring things out.
From a top-level stats perspective, the Penguins' have forfeited a total of 41 shots over their past two games. And, while you can look at that total and discount their 21-shot effort against the lowly Maple Leafs, consider that the Leafs are averaging 30.2 shots-per-game. Also, remember that just prior to facing the Leafs, Zatkoff had to face 53 shots against the Buffalo Sabres. There are signs of improvement in how this team is insulating their blue line. Baby steps, right?
Over the summer I wrote multiple times that this defensive group would experience growing pains and would require patience. Players like Brian Dumoulin are proving to be steady forces and since being paired with Ben Lovejoy, the two of them have played very respectably. It's a process but the as of right now, it looks like they're on the right track.
Pittsburgh Penguins Improving Their Possession Game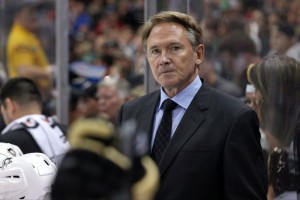 With puck possession comes better defensive play and more scoring chances. Sounds like a no-brainer, right? The Penguins were losing this battle for much of October but are now seeing a lot of improvement. Mike Johnston wants to play a puck possession game and at first, he was failing miserably.
Recently though, they've climbed out of the bottom-ten for metrics like shots-against per 60 minutes and shots-against per game. While they still have a lot of work to do in the shot-suppression aspect, they're at least limiting the amount of rubber that makes its way to Fleury. Far too much credit has been given to their defensive play recently but like I said, the improvements they've exhibited are reassuring.
On the offensive side of the puck, the Penguins are creating shot attempts nicely and rank in the top-ten for shots-per-game. They're also number five in the league for shots-for per 60 minutes. There has been very little concern in the area of shot attempts but instead, their absurdly low shooting percentage. That number is rising as well and it's evident in their ability to finish over the last few games. Those numbers are courtesy of stats.hockeyanalysis.com and prove that despite their slow start, the Penguins just may be returning to form as a juggernaut.
This team is still in need of a top-four defenseman and a move will be made to address it. Jim Rutherford has been known to shake things up in December and January, so I wouldn't be surprised to see him wheeling and dealing in the next six to eight weeks. If Fleury continues to play at this level and their defensive game continues its upward trends, don't count the Pittsburgh Penguins out when it comes time for playoff predictions.
Pittsburgh Penguins writer for TheHockeyWriters.Com and PittsburghHockeyNow.Com. Youth hockey coach, and student of the game.