Happy New Year everyone! Hope that you all had a safe and happy holiday season.
Without further ado, let's fire up the mailbag.
From what I understand, (Penguins GM Ray) Shero is very interested in Evander Kane, but Chevy (Jets GM Kevin Chevaldayoff) wants controlled NHL talent (for Kane) that the Pens aren't offering. Why not get MacT (Oilers GM Craig MacTavish) on the line and see if Pouliot and Bennett will get him to talk on Nail? Then see if Winnipeg will do Kane for Nail and the Pens 1st. If it all works out, Evander Kane would be a Penguin, Nail Yakupov as the star of the Jets, and Edmonton reloads with two fantastic Penguins prospects in Beau Bennett. And Edmonton certainly could use a young offensive defenseman, especially one as excellent as Derek Pouliot. What do you think? Too much to give up? Too little? Good trade? … Worst trade idea ever ? I hope not haha.
Jack Fred – Pittsburgh, Pa.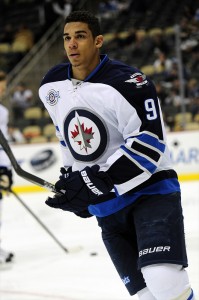 Hi Jack, and thanks for your question/proposal.
Let me address what you're suggesting the Pens give up first. Beau Bennett isn't going anywhere right now as the organization still has very high hopes/expectations for him, despite his injuries. Not to mention that his injuries are likely what would scare off a team like Edmonton, who is looking for proven NHL talent.
And speaking of NHL talent, Derek Pouliot is not that… Yet. He is probably one of the more attractive D-men that the Pens can offer up, and I believe that at some point – due to the emergence of Olli Maatta this season – Pouliot will be used as trade bait. The problem is he has yet to see time in the NHL, so no one can really say what he'll blossom in to. Once again, the Oilers would be looking for NHL-ready talent in return in any trade that they execute. And in terms of defense, I think they're looking for someone with more grit and edge to their game. Think Harrison Ruopp.
As for getting Kane from Winnipeg; it's certainly an intriguing thought. A guy of his talent skating alongside the best in the world (Sidney Crosby) would almost be a dream come true. But I caution you this: Kane is a natural left-winger, and we saw the disaster last year that was the Jarome Iginla trade. I'm not suggesting that Kane couldn't transition himself to a right-winger, but it's not as easy as some may think.
I believe that Shero could come up with a deal that would be to Chevy's liking to pry Kane away from the Jets. I still maintain that Blake Wheeler is a more likely option, as Kane was a 4th overall pick back in '09, and I would think that the Jets would want to keep him around.
(Via Twitter):
Just read the Pens trade options article, and as an Avs fan, I was wondering how you felt about Jamie McGinn instead of Talbot? If Pittsburgh is looking for a north/south wing who can play 3rd line & contribute top 6, he'd be a good one to add to the discussion. Would something along the line of McGinn for a young D be out of line?
Andi in Montana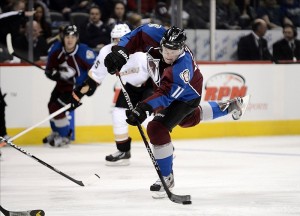 Nice to know that I'm reaching you all out there in Big Sky country!! Thanks for reading, Andi!!
First off let me start by saying that as long as the Avs don't play the Pens, I root for them every night. They're my favorite Western team.
Jamie McGinn is a nice hockey player in the right role. If the Penguins weren't looking for someone to play top line minutes with Crosby and Kunitz before (most likely) dropping to the third line, McGinn would be a great fit.
He's a big guy (6'1″ 210 lbs) but lacks the speed, in my opinion, to play with Crosby. He's more of a grinder-type that is gonna score his goals from the dirty areas of the ice. Cycling and forechecking are his game, not up-and-down, straight-ahead hockey.
Now I know that a lot of people who read this, and in particular this question, will say the same thing about Talbot in terms of the style of game. But there is one BIG difference with Mad Max: he's been here before, and most of the Pens know him. He'd be a good fit on he ice with Crosby because of his speed, and an even better fit in the locker room.
If the Penguins were only looking to upgrade their third line as was Ray Shero's original plan before Dupuis' injury, McGinn would be a great addition to this team, I think.
As for what you're asking for in return, a young defenseman, I might be willing to part ways with a Reid McNeill or a Brendan Mikkelson along with a draft pick to bring McGinn to Pittsburgh. But I truly believe that any dealings with the Avalanche are a long shot at this point.
This is a two-part question. First: Having read your Penguins trade prediction article, I couldn't help but notice one name missing: Mike Cammalleri. Why? Second: Who do you see the Pens giving up to acquire any of these players, Cammalleri included. Thanks.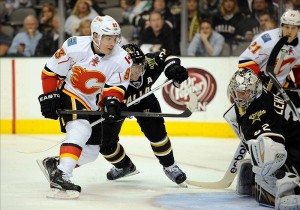 Harry – Pittsburgh, Pa.
Well Harry, Cammalleri is a guy that is very interesting. While I believe that Brian Burke will look to move him before the trade deadline, I'm not sure that Pittsburgh is the fit for him. Not to mention he'll be a UFA come season's end, and Shero has repeatedly said that he is looking for players that would be under team control for at least the next few years.
I think Cammalleri has the potential to fit in well on this team, but from everything I've heard over the past few weeks, he doesn't seem to be on the Pens' radar.
Now to your second question. Who the Penguins trade away will ultimately depend on the player they are receiving in return. Blake Wheeler and Evander Kane would almost certainly cost them Olli Maatta. I've heard that Shero, at the very least, would consider it. It's not a move he wants to make, but it may be a necessity to bring a winger that this team needs badly.
The obvious other names out there are Simon Despres, Robert Bortuzzo, Derek Pouliot, Brian Gibbons and Beau Bennett. The last name there is a bit surprising to me, and I think it would be hard to move Bennett based on his injury history. So take your pick of any combination of those names.
I've been a Penguins' fan my whole life, because they were the closest team to me for all of my childhood in terms of proximity. I've tried to root for the Blue Jackets, but they've been so terrible for most of their existence. My question is: Based on the current standings, are the Penguins really THIS good? Or is the rest of the division really THAT bad?
Brady – Columbus, Oh.
When you look at the other teams in this division, are there any that jump out at you as being as complete as the Penguins? Top to bottom, when healthy, the Pens are by far the most complete team in the Metropolitan Division. You can find at least one, and in some cases multiple areas of weakness on every team EXCEPT for Pittsburgh.
Ray Shero and company have done a masterful job in making this a deep, balanced attack. The only area of weakness for the Penguins is depth at forward. And as I say that, we've witnessed guys like Jayson Megna, Brian Gibbons, and Zach Sill all fill a major role for this team due to injuries.
We all knew of the Penguins organizational depth on the blue line, but I'm not sure that any of us were prepared for what we saw out of the call-ups when the top four defensemen were all out of action at the same time. Brian Dumoulin and Philip Samuelsson were the only two guys who had not seen NHL Action prior to their "summoning" (Simon Despres was technically a call-up, but he'd seen significant time in the NHL prior to that).
And lets not forget perhaps the most surprising of all: Jeff Zatkoff. A guy who looked lost in his first NHL game against an AWFUL Florida Panthers squad, and all he has done since is reel of seven consecutive victories (before an OT loss in Edmonton last weekend, that you really can't blame him for).
What kind of effect do you think the Olympic break will have on those players NOT going to Sochi? Both mentally and physically?
Raymond – Morgantown, WV
Well Raymond, I'm no psychologist. So the mental aspect of not being chosen to represent your country in the Olympics isn't really in my wheelhouse. But I'll give it a shot.
For the Penguins, the only guy that I think this really applies to is James Neal, and there is still a possibility that he ends up on Team Canada's roster. I'd suspect that with Neal there was a certain level of disappointment, but perhaps also a sense of… Relief (for lack of a better term). Fact is, not playing in the Olympics is going to give a player two full weeks off in the middle of a season that is NOT injury-related. That's not a bad thing.
The guys not going to Sochi will likely skate together somewhere in their club's city to stay in shape. The two weeks off from game action will also help heal the usual bumps and bruises that come with playing an 82-game schedule. In short, for guys who were on the bubble of making their home country's roster and didn't, I'm sure there is disappointment. But also, a two week hiatus is something to look forward to.
That's it for this installment of the THW/Pittsburgh Penguins mailbag. It would've been up sooner, but I got laid up with the flu mid-week.
If you have a question and want to see it posted here, submit to me via my inbox at:
TDTorraoTHW@gmail.com
Or you can find me on twitter and submit your queries there: