The NHL's annual trade deadline is just under two full months away, at 3pm eastern time in March 5th. However, there will be a "freeze" put on all rosters on, just prior to the 2014 Olympic Games in Sochi.
Which means that teams may be looking to make some moves prior to one of the best days of the year to be a hockey fan.
One of those teams, most likely will be the Pittsburgh Penguins.
With Pascal Dupuis on the shelf due to an ACL injury for the foreseeable future, Ray Shero – already looking to upgrade his third line – will now be seeking to find that ever-elusive winger to play alongside Sidney Crosby.
Prior to Dupuis' injury, the third line – anchored by centerman Brandon Sutter – hadn't really been producing much. Shero was already in the market to try to improve that line's production by bringing on board a "scoring winger lite" that could add some punch in the goal department. But when Dupuis went down on December 23rd against Ottawa, that 3rd-line winger search got amped up.
So who could potentially be on the Penguins' radar at this point? Below I've listed four potential suitors, beginning with the guy I feel Shero will pursue the most tenaciously. One quick note, the guy at the end of this list, has about as much chance of returning to the Penguins this season as I have in actually lacing up the skates and taking Dupuis' spot myself. Part of the reason he is on this list is for nostalgia's sake, but (spoiler alert) I'll have a piece up in the next few days detailing in greater depth why I think it would be a good fit. Away we go.
The Candidates
Blake Wheeler – RW – Winnipeg Jets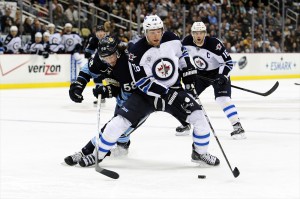 This seems to be the name that pops up in most circles discussing this topic. It's no secret that Shero wants to acquire a player whom the Pens would have some control over for the next few years. In other words, enough with this "rent-a-player" crap.
Wheeler, acquired by the former Atlanta Thrashers from Boston in a 4-player deal back in 2011, is under contract through the 2018-2019 season at a cap hit of $5.6 million. The Pens could absorb his cap hit this season by virtue of having both Dupuis and backup netminder Tomas Vokoun (blood clot) on long-term injured reserve. And with the cap expected to go up over $71 million come next season, it would be no problem fitting his salary into the Pens' budget.
Now for the juicy part. Wheeler is a big guy (6'5″ 205 lbs.) with good hands, and he's fast. He thinks the game in much the same way that Crosby does: straight ahead. It's exactly that thinking that has made Pascal Dupuis so successful skating with Crosby. He has played in all 47 games for Winnipeg this season, amassing 16 goals and 17 helpers, yet he's a minus-9. The offensive production is nice, but I'd prefer to see better plus/minus numbers from a guy skating on his team's top line.
Devin Setoguchi – RW – Winnipeg Jets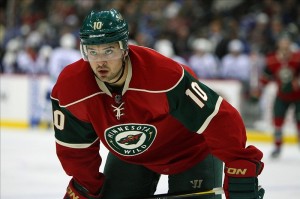 There was a rumor floating around about two years ago that the Penguins and Minnesota Wild (whom Setoguchi played for at the time) were engaged in talks that would have him to Pittsburgh in exchange for Pascal Dupuis. Most here in the steel city, myself included, thought that was a ludicrous idea. I still do think it's a crazy trade, but Dupuis is off the table now, and Gooch is a guy I wouldn't mind seeing a black and gold sweater.
Setoguchi started his career splitting time between the San Jose Sharks and the Worchester Sharks of the AHL in 2007-2008. Then in the '08-'09 season he became a staple on a very good Sharks team that reached the Conference Final. He was traded, along with Dany Heatley, to Minnesota prior to the 2011 season for Martin Havlat, and he never quite had the same magic.
His best season was his first full season in the NHL in 2008-2009. He played 81 games, lighting the lamp 31 times and finishing with 65 points. His goals have gone down in every year since, but he's a career plus-9. Not bad for a guy who played for a couple of pretty bad Wild teams, and now with the Jets.
The sticking point to this deal will be Gooch's contract. He's only under team control till the end of this season, and as I stated with Blake Wheeler, that's not exactly what Shero is looking here.
When thinking long-term about this potential trade (and by this potential trade I mean a deal to bring on a guy to replace Dupuis through this season), the player that Shero is ultimately looking for is a guy who can slide down to the third line when Dupuis returns from injury, be it this season (playoffs in a best-case scenario) or next. Setoguchi is a guy who could regain some of that scoring touch playing alongside Crosby for this season, then drop down and line up next to Sutter when the time comes.
Evander Kane – LW – Winnipeg Jets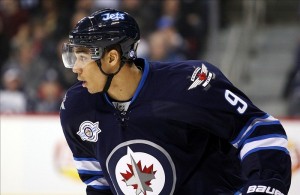 This is a long-shot of a deal if I ever heard of one. Kane was a 4th-overall pick in the 2009 Entry Draft. Unless Jets GM Kevin Chevaldayoff succumbs to the idea of totally gutting the current roster, this deal is probably dead in the water before it even gets going.
When you're as high a draft pick as Kane was, you sort of become the face of your franchise. This can be a blessing, or it can be a curse. Think of Crosby; he is without a doubt the undisputed face of the Pittsburgh Penguins, the NHL, and Canadian hockey on the international stage. You never hear a peep from Crosby unless it's hockey season, and only then it's all business. None of the garbage that other athletes in other sports get themselves into.
But Kane is a bit different. He was a lightning rod during the lockout last season, by tweeting out a picture of himself in Las Vegas holding a couple of stacks of money. That didn't sit too well with Winnipeg fans, and hockey fans in general. He's a flashy player both on and off the ice. That's something that the Pens have never really had (off the ice, of course).
That said, the kid is crazy talented. In the Jets-Pens game just a week ago, he managed to find himself on not one, but two breakaways (he scored on the second). His career numbers are meager with the exception of the 2011-2012 season (coincidentally, the first season for the Jets in Winnipeg). In 2011-12, he scored 30 goals and had 57 points. At no other point in his career has he posted more than 19 goals and 43 points. But these number have to be taken with a grain of salt, as again Winnipeg has not been very good since their relocation.
The contract side of things is also appealing to Shero. Kane is under team control through the 2017-2018 season with  a cap hit of $5.25 million, not to mention the guy is only 22 years old. That's a pretty friendly deal considering where the salary cap is headed over the next few seasons.
The Trend
As you can clearly see, The Penguins and Jets seem to be viable trade partners. Shero has almost made a habit of going after seemingly vulnerable teams and coming out smelling like roses. Just look at how he abused the Dallas Stars' organization in acquiring James Neal AND Matt Niskanen for Alex Goligoski. Or the Marian Hossa deal that also brought Pascal Dupuis (ever since that trade, Hossa seems to have been injured more often than not) and helped the Pens unload first round bust Angelo Esposito. Oh yeah, lets not forget about the Ryan Whitney to Anaheim for Chris Kunitz (and Eric Tangradi) deal. I'd say that's worked out pretty nicely.
The Jets are a miserable team right now, and stuck in the better of the two conferences. They just yesterday fired head coach Claude Noel and replaced him with the Stanley Cup-winning Paul Maurice. But they need more than just a shake-up at that level. It may be time for the organization to start over and build from the ground up. With the depth at defense that the Penguins have, they are a fine match in a trade with just about any team. Winnipeg could unload one of the above-mentioned three players and recoup some very nice prospects in return.
The Wildcard
Maxime (Max… or… Superstar) Talbot – C – Colorado Avalanche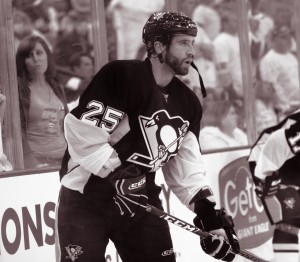 I'll get into more detail with this in the next few days. Suffice it to say that Talbot is the one guy that Shero knows he could count on to make this work.
Probably the biggest pro to bringing the Superstar back to Pittsburgh is what he would bring to the locker room. Not to mention he's great friends with Crosby. I doubt he'd bring the same production as Dupuis has supplied over the past three seasons, but I promise you it wouldn't be for lack of effort.
The biggest issue here would be prying him away from head coach and fellow French-Canadian Patrick Roy. The Pens and Avs are nearly perfect trade partners in terms of each teams' needs. Obviously the Penguins are in search of a winger (preferably of the top-6 caliber) and the Avalanche need good, young defensemen (which, in case you've been living under a rock the past 3-4 years, the Pens have plenty of).
Ah, the possibilities of it all.
The Pens play exactly one game this week: Wednesday night at home against Washington. Then not again until a week from tonight at home against Florida.
Don't be surprised if Shero is able to pull the trigger on something sooner rather than later.
Your thoughts are always welcome to my inbox, along with your questions for The Hockey Writers/PittsburghPenguins Mailbag at
TDTorraoTHW@gmail.com
You can also submit comments and questions to me via Twitter at: