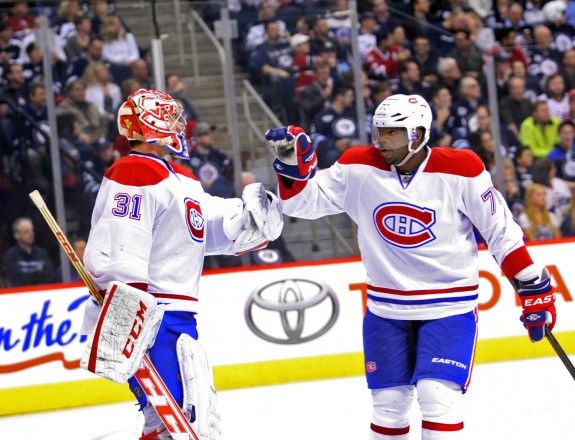 In just over a month, Men's Hockey will hit the ice at the 2014 Winter Olympic Games.  With the help of nearly 150 NHLers, 12 teams will be vying for hockey's most coveted international prize.  The Montreal Canadiens will proudly be sending 8 players to Sochi, Russia.  Only the Detroit Red Wings, St. Louis Blues and Chicago Blackhawks are sending more players with 10 apiece.
Analysts have already started outlining their predictions as to which teams will make it to the medal rounds, including The Netherlands based company Infostrada which created quite a stir when they projected Canada, the defending Gold Medalists to finish 7th.
All 8 Habs going to the Olympics are expected to finish in the top 8, as they represent 6 different hockey nations.
Here is a look at the Habs headed to Sochi by team ranking according to Infostrada (take it for what it's worth):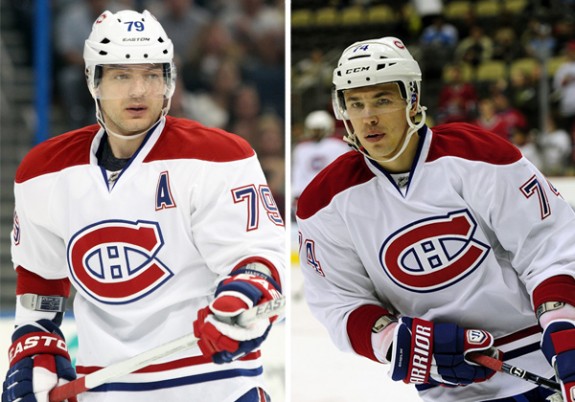 Pressure doesn't begin to describe what the Russian players are feeling going into the Olympics as the home nation.  Politics and controversy aside, the Russians know, as the Canadians did in Vancouver, that anything less than Gold will be considered an utter failure.  Added to that pressure is the knowledge that the Russians, if not the favourites, are close to it: they are 3rd in IIHF ranking and have won 3 Gold Medals in the last five years at the World Championships. Expectations are off the charts.
Russia's Quarter-Final loss to the USA at the 2013 World Championships was a major disappointment and yet the 2014 Olympic roster is virtually the same, with the exception of two dominant Montreal Canadiens players who have been added to the lineup in Andrei Markov and Alexei Emelin.
Markov, who has never failed to suit up for his country when healthy, will be playing in his 11th international hockey tournament, including two World Junior appearances (1997-1998), 5 World Championships that includes two Bronze Medals and one Gold.
This is Markov's third Olympics, where the Canadiens' Alternate Captain will by vying for his first medal alongside good friends Alexander Ovechkin and Ilya Kovalchuk.  Expect Markov to lead the charge on almost every level, from five on five to special teams, as long-time power play specialist Sergei Gonchar was left off the roster.
Despite being eight years Markov's junior, Alexei Emelin will be playing in his 7th international tournament.  He won Gold in the 2004 U18 tournament, and Silver in two World Junior tournaments in 2005 and 2006 – a tournament where the relatively unknown Russian defenseman made a name for himself among Canadiens fans.  He has also medalled in four World Championships, including Gold in 2012.
Though his youth might preclude considerable ice time as the Russian Team has a propensity to rely on their KHL favourites that are used to the larger ice surface, expect Emelin to play a key physical role, one that might help him regain his lost confidence here in Montreal.
Please see the full Russian Roster at NHL.com
#4 Olympic Team Switzerland: Raphael Diaz
The Swiss Men's National Hockey Team has won Bronze twice at the Winter Olympics, though their last medal showing dates back to 1948.  The team is currently ranked 7th among IIHF countries.  However, their high ranking by Infostrada is mainly due to their most recent run at the 2013 World Championships, where they surprised everyone by taking home Silver. It was their first Silver Medal since 1935.
Not surprisingly, the Men's Swiss Olympic Team, officially named on Monday, largely includes the same roster as the 2013 World Championship team, with less than a handful of exceptions.  The team is headlined by 2013 WC Tournament MVP defenseman Roman Josi of the Nashville Predators.
Montreal Canadiens defenseman Raphael Diaz was also a member of the World Championship Silver Medal team and he will be representing the CH at the Olympics along with four other NHL defenseman including two former Canadiens, Yannick Weber of the Vancouver Canucks and Mark Streit of the Philadelphia Flyers.
Diaz has been a fixture on the Swiss National team since his first IIHF World U18 Championships in 2004.  He has since participated in two World Junior Tournaments (2005, 2006), the 2010 Olympics and two World Championships in 2008 and 2013.
Diaz only joined last year's WC tournament in late May after the Canadiens were eliminated in the first round of the playoffs by the Ottawa Senators.   He played four games in the tournament and was paired with Josi for the final two elimination games including a 3-0 drubbing of Team USA, where he logged 20 minutes of ice time en route to the Gold Medal match. Diaz is a puck-moving defenseman who will likely surprise many Habs fans with his abilities on the international ice surface.  Expect him to play a key role alongside Josi where the two had much success.
The full Swiss Roster is available at NHL.com
#5 Olympic Team Czech Republic: Tomas Plekanec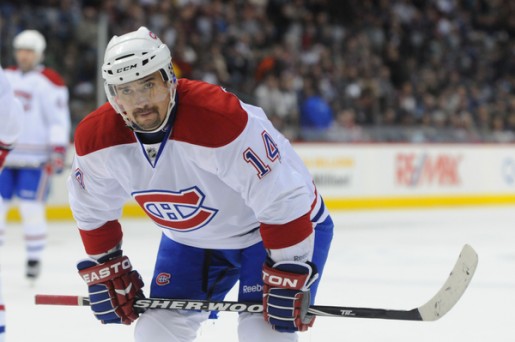 The most unheralded member of the Montreal Canadiens can no longer be considered underappreciated as Tomas Plekanec was named Captain of the Czech Republic team going to Sochi on Monday.
"I was a little surprised and I don't know if surprised is the right word" said Plekanec. "It's an honour to be named captain, but there's nothing big to it. It's just a letter on a jersey. There's going to be a lot of experienced guys on our team."
Tomas #Plekanec named captain of the Czech Olympic men's hockey team. #Habs

— Kelly Greig (@KellyGreig) January 6, 2014
Plekanec is wrong.  It's more than just a letter.  Czech management did right by naming  the unyielding two-way centre captain.  He is used to the pressure that comes with playing for the Montreal Canadiens, pressure that will surely accompany a Czech team that hasn't medalled since winning Gold at the 2006 Olympics.  In fact, early predictions have the Czech squad finishing 5th despite a recognizable roster that boasts 19 current and former NHLers, including one-time Canadiens bust Tomas Kaberle.
One of hockey's dominant nations, the Czechs have won 12 medals in the last 20 years at the World Championships, including Gold and two Bronze Medals in the last four years.   Plekanec  has been a part of five World Championship rosters (2006-2009, 2011), two World Junior Championship rosters (2001-2002), one U18 Championship and the 2010 Olympic squad that was defeated in the quarter finals.  Expect the Czech Captain to be used in all facets of the game, much like he is in Montreal, especially against the oppositions top line forwards; a role at which he excels.
There are some notable omissions from the squad which has been revamped since the nation's disappointing showing at the 2010 Olympics and 2013 World Championships where they finished 7th.  However, Plekanec will be reunited and flanked by fellow national fixtures, good friend Jaromir Jagr and Patrick Elias who have both been named Alternate Captains.
See the full Czech Republic Olympic Roster at NHL.com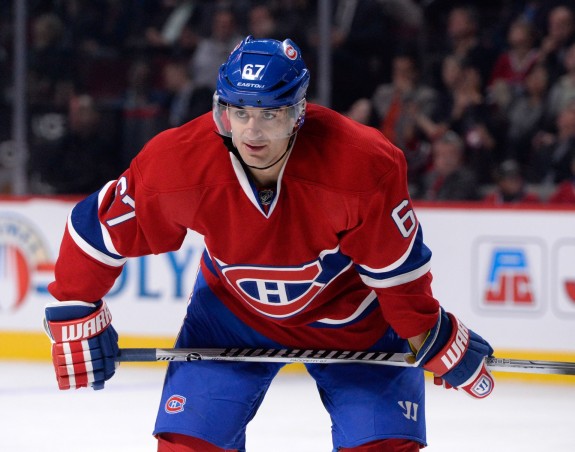 The USA have improved their standing in international play thanks to a Bronze Medal finish at the 2013 World Championships and a Silver Medal at the 2013 Olympics.  For all the controversy surrounding the USA's Olympic roster, the Americans have a wealth of talent that is effective at both ends of the ice.
One of the few things not controversial about the Men's USA Olympic roster is the inclusion of Max Pacioretty. Pacioretty may have beat out a number of American born players ahead of him in the point scoring race but his 19 goals in 37 games is ranked 4th on team USA, and is best on a point per game basis, putting his standing with the US Olympic committee above Bobby Ryan and Kyle Okposo.
"Team USA has more and more talent," said Pacioretty of the honour. "If you look at the guys who were left off the team, it shows how deep U.S. hockey is. I had to beat out a lot of great players to make this team."
This is only third time that Pacioretty has suited up for his country, including the World Juniors in 2008 and a trip to the World Championships in 2012, where the power forward had 2 goals and 12 points in 8 games.  Expect Pacioretty to be used for his size and physical play, though Habs fans will want to see him score goals, at the very least so we can enjoy his celebration:
The full USA Roster is available at NHL.com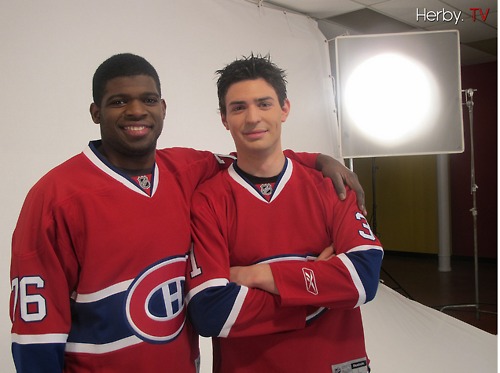 When Steve Yzerman and company announced Canada's 25 man roster, the biggest cheer, for any player, came when Norris Trophy Defenseman PK Subban was named to Team Canada.  In hindsight, it could be considered a positive that Subban lingered on the bubble for so long since the Canadiens' top defenseman played up to a standard that left it nearly impossible for his name to be omitted.  The same can be said for his friend and teammate goaltender Carey Price who has put up the best numbers of any Canadian goaltender headed to Sochi.
The two young players are best known for their World Junior performances.  Subban won back to back Gold Medals at the 2008 and 2009 World Junior Championships where where his 9 points and +12 rating in 6 games earned him a spot on the tournament's All Star team.
Nothing better than representing your country! #Canada #gohabs #gocanada cp0031 http://t.co/pyiAzJ3ex2

— P.K. Subban (@PKSubban1) January 8, 2014
Price has represented Canada on three occasions.  He participated in both the U17 and U18 World Tournaments and won Gold in one of the most memorable World Junior Tournaments in recent Canadian memory when the Habs star goaltender went 7 rounds in the shootout against the USA to ensure Team Canada went to the Gold Medal game.  Price was named tournament MVP.
Thank you for all the support, I'm excited and honoured to wear the maple leaf!

— Carey Price (@CP0031) January 8, 2014
This is first Olympic appearance for both players.  With a bevy of talented defenseman on Canada's roster, Subban is expected to play a limited role as the team's 8th defenseman.  However, his offensive upside and physical play could be a valuable asset to team Canada should they need it.
Price is also projected to play a backup role is Sochi as, in all likelihood, Vancouver Canucks goalie Roberto Luongo will be the starting goalie due to his international experience and Gold Medal performance in 2010.  Should Luongo stumble, as Brodeur did in 2010, expect Price to take the reigns in nets, and he will deserve it should he be able to play up to his strengths, even though the shootout isn't one of them.
Though both Subban and Price are projected to see limited playing time in Sochi, Habs fans will be hoping, or expecting, both to play their way into regular rotation and, perhaps, should they see any time together we might be lucky enough to see the rebirth of the "Triple Low Five".
Canada's 25 man Olympic roster is available at CBC.com 
#8 Olympic Team Slovakia: Peter Budaj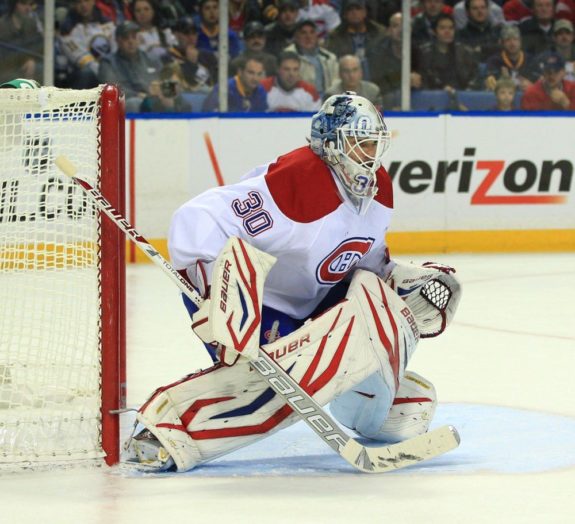 Despite an 8th place ranking by both the IIHF and Infostrada's projections, the Slovaks are perhaps one of the more underrated teams at the Olympics.  Most recently, the Slovakian national team, led by Zdeno Chara, won Silver at the 2012 World Championships and beat the powerhouse Swedish Team to make it to the semi finals where they lost to Canada by a one goal margin.  Their fourth place finish in Vancouver was a national best.
Budaj will be suiting up for his 6th international tournament.  He played in the U18 and twice in the World Juniors dating back to 2000-2002.  He was the starting goaltender in the 2006 Olympic Games and represented his country at two World Championships in 2008 and as the starter in 2010.
Former Habs fan favourite Jaroslav Halak is expected to start in Sochi,  largely because of his success at the 2010 Olympics. Budaj's strong performance this season for the Canadiens places him 2nd on the Slovakian team's depth chart despite that  Jan Laco, the team's third named goalie, was the starter that brought the Slovaks the Silver at the 2012 World Championships.
See the full Slovakian 2014 Olympic roster care of the BleacherReport. 
Infostrada's full ranking of Olympic performances from best to worst looks like this: Sweden, Russia, Finland, Switzerland, Czech Republic, USA, Canada and Slovakia. The list is based on a weighted point system that values recent international performances. Therefore, Canada's 7th place prediction is rooted in a current string of disappointing finishes at the World Championships, largely attributed to a roster reliant on available players that have been eliminated from the NHL playoffs .   
For the record, this is not how I see the tournament playing out but hey, the speculation and prediction game is part of the fun of the Olympics.
Time will tell.  The four year wait is almost over.