For Devils' center Jacob Josefson the grass has never been greener. The 24-year-old Swede is entering his sixth season in New Jersey and for the first time figures into the equation as a difference maker offensively.
To some the transition might seem like a recipe for disappointment: a checking center on both European and North American ice who's never put up gaudy numbers. For the Devils new regime led by general manager, Ray Shero and head coach, John Hynes it's a gamble worth taking for a team in transition overall.
Josefson tallied the final goal Wednesday night in Philadelphia. A weird set of circumstances made it possible, though in a mandatory three-on-three OT display, the goal was not listed on the official box score. The Devils had already won the game 4-2 in regulation, where Josefson tallied two assists on a second line with Adam Henrique and Tuomo Ruutu. But in a meaningless game, it's providing a good idea of how significant this season can be for the former first round pick.
Drafted 20th overall at the 2009 NHL Entry Draft, Josefson was touted as a good skating forward with some two-way appeal. He had spent the year prior playing with Djurgardens of the Swedish Elite League. At 17 he was among one of the youngest players on the team, but played in 50 of 55 games, scoring 16 points in a reduced role offensively. He would return to Djurgardens the following season, his rights owned by the Devils, but continuing his development uniquely–not playing with other 17 year old's in a junior program, but with seasoned-professional hockey veterans–some more than twice his age. At the conclusion of his 2009-10 campaign in Sweden, which included his second invitation to the IIHF World Under-20 Championship tournament, he signed a three-year entry-level contract with the Devils.
Setbacks to start plentiful:
The change to North America wasn't without a series of setbacks in his first five years–injuries, battles with consistency and playing time are all part of the development of a young player–something Josefson is familiar with.
He began in their AHL affiliate in Albany, but early injuries to the big club afforded him his first taste of NHL action. Soon to follow though would be another trip–this one on the injured reserve after suffering a torn ligament in his thumb. He was sidelined for over two months and ended the season in New Jersey with 10 points in 28 games.
His second season would include more trips to the IR, including a broken clavicle that kept him away for nearly three months. In just two years of North American hockey, Josefson had two major injuries. A broken wrist would follow up his return from a broken clavicle. Impressively, he still managed to play 41 games that season and returned to action in May, just as the Devils faced the Rangers in the Eastern Conference Finals. Josefson's first post-season action included three games versus the Rangers and three versus Los Angeles in the Stanley Cup Finals.
Bouts of inconsistency: Out of the lineup for other reasons
Injuries behind him, Josefson was sidelined for other reasons in 2012-13. A lockout kept NHL teams from starting the season on time, ultimately costing each team the cancellation of their first 34 games of the season. Still eligible for assignment in Albany, Josefson was sent down amidst the uncertainty of a season and while confidence among players and much of the league was in doubt–Josefson's was rising. He tallied 25 points in 38 games and was, for the first time, a difference maker up front. But when the NHL returned, Josefson's confidence sank he was returned to Albany, 15 games into the NHL season. He had one assist in that time. A week later he was recalled by the team and while injury-free, he would score just two points in 11 games from Feb. 24 to April 27.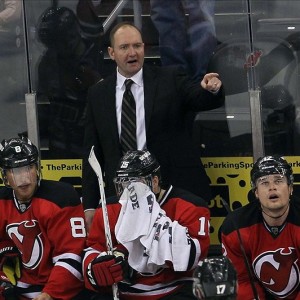 After finally avoiding the injury bug in the abbreviated 2013 campaign and earning a pair of contract extensions, the forward still found limitations not for a broken bone, but instead missing 50 games over two seasons as a healthy scratch–not exactly a disciple of former head coach Pete DeBoer, who was dismissed from the team on Dec. 26, 2014.
Could he be a late bloomer? 
To call a player under the age of 25 a late bloomer might seem strange, but last season Josefson did provide a glimpse into what he could be and that perhaps the offensive limitations were not on the player, but rather the opportunity.
Scott Gomez, who found a resurgence in his return to New Jersey largely filled the void as the second center last season. His contract was not renewed after posting 34 points in 58 games. Shero cited a need to give young players an opportunity.
Josefson's appeal from draft day to now hasn't changed entirely. Still a strong skater with good hockey sense and a defensive conscience–he played under Jacques Lemaire for parts of the 2010-11 season. And while injury and inconsistency have been prevalent, he's shown he has a good set of hands and the necessary vision to play center at a high level. In today's game where skating and IQ get you far–he could be the most important offensive component for a rebuilding forward core.
https://www.youtube.com/watch?v=JWBSspqpr5k
Slotting in 2015-16:
In his last two pre-season games, he's found himself used on both the first (Sept. 26 vs. NYR) and second line (Oct. 1 at PHI). In both instances he centered Adam Henrique, who appears will start the season at wing after some suggestion by many that he'd return to the middle.
Josefson skated on the second line with Henrique and Ruutu again on Friday morning. Meanwhile, Zajac skated on the first line with Mike Cammalleri and Lee Stempniak, who remains on a PTO with the team. Kyle Palmieri did not skate as he deals with a 'minor tweak' following going awkwardly into the boards during the game on Wednesday.
Zajac scored the final two regulation goals on Wednesday versus the Flyers, including the eventual game-winning goal late in the second period and an unassisted empty-net goal in the third. He'll likely open the season as the Devils' top center after losing the role at various times last season.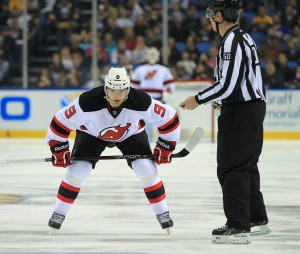 For now, it remains to be seen who Josefson will center on that second line when the season opens on Oct. 9 versus Winnipeg. He's looked good with Henrique and Palmieri, but could see one or both of them moved up to the first line as Patrik Elias will be sidelined for the start of the season with a knee injury. The team must also sort out its bottom-six center spots now that Josefson has appeared to move up the depth chart. Stephen Gionta could take the third line spot while Sergey Kalinin or Pavel Zacha could get the fourth line job.
There's no definite answers up front for a team that will be searching for plenty. But one thing that appears clear: Josefson will have every opportunity to prove the gamble not so risky.