As the preseason ends and the St. Louis Blues take the ice in Ann Arbor, MI where they'll spend time on a team-building trip, there are still at least a couple of roster spots that aren't solidified, as far as I see it anyway. Ken Hitchcock and Doug Army probably have a good idea who makes it and who heads home but the final roster will likely remain a question mark until Monday or Tuesday. Practice isn't over, and just today the Blues announced two more players are headed to their AHL camp in Chicago. Forward Ty Rattie is still with the team but is on the bubble.
Can He Score?
The hype has been loud for Rattie since being drafted by the Blues in 2011. He lit up the WHL in his final two seasons with the Portland Winterhawks scoring 57 and 48 goals respectively then made the jump to the AHL in 2013 and was impressive, netting 31 goals in 72 games with the Chicago Wolves and even got a whiff of the NHL in two appearances with the Blues during the 2013-14 season.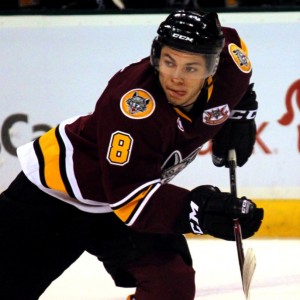 The scoring pace dropped off slightly for Rattie in his 2014-15 AHL campaign though he did spend significantly more time with the Blues than the previous year playing in 11 games for St. Louis. He entered training camp last month accompanied by high expectations that he'd secure a roster spot. Unfortunately for Rattie scoring prowess at the Junior levels doesn't always translate into professional success. His size (he's listed at 178 pounds) and lack of physical play have always left me wondering if he'd be strong enough to play in the Hitchcock system.
Youth versus Experience
Rattie's main competition has come from two veterans in Scottie Upshall and Scott Gomez, both of whom had excellent camps. Rattie appeared to have a very solid final pre-season performance last night against a thinned out Blackhawks squad but Upshall in particular saw a lot of minutes on the penalty kill and seems to play the kind of reckless (read: fast & physical) game that fits the Blues. Rattie also isn't known for taking face-offs, something Berglund would've been doing and so another area that will need some support from that spot on the roster.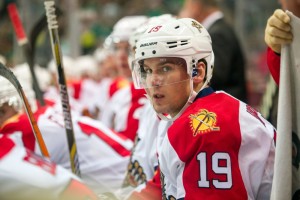 All three forwards are essentially looking to fill the void left by Patrik Berglund's absence due to injury. While that's not a huge hole it's definitely an opportunity for someone to come in and impress in St. Louis and with the Blues. Unlike Upshall, Gomez wasn't quite as involved or effective as Rattie throughout the pre-season, but the rookie hasn't yet consistently done the kinds of things necessary to earn the ice time in St. Louis that he'd likely see with the Wolves. It may be he's better off developing his game another year in the AHL.
Will 2015-16 finally be the season Rattie makes his mark in the NHL? I don't think so. I believe he'll report to Chicago next week and begin the season at the top of the list for call-ups. He's got plenty of fans who want him in St. Louis, but I'm thinking they'll be disappointed too.
Hitch said he liked the "kids" tonight, specifically saying Rattie had a good game. "They've held their own so far," he said. #stlblues

— Jeremy Rutherford (@jprutherford) September 25, 2015